At a time when costs are going up and supply chains are being stretched, for many retailers, the priority is getting products on the shelves rather than thinking about the sustainable, ethical or local credentials they might have.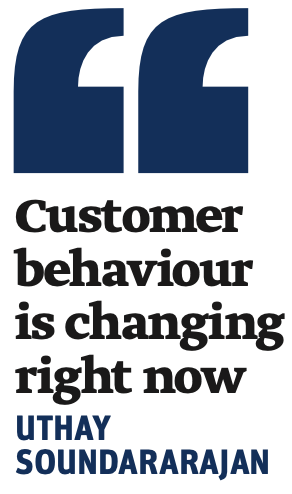 Similarly, customers might be more interested in the cost of an item rather than its provenance. Two years ago, John Moverley, from Goodwick Stores in Pembrokeshire, was selling lots of organic milk in glass bottles, but as milk prices have increased, sales have declined in favour of more affordable options.
However, despite this, people are becoming increasingly aware of and interested in supporting brands that are doing the right thing, and by stocking these kinds of products, retailers might not just get a sense of personal fulfilment, but may also attract new customers and generate additional, high price sales.
"Customer behaviour is changing right now and they are looking into sustainable products," says Uthay Soundararajan, from Inverleith Costcutter in Edinburgh.
"They are especially giving more attention to local producers. That might change as people's bills start going up, and without that surplus money they may just look for cheaper options, but for now, they're interested."
Retailers step up plans to tackle food waste as supermarkets scrap hundreds of best before dates
Soundararajan recommends retailers look at their stock and customer base to see whether and where they can expand their ethical ranging because, with a few exceptions, these options will bring a premium price tag.
"Not everyone can afford fine meats and cheeses, but if you're already selling good quality wines and craft beers, then your store needs to start selling complementary products," he says.
"You're taking a chance because people may start looking for cheaper options, but customer purchasing habits are slowly moving towards sustainable options."
Searching high and low
For Uthay Soundararajan, from Inverleith Costcutter in Edinburgh, ethically sourced products aren't found at his usual, local cash & carries. He has to go to specialist wholesalers for what he's after and he has found three in Scotland that meet his requirements – Green City, Cress Company and Fife Creamery.
"I met these producers at the Speciality Show Glasgow," he says. "It's definitely worth trying it with certain products. For almost everything other than alcohol they're suggesting ethics and sustainability is important to customers."
He recently came across a water company from East Lothian that offers local, organic water in sustainable packaging similar to boxes of wine and has a longer shelf life than bottled water. The product is selling so well that he has removed his 1l and 2l bottles of water and redesigned his store to make proper space for the containers.
Take a pragmatic view of products
Jeet Bansi, of Londis Meon Vale in Stratford-upon-Avon, looks to stock local products where he can. "We have local suppliers for eggs and dairy. We also offer to recycle the glass juice bottles we sell," he says.
Overall, however, he takes a pragmatic view of ethically sourced products, due to a combination of factors, including local competition. "I know retailers out there sell loose items, but we are in the middle of two farm shops, so we leave that to them to cater to that customer," he says.
"People who want a convenience store come to us. If they want a farm-fresh, ethical, bring-your-own- container approach, we leave that to the farm shops and garden centres.
He adds: "The big issue at the moment is the cost pressures involved in business, so that's at the forefront of my mind as a retailer. With that, the priority is to get particular products on the shelves."
Build a reputation
James Stead has been sourcing products locally for his White's Spar Calver store in Derbyshire for years to the extent 35% of his sales come from locally sourced products. He has built a reputation for sustainability by stocking loose fruit and veg, using sustainable bags and supporting 30 suppliers within a five-mile radius, all while trialling other ideas as well.
Stead pushes these credentials on social media and has put signs on certain products highlighting exactly how many miles they had travelled from producer to shelf to show the reduction in food miles. The novelty of that has worn off slightly, but he still does it with any new products.
However, the principal selling point for them is quality. "These things tend to be better because they're local, they're fresher and the manufacturers have put that much time into it," he says. "It's a premium product that carries something more."
Turn to your symbol
Jacob Connington, assistant manager at Blakemore Bala in Gwynedd, gets a lot of his fruit and vegetables from Total Produce in Liverpool, which ensures that what he's stocking on his shelves has been grown in the UK rather than overseas, reducing food miles and carbon footprints, which is appreciated by customers.
He tries to get products from local suppliers where he can and has a range of Fairtrade options as well, much of which he has been able to acquire by turning to his symbol group Spar.
"A lot of our ethical sourcing is sorted out at head office. The Spar Natural range is all Fairtrade," he says. "You can get chocolate, pastas, oils and things like that. They do have a slightly higher price point because they're ethically sourced, so for the most part it didn't really go with our customer base and we struggled to shift the stock, but we still have a range of Fairtrade products."
Explore our comprehensive archive of advice and insight for independent retailers