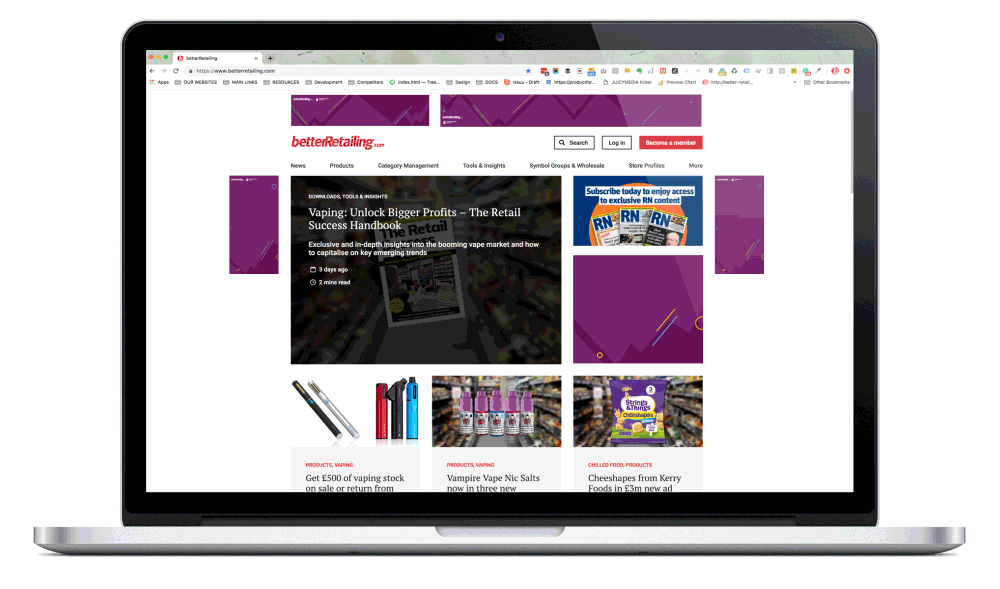 betterRetailing.com curates content from Newtrade's two market leading print titles: RN, the leading weekly paid-for trade magazine; and Retail Express, the fast, free, focused fortnightly title with the largest circulation in the channel. It also includes content from The Retail Success Handbook and Vape Retailer magazines, as well as our brilliant events (including the Independent Achievers Academy and the Local Shop Summit).
In addition to this, we create our own expert-led content using betterRetailing.com's team of more than 20 retailer bloggers. To advertise, or for more information, please contact Matthew.Oliver@newtrade.co.uk or fill out the form below.
Click on a brand logo below to find out more:
---
RN is a weekly business magazine for the best of the convenience independent channel, providing retailers with all the news and advice they need to turn a profit. Each week, 12,187 retailers pay £2.50 to get ideas that add real value to their business.
RN is the only paid-for weekly trade press title exclusively aimed at independent retailers, meaning it can exclusively deliver an audience of engaged and business-savvy retailers to our customers.
RN can also offer a unique opportunity to suppliers to advertise promotions with time-specific deadlines.
To sign up for your weekly copy of RN, subscribe here.
Retail Express' unique newspaper format provides the information independent convenience retailers value the most. It delivers product promotion and development, latest news, help, advice and legislation updates in a way that is quick and easy to read and act upon.
Retail Express has the largest distribution in the market, with an ABC figure of 49,484, delivered to a guaranteed live audience through the news channel.
Every fortnight, Retail Express delivers bite-sized, straight-to-the-point content which can be read within 15 minutes. It's a simple, effective and unique option for suppliers to get their messages out to busy convenience retailers.
If you're a retailer that doesn't get Retail Express and you'd like to, contact Kate Daw on 020 3871 6490 to order your regular copy.
betterRetailing.com caters for the increasing number of convenience retailers who are looking online for their information needs. It provides daily news, ideas, resources and analysis on topics that we know our readers will be searching for on the web.
betterRetailing.com creates regular, unique content from leading retailers and curates the best breaking news, features and profiles from Retail Express, RN, the IAA and the Local Shop Summit.
betterRetailing.com has more than 26,500 monthly unique users (rolling three-month figure) and more than 5,600 subscribers to its weekly email, a number growing by more than 25 every week.
Click here to sign up for the betterRetailing.com weekly newsletter.
Better Wholesaling is the newest magazine for the wholesale channel, launched in October 2011. This unique and exciting addition to the market is targeted at the full range of staff in the wholesale channel, enabling customers to effectively promote best practice in the industry.
Going out to 4,168 depot managers, buyers and merchandisers every month, Better Wholesaling provides the platform suppliers need to speak to these key individuals. Delivering highly visual, bite-sized content that gets straight to the point, managers, buyers, and staff can make sure they are supporting their customers in the best way possible.
To ensure you receive your copy of Better Wholesaling each month, click here to subscribe.
The Independent Achievers Academy (IAA) is a year-long learning, recognition and business development programme for independent news and convenience retailers.
As well as rewarding outstanding achievements, the IAA provides retailers and their staff with practical advice on what is required to achieve the highest standards for their business.
From March each year, retailers are invited to benchmark their store across 12 core retail categories. We then compare national averages through mystery store visits. These benchmarks allow each store to see how they fare against their peers across the nation.
In September the IAA Top 100 is unveiled, and before the end of the year the Gala Dinner crowns the best retailer in each of the 12 core categories, as well the UK's Overall Best Shop.
To benchmark your store, visit the IAA website here.
Since its launch in 2011, the Local Shop Summit has given retailers the opportunity to share ideas and network with other retailer influencers, build profitable relationships with leading suppliers and take new ideas back to their businesses.
On 4 October 2017 top local shop owners from around the UK gathered at The Oval in South London to share ideas, build valuable relationships and discuss how to succeed with some of the convenience market's most forward-looking suppliers.
Now in its fifth year, the Local Shop Summit has previously seen keynote speakers including the MD of Pret a Manger and the founder of Shell's Deli2Go offering, and panel discussions from leading suppliers including Lucozade Ribena Suntory, Mars Wrigley, Booker and JTI, and has provided hundreds of attending retailers with thousands of new ideas to take away.
To see how the Local Shop Summit 2017 panned out, and to register for 2018, click here.
Advertise on betterRetailing.com
Specifications
Standard leaderboard
Leaderboard
Leader Companion
Mobile Leaderboard Companion
Mobile Leaderboard:
Homepage takeover
Leaderboard Companion
MPU
Mobile Leaderboard Companion
Mobile Leaderboard
Full width header
---
Download the full artwork spec sheet for betterRetailing.com:
Download
Download the advertising rate card for betterRetailing.com:
Download