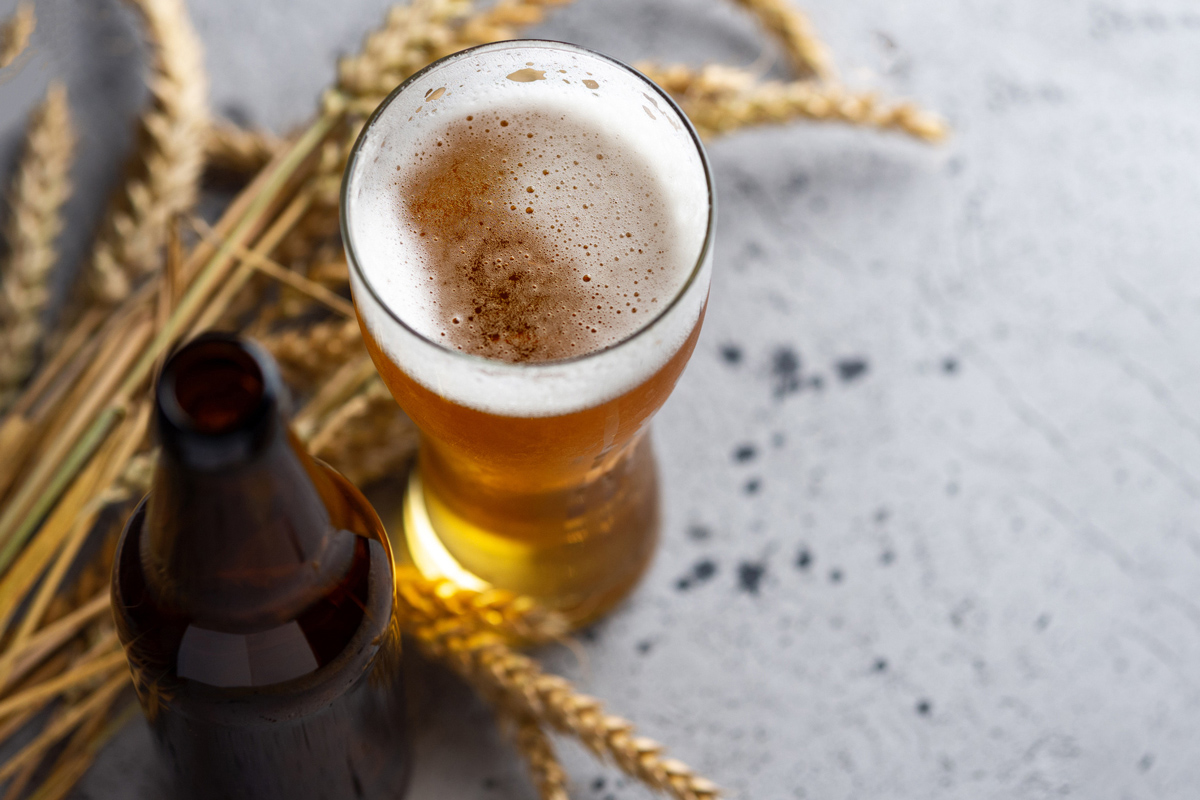 Comparing craft beer prices: Behind the numbers
Our craft beer price comparison tools below will help ensure you make the most of this refreshing category.
With spring approaching, more shoppers will be looking to stock up on beers for when the sun shines, so getting the right craft range in early is crucial.
More than a third of retailers (47%) are pricing Whitstable Bay Organic Ale above the most common price, going as high as £2.99.
Similarly, Samuel Adams Boston Lager and BrewDog's Punk IPA and Dead Pony Club all have the majority of retailers charging above the most common price.
Read more product price comparisons
For many of the lines surveyed, however, retailers need to be more competitive with price. Sixty per cent of retailers stick to the most common price on Hop House 13, with 20% going below.
On Sierra Nevada Pale Ale, 75% are charging below the most common price.
To ensure strong sales, stock a range of brands shoppers can trust and use chiller space effectively so consumers can have instant refreshment.
---
Craft beer price comparison
Brewdog Elvis Juice bottle 330ml Price distribution %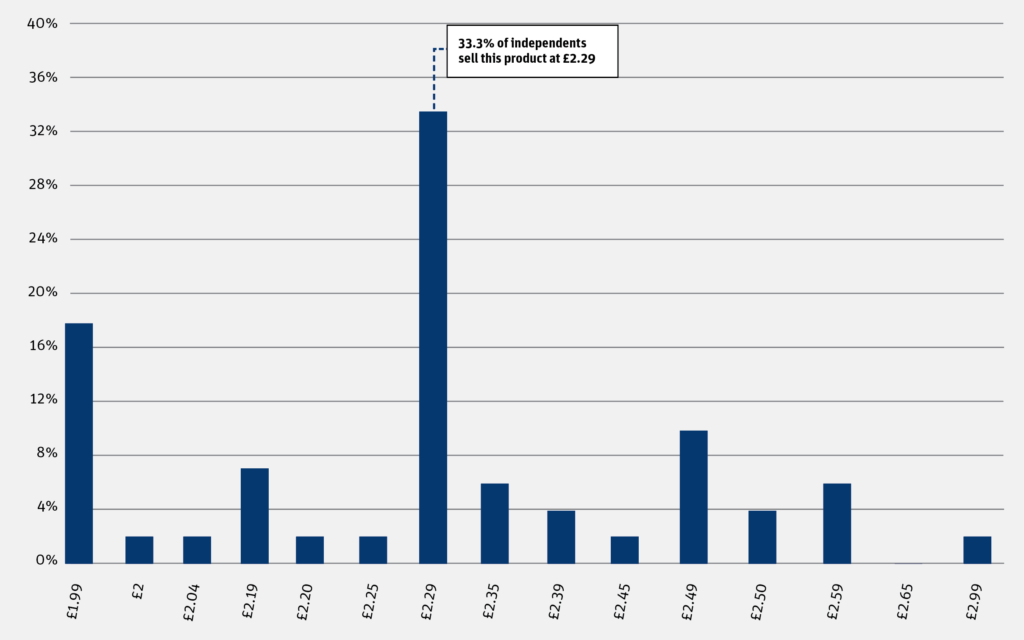 ---
Craft beer price distribution
Percentage of stores selling vape products above, below and at the most common retail price:
Product name
LOWEST
PRICE
MOST
COMMON
PRICE
HIGHEST
PRICE
HOP HOUSE 13 650ML
99p
£2.59
£3.49
BREWDOG PUNK IPA 330ML
£1.00
£1.99
£4
WHITSTABLE BAY PALE ALE 500ML
98p
£2.49
£2.79
BREWDOG DEAD PONY CLUB 330ML
99p
£1.99
£3
BREWDOG ELVIS JUICE BOTTLE 330ML
£1.99
£2.29
£2.99
BREWDOG PUNK AF ALCOHOL FREE 330ML
£1.00
£1.49
£2.29
WHITSTABLE BAY ORGANIC ALE 500ML
£1.99
£2.29
£2.99
BREWDOG NANNY STATE 330ML
£1.19
£1.99
£3
SAMUEL ADAMS BOSTON LAGER 330ML
£1.50
£1.79
£2.00
GOOSE ISLAND MIDWAY IPA 330ML
£1.50
£2.59
£2.60
INNES & GUNN OAK AGED BEER 330ML
£1.70
£2.09
£2.25
SIERRA NEVADA PALE ALE 350ML
£2.29
£2.99
£3
---
Must-stock craft beers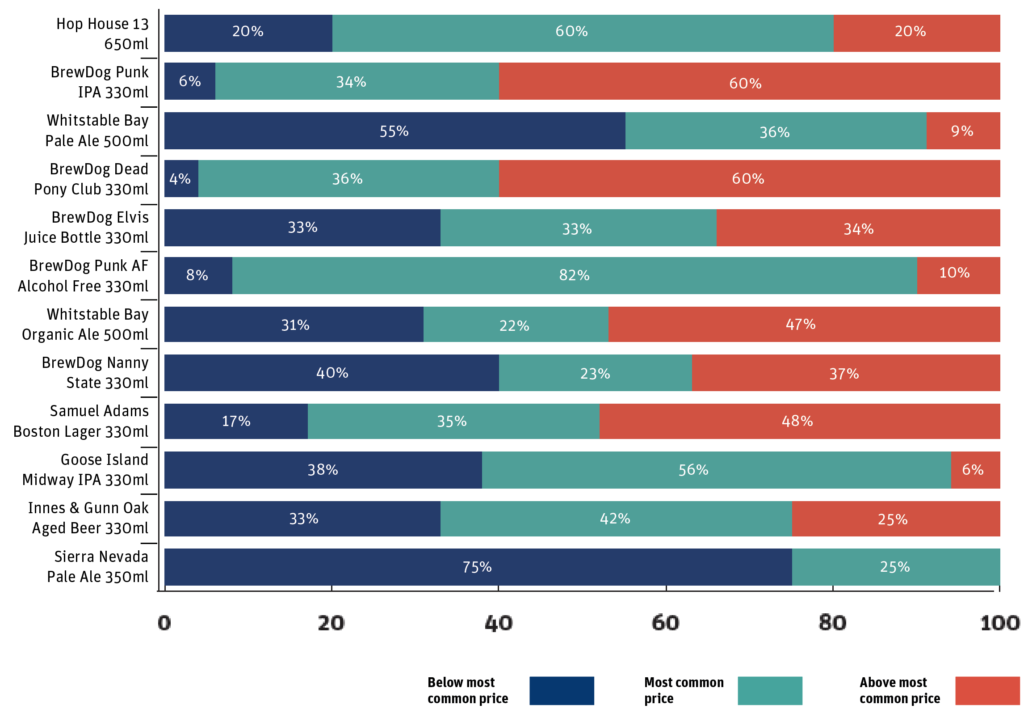 ---
Top craft beer products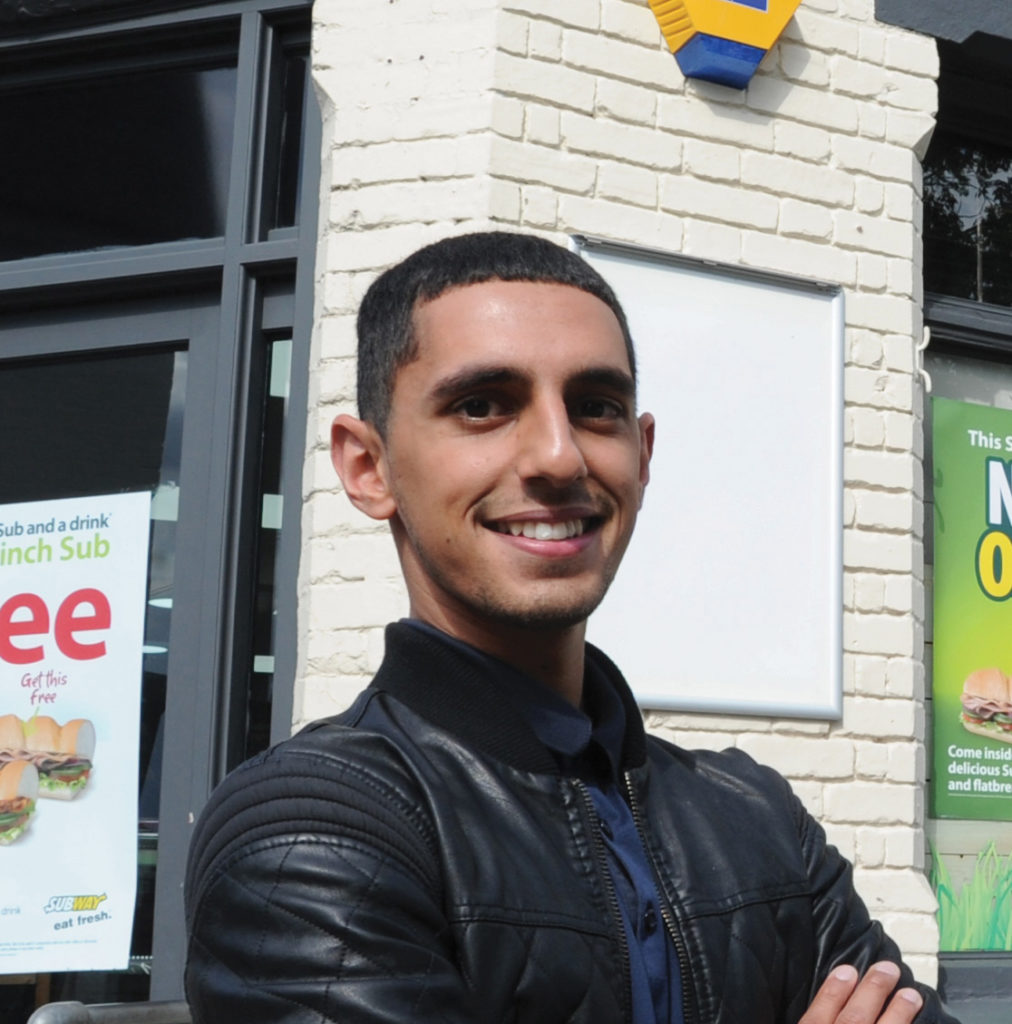 Sandeep Bains
Oyster Stout
Gadds Brewery No.3
Gadds Brewery No.5
Store: Simply Fresh Faversham
Location: Faversham, Kent
Size: 2,000sq ft
Type: Residential
Craft beer is a strong category for us, and more shoppers are entering the category than ever before. We have a lot of breweries in Faversham, which is the home of the UK's oldest brewery, too. We rotate local beers throughout the year, which helps keep sales strong. Stocking local products is a great way of bringing new shoppers to the category, especially as the alcohol category is fast-moving. We try to run a year-round promotion of three for £5.50 on all craft beers, which works well for us and encourages shoppers to try new products.
---
Top craft beer products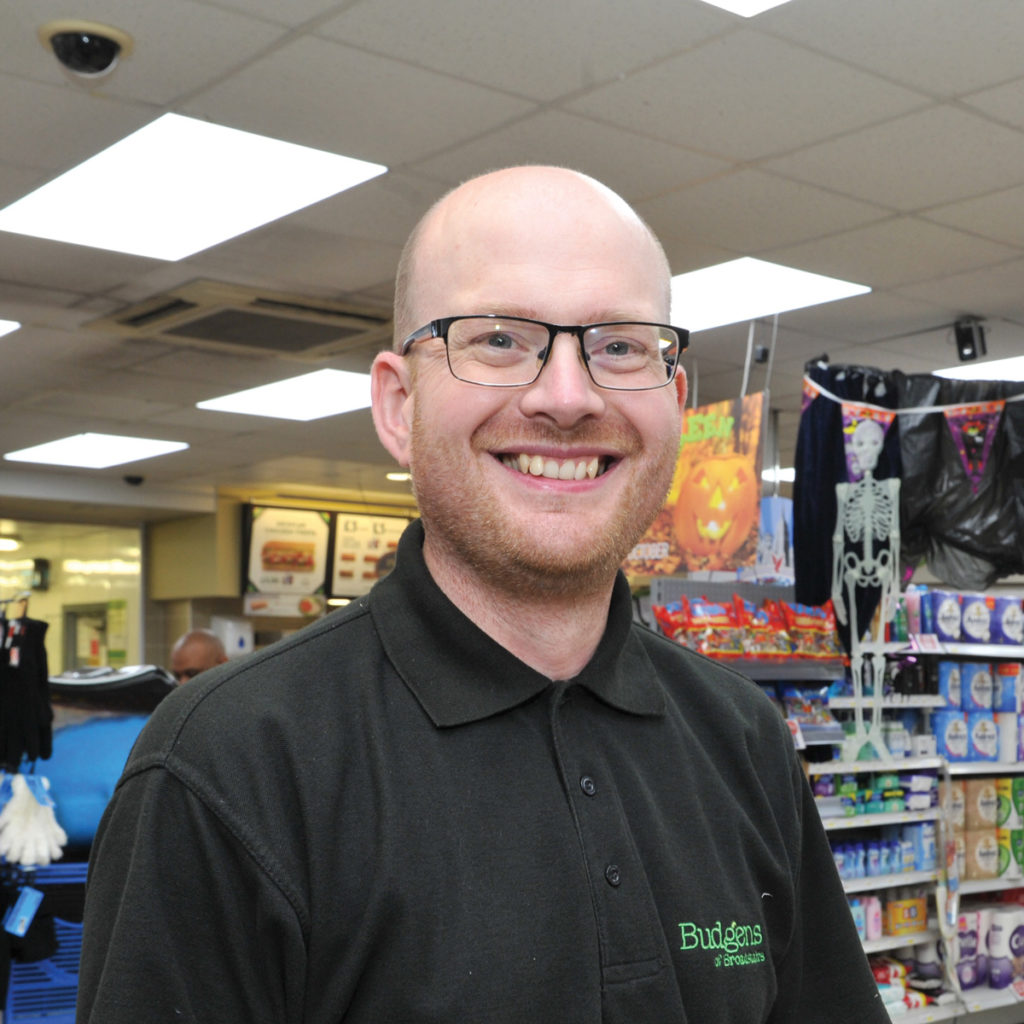 Adam Hogwood
Beavertown Galloway
Beavertown Neck Oil
BrewDog Punk IPA
Store: Budgens Broadstairs
Location: Broadstairs, Kent
Size: 2,600sq ft
Type: Residential
Be mindful of how sales can be affected by location. We stock a few big names, such as Beavertown and Tiny Rebel, alongside a couple of other interesting lines, with the intention to rotate them and try other things until we settle on a core range. Be sure to stock local products for two-way advertising with the breweries in your community. Also, be prepared for wastage in this category. Retailers need to make the craft beer range stand out in stores by marking it as a specialist 'zone', whether that's a shelf or a whole bay.
---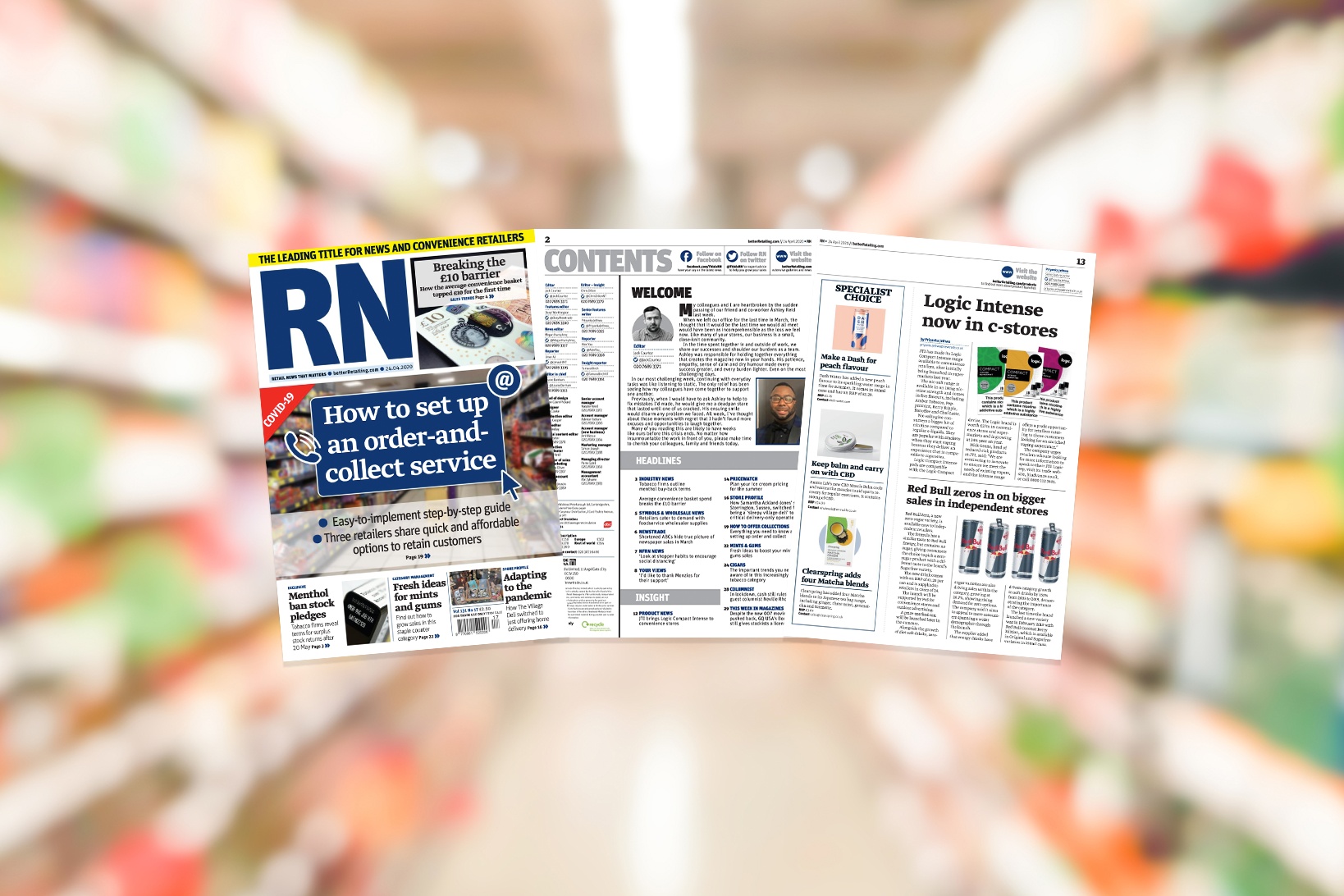 RN Archive
RN is the leading business magazine for independent news and convenience retailers, providing news, actionable advice and real-life case studies that can help you turn a profit.
Retail news and insight