Local suppliers can bring a significant boost to a store's offering, adding unique products to the shelves that provide a point of difference for customers. For some stores, that engagement with the local community is embedded with their relationships with local suppliers. For others, local produce can be a big seller for visiting tourists looking for local fare.
"People approach me because they know we're a store that does lots of local products," says Trudy Davies, from Woosnam & Davies News in Llanidloes, Powys. "We like to encourage as much local stuff in our shop as possible.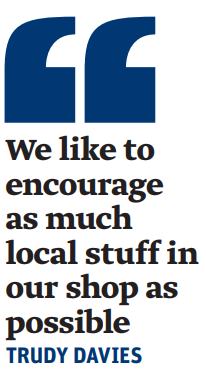 "Not only because I want to work within the area and encourage local enterprises, but also because people then trust you with their products.
"Because we've been here so long, we have a track record of being sustainable. Another benefit of buying local is that it means it's fewer miles for everything."
In recent times, availability has become a significant talking point in the industry, as wholesalers, delivery companies and manufacturers try to overcome challenges and shortfalls.
For retailers, having a strong, stable relationship with local suppliers can ensure they aren't left with gaps on their shelves – and instead can offer something unique and special to their customers.
Join the CLUB to continue reading this story
Club Members have unlimited access to all articles and a whole lot more to elevate your store.

or

Register for free and receive the latest news and views to your inbox every week
Already a member?