At a time when costs are going up and supply chains are being stretched, for many retailers, the priority is getting products on the shelves rather than thinking about the sustainable, ethical or local credentials they might have.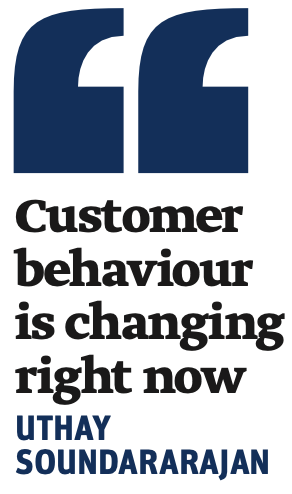 Similarly, customers might be more interested in the cost of an item rather than its provenance. Two years ago, John Moverley, from Goodwick Stores in Pembrokeshire, was selling lots of organic milk in glass bottles, but as milk prices have increased, sales have declined in favour of more affordable options.
However, despite this, people are becoming increasingly aware of and interested in supporting brands that are doing the right thing, and by stocking these kinds of products, retailers might not just get a sense of personal fulfilment, but may also attract new customers and generate additional, high price sales.
"Customer behaviour is changing right now and they are looking into sustainable products," says Uthay Soundararajan, from Inverleith Costcutter in Edinburgh.
"They are especially giving more attention to local producers. That might change as people's bills start going up, and without that surplus money they may just look for cheaper options, but for now, they're interested."
Retailers step up plans to tackle food waste as supermarkets scrap hundreds of best before dates
Soundararajan recommends retailers look at their stock and customer base to see whether and where they can expand their ethical ranging because, with a few exceptions, these options will bring a premium price tag.
"Not everyone can afford fine meats and cheeses, but if you're already selling good quality wines and craft beers, then your store needs to start selling complementary products," he says.
"You're taking a chance because people may start looking for cheaper options, but customer purchasing habits are slowly moving towards sustainable options."
Join the CLUB to continue reading this story
Club Members have unlimited access to all articles and a whole lot more to elevate your store.

or

Register for free and receive the latest news and views to your inbox every week
Already a member?