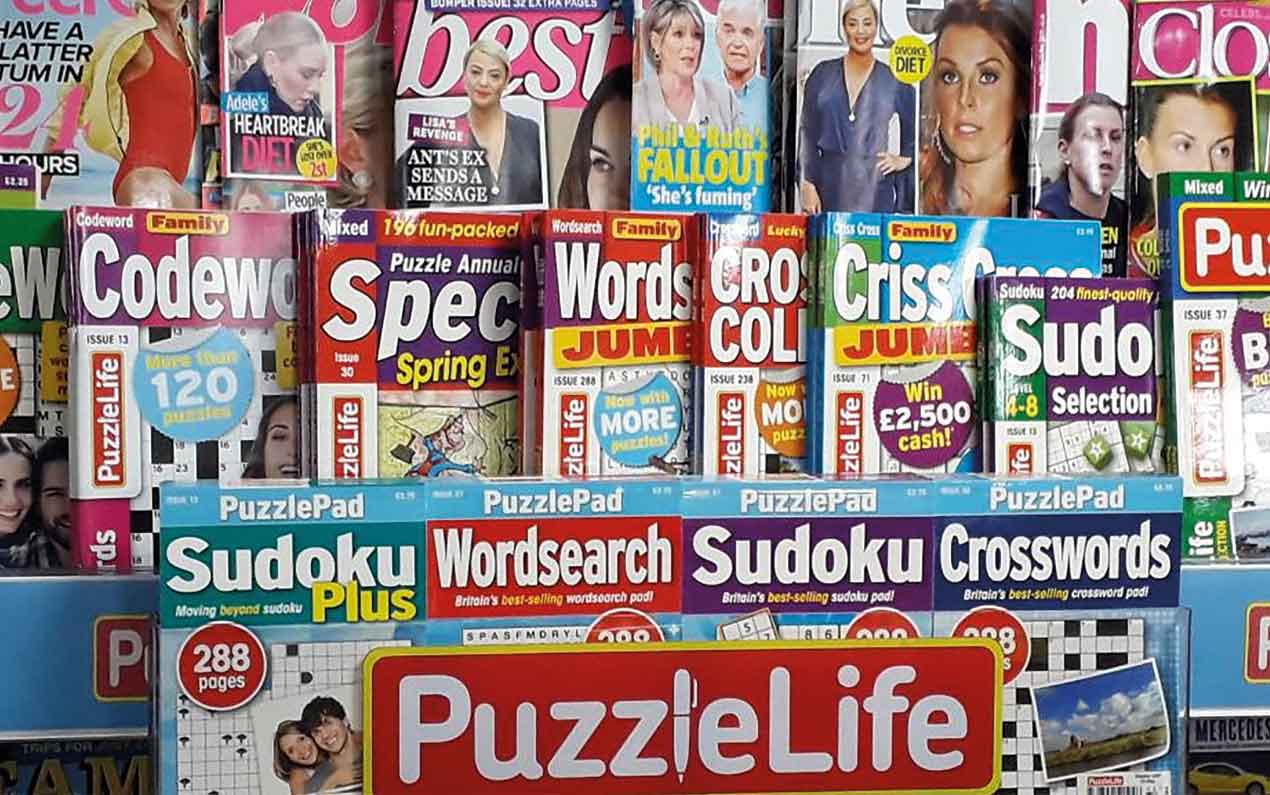 The puzzle magazine sector has said it will bounce back after the pandemic spike enjoyed by magazines came to an end, according to the latest sector analysis figures.
While other lockdown success stories – home improvement and home interest, for example – continue to show growth, the latest figures from Seymour, seen by betterRetailing, show that the puzzle sector slipped into the red, with every type of puzzle magazine showing decreases to the end of June.
The overall sector slipped by 5.7% year on year to the end of June 2021 in retail sales value (RSV) terms, while its volume decline was into double figures, down by 10.5% year on year.
Sub-segment performances show the children's puzzle market, which thrived during lockdown as kids were at home, had the sharpest fall, down around 20% in RSV and volume terms.
Retailers urged to stock Christmas magazines now
Logic titles, mixed content and word search titles all had double-digit falls in volume terms as the sector struggled with the UK emerging from the latest restrictions.
According to insiders, the post-June figures didn't show a huge boost for the sector, as holiday uncertainties, a lack of foreign travel and poor UK weather continued to affect summer sales.
The sector will bounce back, however, according to those involved, as publishers continue to seek new opportunities.
Spike Figgett at puzzle publisher Keesing, which has more than 60 titles in its portfolio, said the summer was let down by a combination of factors. "August was a bit flat. We didn't have a lockdown, but we didn't have good weather. It wasn't a typical summer, and was affected by Covid-19.
EXCLUSIVE: Tesco follows Waitrose in banning single-use plastics from magazines
"We are doing a lot to help ourselves. We're launching new titles and want to strengthen the market. It's all about approaching the same subject in different ways. We're looking at word searches with 5,000 words, which seem to be selling well."
Keesing is also launching a women's weekly title, Seven Days, which heavily features puzzle coverage this month.
Children's magazines showed 4.1% growth in RSV to the year ended June 2021, and were buoyed by a rise of more than 10% in RSV in the primary boys sub-segment, with growth also seen in pre-school and primary girls' titles.
Home improvement grew by 14.1% in RSV over the year to the end of June, with sales of gardening titles rising by 16.1% in RSV terms and 9.6% in volume. DIY also scored well in RSV, while crafts and home improvement – two other lockdown stars – also showed growth.
Read more news and articles about the newspaper and magazines category and click here for the latest ABC circulation figures