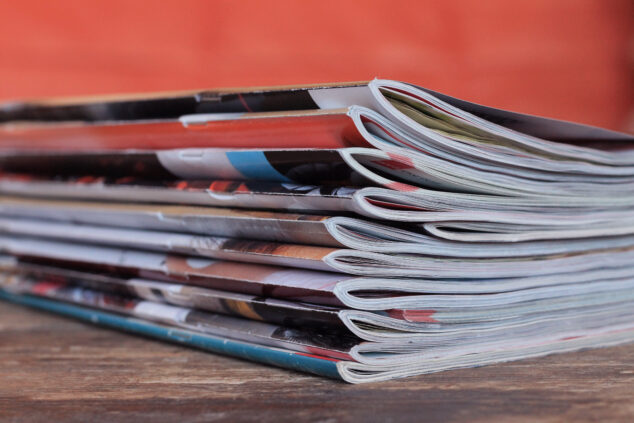 The pandemic, and all of its resultant restrictions on personal freedoms, has led people to pursue activities they can enjoy in their homes. All sorts of hobbies have seen a resurgence – Hornby, the model railway maker, saw a return to profit thanks to a lockdown-induced sales surge. With the increased allure of indoor hobbies has come the desire to learn how to do them properly, and magazines catering to this desire have been the beneficiaries, as well as the retailers that sell them.
"All hobby magazines are crazy at the moment," says Mark Dudden, of Albany Road Post Office and WHSmith Local in Cardiff. "One example is everyone is collecting coins. Magazines about that didn't sell a year ago, and now we've got a few titles
that sell in twos and threes."
As customers have turned to their local convenience stores, they have been reminded of what was once a formidable USP: a wide magazine collection. Even a small CTN can have a few hundred titles in at any one time, matching, if not outstripping, supermarket offerings. Nainesh Shah's 600sq ft Mayhew Newsagents' magazine breadth has built up a formidable reputation through a collection that spans 30 metres of shelves. "We saw a dip two years ago because of digital mediums, but since last year print has been coming back – people love the feel of magazines, and there are so many specialist titles available," he says.
As we look to a less-restricted future, Samantha Coldbeck, of Wharfedale Premier, warns not to expect the same levels of sales without a matching amount of effort. "We're currently 25-30% up on this point in 2019, so you can see people prefer their local store and visiting it has become a way of life," she says. "We've got to make sure we're still on our game now to provide what they're looking for so they don't revert to where they went before the pandemic."
Follow the trends
Mark Dudden's Albany Road Post Office and WHSmith Local in Cardiff is known for its magazines, with the category taking up an entire shop wall. Despite its breadth, its recent success has come from an unlikely segment.
"I saw women's weeklies and TV guides die right down, but I've seen an amazing spike with hobby magazines – from scuba diving and horse riding to knitting, they are very strong," he says. Adult colouring-in books have also seen increased sales, and Dudden now dedicates a promotional bay to this particular genre to take full advantage of its newfound popularity.
"You've got to keep your eye on the trends and listen to 'Joe Public'," he adds. "We had a spike in Vogue USA because everybody wanted to see Harry Styles in a dress. I got about 30 copies of that from Smiths because of the interest and sold them all."
Keep displays simple
Mike Mitchelson, of Mitchelson Newsagents in Brampton, Cumbria, offers nearly 600 titles. As a small-town shopkeeper, when it comes to new titles, he doesn't rock the boat.
"We slot new arrivals in the categories they belong. We don't have a separate area for promotions, but we make sure they're prominent," he says. Mitchelson saw an increase in sales due to growing attention in local shops during the pandemic. "We've found an increase in puzzle books, and sales of children's comics increased as well, most of which come with gifts."
At a time when going the extra mile has become a part of most independent retailers' daily skillset, he also offers magazine and newspaper delivery, as well as a service where his customers can ask him for a title that he might not stock, and he can try and order it for them.
Make a reputation for yourself
Situated in the heart of London's Belgravia, Nainesh Shah's Mayhew Newsagents attracts clientele with cash to burn. Shah's USP is a varied collection of boutique magazines that, with their design, are akin to works of art.
"We have magazines costing up to £90 an issue, but people are willing to spend that money," he says. With this built-in customer base, Shah can rely on consistent sales while falling back on more traditional magazines for volume. "Our big magazine sales outnumber these by a long way, but you can buy three titles and it can cost £100, so it's good value to stock them."
He says the added screentime forced upon people by the pandemic has reminded people of the value and care put into print media. One magazine called Cabana has its pages made from different materials, giving them unique feels and textures.
Pandemic-proof your display
Sam Coldbeck, of Wharfedale Premier in Hull, has a steady magazine trade from supplying the city's prison. "That does well for TV, puzzle, men's health and auto magazines," she says.
These sorts of titles, as well as women's weeklies, have also increased as part of home deliveries, as people look to occupy themselves at home. "We have seen a jump in lifestyle magazines, even cross-stitching, as people have more leisure time on their hands."
She says she's lucky to have been spared the impact of the pandemic on thoughtful magazine browsing as shoppers have tried to streamline their visits. "A lot of customers now come in with a mission in mind, but as magazines are down one of our quieter aisles, that's worked in our favour because people feel safer to hang about there a bit longer." This has helped magazine sales increase."
This piece appeared in the 2 April 2021 issue of Retail News. To get the latest issue, subscribe here