Good News a new retail pop-up space has launched this week, showcasing hundreds of sustainable brands.
The store is located on Rathbone Place off London's Oxford Street, and will be open throughout March and for six days a week Monday to Saturday from 10am to 6pm.
The unique premise of the store is that despite the hundreds of products being displayed, no products will be sold as the store is aimed to focus on 'purpose over profit'.
How to cut energy costs in your store and save money
The project is being led by Certified B Corporations, or B Corps. The company's movement aims to transform the economy to benefit all people, communities and the planet.
B Lab UK executive director, Chris Turner, said: "After two years in the virtual world, to see this brought to life in the real world is particularly exciting. This project is doing a fantastic job of bringing our B Corp community together and showing both its stretch and its strength. And we're confident it will drive some great awareness with a wider audience too."
Good News aims to drive awareness, excitement and help shine a light on the huge range of business and brands that are B Corp certified.
Drinks suppliers and stores slam gov't decision to introduce VAT on DRS
Good News, is being built with upcycled materials and sustainability in mind, all product, and any-waste, will be donated to the Felix Project where it will be distributed to local community projects and those in need.
The pop-up store store will not sell products in the traditional sense, rather tell the stories of those brands helping drive change, those that benefit people and planet whilst also educating consumers on how they can 'buy better'.
Ed Perry and Rosie Brown, co-chief executive officer of COOK, said: "More of our customers are seeing the B Corp logo as a stamp of credibility.
OPINION: Why now is a good time to switch focus to EV charging – Bryan Roberts – Better Retailing
"They want to shop ethically, and the B means a brand is walking the walk, not just talking the talk when it comes to ethical business. We urge people to challenge brands as to why they're not B Corps!"
What to expect in-store?
Over 300 ambient, fresh, chilled and frozen products from 100+ brands
A free-of-charge vending machine from Healthy Nibbles that uses social media as its currency
Coffee from Origin, pioneers in sustainable sourcing and naturally processed coffee
'Payphone' with hotline to freuds for free cause-related PR advice
Good-cause lotto with social impact and community driven prizes
Rather than display cigarettes, behind the till will feature boxes of fresh air
Every March, the global B Corp community celebrate what it means to be a B Corp, building awareness around the movement and those using business as a force for good.
This year's theme is 'Behind the B', inviting everyone behind the scenes to uncover what makes them a B Corp and ultimately a better business.
Good News will broker connectivity, convene and spark important conversation and help deliver action on the current climate emergency.
A look in the pop-up store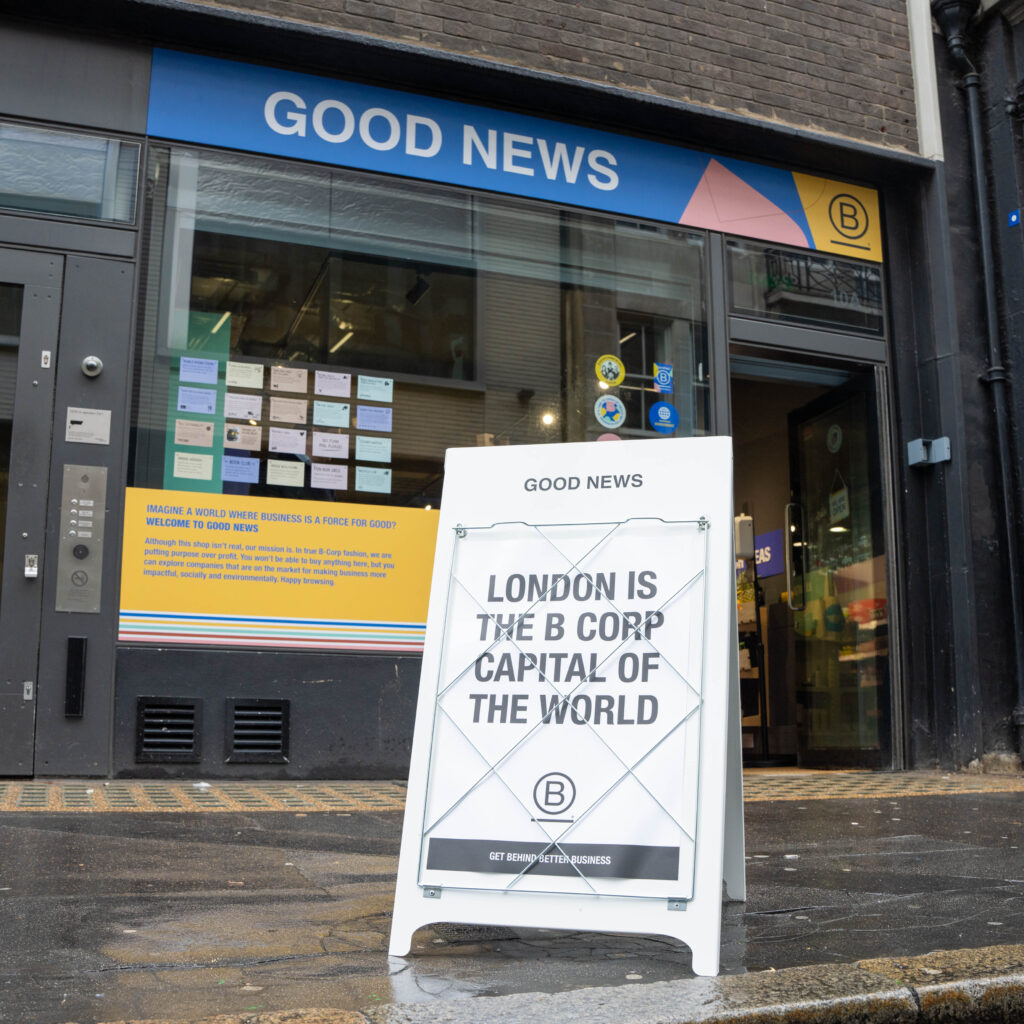 Read more news and advice on sustainable retail