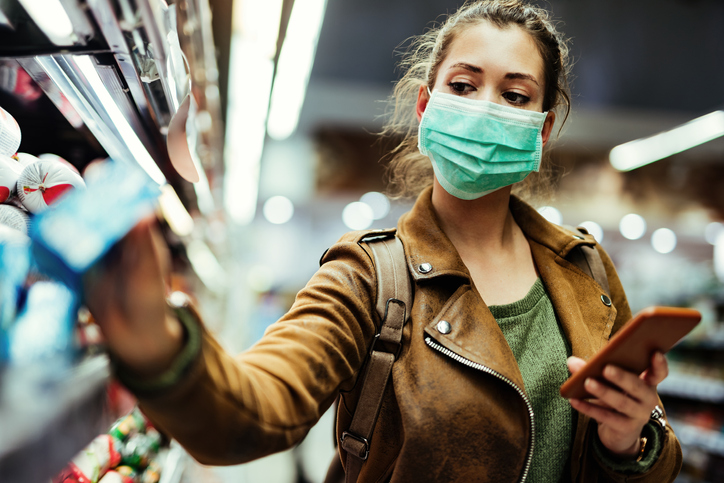 Retailers reported a rise in police and council staff visiting stores to reinforce face-covering compliance following customer complaints.
Store owners told betterRetailing they had personally received the visits, or were aware of other retailers receiving visits, in areas such as west London, Kidderminster and Dorset.
Steve Bassett, of Londis Stour Road Christchurch in Weymouth, Dorset, told betterRetailing: "We had the police visit after a customer complaint. Unfortunately, the supervisor wasn't able to stand up to them to suggest it's not our job, but theirs.
Stores have until Monday to make face coverings mandatory for staff
"Equally, they didn't fine the two customers in the shop. We have posters up, but I'm not prepared to put my people in danger trying to enforce this."
Chaz Chahal, of Simply Fresh Cleobury Mortimer in Kidderminster, added: "There's a Spar nearby to my store who had the police advise customers to put on face masks after a staff member had complained to them. The police station is across the road from the store."
However, a Dorset Police spokesperson said they were not aware of any particular issues being reported. "There is a need for us to be socially responsible, and everyone must play their part in reducing Covid-19 risk and protecting each other as much as possible. This includes wearing face coverings in retail premises.
Stores offered commission and free vending machines by face mask firm
"We continue to focus on engaging with and educating the public and only use enforcement as a final option," they said.
"We know the majority of shops have been managing customers effectively and we hope everyone will adapt to the measures and play their part in a creating a safer county for residents and tourists alike."
Steve Curran, leader of Hounslow Council in west London, added: "Our team of Safer Business Hounslow Operatives has been working in partnership with local businesses across Hounslow over recent months, offering support to help make businesses safe.
"Our operatives act in an advisory and support capacity, and discussions have focused on risk assessments, social distancing measures, sanitisation and how shops can encourage customers to wear masks via signage.
Shoplifting up following new coronavirus face mask rules
"The wearing of masks by customers is an issue enforceable only by the Metropolitan Police, not by the council, and the council has not taken any action in this regard."
Wrexham Council has also reportedly responded to two complaints about breaches in distancing at supermarkets this month.
Although customers can face a £100 fine for not wearing a face covering in stores, retailers and their staff aren't required to enforce the law themselves.
Find out more on our coronavirus information hub for retailers