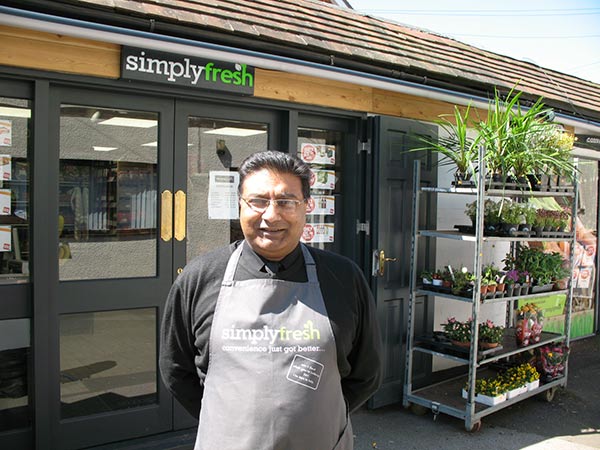 It is funny to think that William Henry was initially nervous he might not fit in with the affluent residents of Cleobury Mortimer.
For the last six years he has given his customers exactly what they want – fresh food, coffee and cheese, superb staff and a great place to shop. He has built up a loyal following and has now joined the Simply Fresh fascia.
He says: "Simply Fresh fitted exactly what I wanted. They promote fresh, and I'm in the middle of the countryside. People want local produce."
The entrance to the shop sits in the thoroughfare between the village's main car park and the high street. William has set up a winning houseplant and flower display and a greengrocer-style fruit and veg stall outside.
"Everyone comes past, and that's why it has to look nice. And once they're in, you've got them," he says.
The business is ticking along nicely but it is really just settling into a rhythm after the refit, and now he is looking to ramp things up and make a lot of money: "I haven't even got started yet. It's a really exciting time."
There is fresh food on offer to suits people's appetites at any time of year. In the winter it is comfort food like soups and stews. But in the summer that's when things like berries, chilled meat and olives start to take off.
A quarter of his turnover comes from alcohol, 40 per cent from ambient stock, and the rest is from fresh. He currently sells around £1,600 a week of chilled produce and a further £500 a week of cheeses including locally produced Shropshire Blue and Worcester Gold, but also exotic fare like Picos Blue, which is matured in a bat cave in Spain.
There is great potential in Cleobury, and the challenge for William is to get his wealthy shoppers to part with more of their cash.
"We have actual lords coming into the shop," he says.
"We get farmers coming in who might look a bit rough but they are multimillionaires. They live in mansions."
The deli counter adds the touch of class that his customers like and William wants to make the most of the fresh food by offering gourmet sandwiches. The menus are being printed as we speak.
But the centrepiece could turn out to be his coffee. To add to the large range of coffee and tea he already stocks, he bought a coffee machine on eBay for £225. He later found out it would have cost him £3,500 brand new.
As well as offering quality hot drinks to take away, William is getting a grinder so he can grind gourmet coffee beans in the shop and sell them to customers to make their own drinks at home.
He says: "This is not a city shop. It's a community shop. People here have a lot of time. In the city they want things quick and easy – a ready meal they can put in the microwave. Here people want to make their own shepherd's pie."
But even with his posh clientele, he uses killer promotions to keep people happy – such as buy-one-get-one-free on 1.5litre bottles of Coca-Cola.
Part of his strategy was to hire the right staff. They include a pensioner who has worked in Cleobury since she was 16 years old, the vicar's daughter, the woman who opened the shop in 1978, and the daughter of the chief of police.
One thing you notice is how many of his customers he knows by name, and how many of them begin the conversation with him.
"Here everybody knows everybody else. They will say 'nice people work in that shop'. If you give excellent service, once they get to know you they will start talking to you."