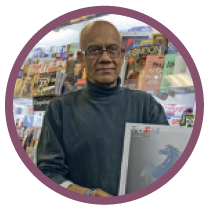 1Nainesh Shah, Mayhew Newsagents, Belgravia, London
"I think people have accepted that prices are going up in leaps and bounds. It's every newspaper, not just one. We're working with companies that offered us new packages. People used to buy their newspapers every day first thing in the morning, but they're not doing that any more. They're buying them every now and again.
"The subscription schemes with the broadsheets have been working well. People are happy to subscribe to the Telegraph and the Times. We're finding there isn't as much we can do with the Mirror and similar titles. There are similar schemes, but they're not being advertised as well.
"Saturday newspaper sales are quite buoyant despite the price increases. People are deciding that the Saturday issue will cover their news for the whole week. We sell 60 FTs on weekdays and 140 on the weekend."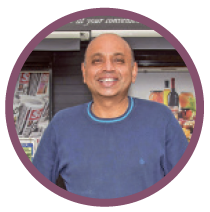 2Sarj Patel, Pasture Lane Stores, Sutton Bonnington, Nottinghamshire
"All our customers have noticed the price increases and a lot of them are switching to vouchers. This means we have a lot of demand for our papers during the week – particularly the FT and the Times. We have a hardcore customer demographic and if they don't get their paper on time, they complain.
"Vouchers are the way forward. People are looking to get prepay cards where they pay for all their newspapers for the month ahead. We're doing about £1,500-worth of vouchers at the moment, particularly with the Times and Telegraph, but the Mail are doing it now, too. If you subscribe for a full year it's even cheaper and you're protected if prices go up. Those hardcore customers are all subscribing and handing us whole voucher books. They're used to paying week to week, so it's just another step up for them. These vouchers don't eat into our profits at all, but they do take a lot of our time."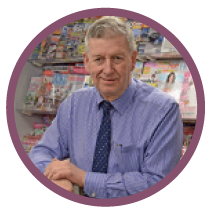 3Mike Mitchelson, Mitchelson's News, Brampton, Cumbria
"We have a big range of newspapers. I've seen regular price rises in my time, but not as often as now, and not the size of the price rises we've had. This is the first time I've seen people being price conscious about their newspaper. We've had people stop buying the Telegraph because of the price. Publishers need to be aware because they're losing customers.
"We've maintained our full range of newspapers and we sell one against the other. If someone isn't going to buy the Express because it costs £1.10, then I'll say, 'Have you tried the Mail? It's only 90p.' I would rather do that than lose the customer because people are looking at their expenditure. News is a big part of our business – we do delivery and sell a lot in store. And we will still maintain that offer because it means customers know they can come to us if they're looking for something and we'll have it. We're the place to come to for magazines and newspapers."