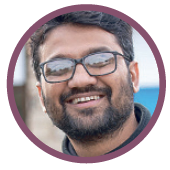 1Nirav Modhvadiya, Desford Shop & Post Office, Leicestershire
"We try to get better every year for winter in terms of supplying logs and kindling. Around September, we create more space for sugar, tea and coffee, and we reduce the amount of tinned food on the shelves. There's lots of variety in tea and coffee nowadays and we Brits like to have a lot of tea and biscuits, particularly in winter. We usually change the slushie machines out for a coffee machine as well.
"We also do a lot of cleaning to make it nice and clean in September prior to install. Anything that needs to be washed is washed. It's much easier to wash it and then dry it in the back yard while it's warm. We don't buy too much in advance because availability is good with Bestway and Booker, so there's no point putting too much capital into that. But we ordered the Christmas cards and gift wraps three months ago. Those are things we do way in advance."
2Dave Hiscutt, Londis, Westham Road, Weymouth, Dorset
"We've done a lot of our winter pre-sells already, but that's more down to supplier agreements and when they like to do the preordering. So, a few weeks ago, we preordered everything we were looking for to prepare for winter and Christmas, such as mince pies, and that will start arriving from September onwards. It's a gradual thing, though.
"Being part of a symbol group means our promotional leaflets and lines will be reflective of the time of year and the season. They naturally become more relevant. We'll stop stocking barbecue charcoal and switch to coal and winter fuels. We'll reduce our salads and get more into root vegetables.
"But a lot of it is weather dependent and you are really playing it by ear. You know what the plan is for winter and plan accordingly, but if the weather's still glorious in late September, people won't be cooking casseroles."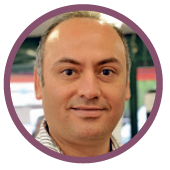 3Hitesh Modi, Londis BWS, Chesham, Buckinghamshire
"We've ordered our pre-sells and we'll start getting stock coming in from September. We've ordered the stuff we think we'll need. Every year, we get advent calendars, but there's been a drop in sales for them in recent years, so we've been a bit conservative with them this time.
"People don't know what going to happen this winter when it comes to drivers and costs, so people are looking at ordering things when it's available on promotion rather than preordering too much in advance. I've certainly not preordered as much stuff as I would normally. Everything is going up in price – cost-of-living and electricity bills – and the price-marked stuff has gone up, too. People can feel prices are going up, but it's across the board, so it's not just my shop. People will feel the pinch, but we don't know what's around the corner, so we've got to take that risk on."