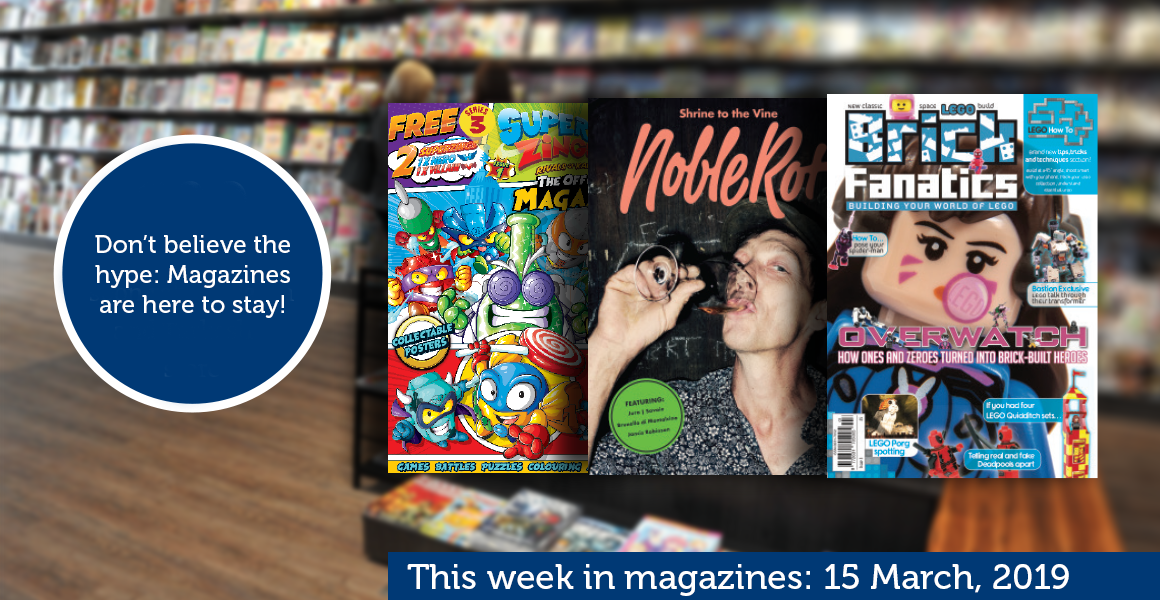 Launch of the week
DJ Murphy is looking to ride the crest of the SuperZings craze with the launch of this magazine featuring blind-bagged toys as well as all kinds of content to keep junior collectors happy
Superzings: The Official Magazine
On sale out now
Frequency four-weekly
Price £3.99
Distributor Marketforce
Display with Pokémon, Lego Ninjago, Spider-Man, Lego Star Wars
---
Savvy retailers with a working knowledge of the collectable category should, by now, be aware of SuperZings. The blind-bagged creations that give personalities to everyday objects represent the sixth-biggest new toy brand in the UK.
DJ Murphy is launching the brand's own comic, which is guaranteed to appeal to fans of SuperZings thanks to the two free characters that come free with every issue. Both are blind-bagged; one is a goodie, the other its rival. The magazine features puzzles, comic strips, activities and everything fans will need to find out about their favourites.
Marie Claire
On sale out now
Frequency monthly
Price £4.20
Distributor Marketforce
Display with Elle, Red
A special issue celebrating sustainability, offering advice on how to lead a more environmentally aware life.
This issue comes with free gift of The Body Shop hand cream worth £5.
Model Aircraft
On sale 21 March
Frequency monthly
Price £4.75
Distributor Warners Display with Airfix Model World, Scale Aircraft Modelling
Aimed at model aircraft enthusiasts, Model Aircraft features in-depth features on models, as well as histories of the original machines.
Each issue includes news and coverage of forthcoming events and information on where to buy kits.
Noble Rot
On sale out now
Frequency three times a year
Price £9
Distributor none –hello@noblerot.co.uk
Display with BBC Good Food
The new issue of the wine magazine features a look at wines from the east of France and Florence, and London's curry houses.
Under the banner of 'More Stories About Food & Revolutionary Wine', this issue features an interview with wine writer Jancis Robinson.
WWE Champions Trading Cards
On sale out now
Frequency collectable
Price starter pack £5, cards £2
Distributor Topps
Display with Match Attax 2018/2019
The WWE wrestling organisation is gearing up for the biggest event in its annual calendar, WrestleMania, so interest in the sport is currently high.
The Topps trading cards feature all of the WWE Superstars.
Brick Fanatics
On sale out now
Frequency monthly
Price £5
Distributor none – contact@brickfanatics.co.uk
Display with other hobby/modelling magazines
The third issue of this Lego fan publication has a new section offering tips and advice for builders, as well as projects and building ideas.
This issue looks at a new range inspired by video game Overwatch, and talks to Lego about the sets.
Mundial
On sale out now
Frequency quarterly
Price £7
Distributor Seymour
Display with When Saturday Comes
The latest issue of the popular football magazine features all there is to know about Moroccan football.
Mundial claims to have travelled more than 25,000 miles around the world looking for interesting and unusual features on football.
Ethical Consumer
On sale out now
Frequency bimonthly
Price £4.25
Distributor none – call 0161 226 2929
Specialist choice
Bill Palmer,
Magazine Heaven, Rushden
Who buys it?
Anyone interested in ethical shopping. It's just covered an exposé on Amazon.
How do you display it?
It goes in our science section, where people are looking for something a little bit cerebral.
My week in magazines
BBC Radio 4's The Bottom Line recently had a fascinating episode devoted to magazine publishing. It featured Wolfgang Blau from Condé Nast, Terri White of Empire and Mintel analyst Rebecca McGrath.
It certainly should be required listening for anyone who pessimistically believes that magazines have no future.
The Mintel figures were fascinating. McGrath outlined that 853 million magazines were in circulation in the UK in 2018, equating to more than one a month for the average adult. Almost 60% of people bought or read a magazine over the past six months.
Equally interesting were the Mintel figures showing the majority of sales still came from single-copy sales, with less than a third of magazine sales from subs (Empire's figures were more than half).
Perhaps most heartening were the long-term prospects given by the publishing and
editorial experts.
Blau noted that, when he started his current post, he thought magazines would one day disappear, but could now see no reason "why there wouldn't be a Vogue in print in 20 years' time".
White concurred; print in general, and Empire, would still exist in 20 years' time.
Blau conceded, there might be fewer issues published, but they would be bigger, and more expensive than they are now.
It's easy to get caught up in the doom and gloom, but if you're feeling low, search for The Bottom Line on the BBC's website. It shows that, despite what newspapers may be telling you, magazines are going to be around for a very long time.