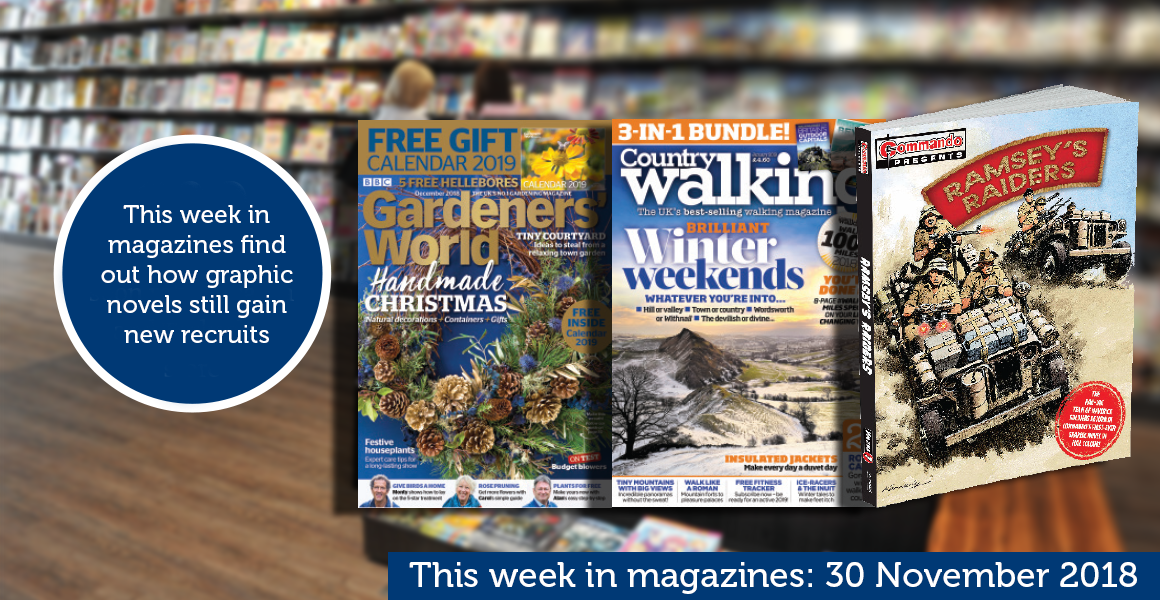 Launch of the week
DC Thomson has launched a bookazine version of its legendary Commando comics that is guaranteed to appeal to the series' legions of diehard fans while attracting plenty of new recruits
Commando Presents Ramsey's Raiders
On sale out now
Frequency one-shot
Price £14.99
Distributor Marketforce
Display with Striker, Commando
---
For the first time in nearly six decades, DC Thomson's (DCT) Commando series will be publishing a full-colour graphic novel.
Ramsey's Raiders brings together the first two issues of the eponymous series to a single premium volume, in what DCT hopes "will appeal to a new, contemporary audience as well as loyal Commando fans".
This 136-page bookazine serves both as a collector's item and as the perfect starting point for newcomers, so retailers should promote it prominently to generate repeat sales.
Mollie Makes
On sale out now
Frequency monthly
Price £5.99
Distributor Frontline
Display with Simply Knitting, Let's Get Crafting
This crafting magazine is all about handmade crafts, featuring articles, guides and ideas for all sorts of DIY art projects.
The 100th issue of Mollie Makes presents a redesigned magazine and comes with an exclusive Party Bear craft kit.
Country Walking
On sale 6 December
Frequency monthly
Price £4.60
Distributor Frontline
Display with Trail, Trail Running
This hobbyist magazine features routes, stories and gear reviews for fans of trekking and hiking in the wilderness.
January's three-in-one bundle includes an issue devoted to the winter walking weekends, an overseas walking supplement and an A5 mini-magazine devoted to Britain's Outdoor Capitals.
Match of the Day
On sale 4 December
Frequency weekly
Price £3.99
Distributor Frontline
Display with FourFourTwo, When Saturday Comes
This special-edition football magazine features Match of the Day's Top 100 Players and its 2018 awards.
This seasonal foil-bagged issue comes gifted with a pack of Match Attax cards, a limited-edition card and a custom wallet.
Auto Italia
On sale 5 December
Frequency monthly
Price £4.90
Distributor Seymour
Display with BBC Top Gear, Performance Mini
This motoring magazine is dedicated to fans of Italian cars and includes test drives, tuning guides and analysis of models from every Italian brand in the car market.
The December issue takes a look at Ferrari Monzas and Delta Futuristas, and comes with a free A2 calendar and wall-planner.
BBC Gardeners' World
On sale out now
Frequency monthly
Price £4.99
Distributor Frontline
Display with Garden News, Amateur Gardening
The Christmas edition of this gardening magazine is here, bringing advice, guides and tips about how to take care of your garden in winter.
This special issue comes with a free 2019 calendar, alongside special features on home-made rustic Christmas decorations.
DOT
On sale out now
Frequency quarterly
Price £5.50
Distributor Central Books
---
Specialist choice
Mark Dudden,
Albany News, Cardiff
Who buys it?
It's a pre-school gender-neutral magazine, so it is mainly bought by parents.
How do you display it?
On the shelf, alongside the other children's titles that we stock.
My week in magazines
The long-term effects of the shortlist era
This week, the market's biggest men's interest magazine, ShortList, closed. While free – and therefore not stocked by retailers – its closure will leave a gap keenly felt by anyone who cares about the newstrade.
ShortList started as a free magazine in 2007 and survived for over a decade, but according to its owner, declining advertising revenue and increased paper costs eventually combined to bring about its closure.
The biggest damage, however, has not been caused by ShortList's demise, but by the impact it has had on the wider industry over the course of its life.
The magazine kept growing in circulation as other men's titles such as Zoo, FHM and Loaded all closed around 2015, creating a smaller range of publications on the market – and therefore reducing consumer and retailer choice.
In a struggling market, it is extremely important for retailers and publishers alike to remain aware of the chain reaction effects of their decisions.
As interest in magazines rises and falls, the number of readers ebbs and flows, providing retailers with more or fewer opportunities to target certain audiences, forcing them to keep on their toes to keep established customers.