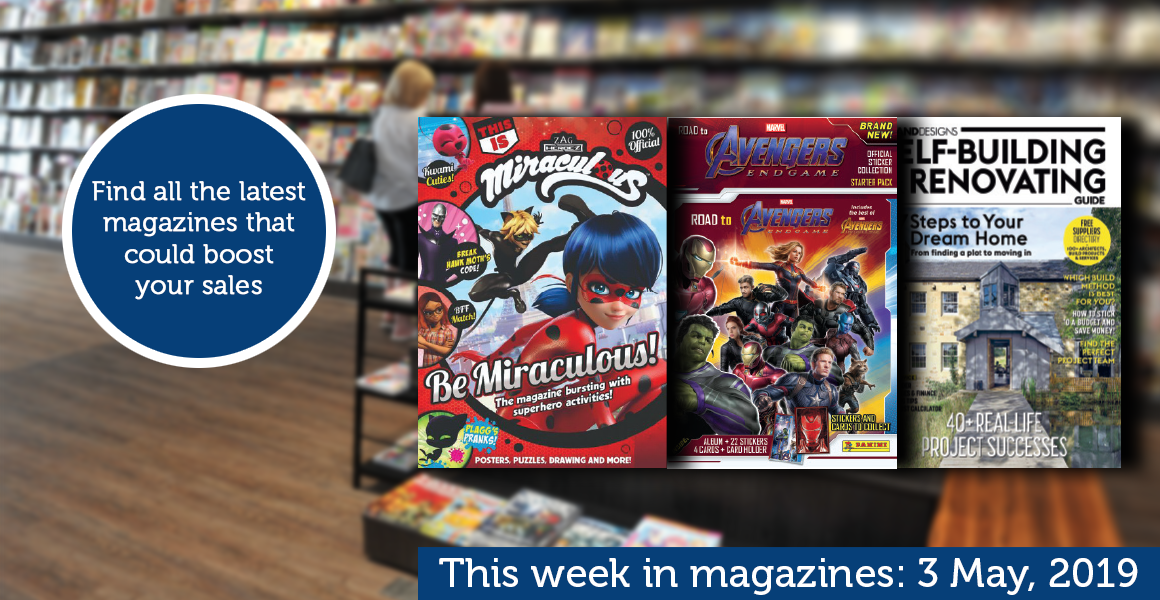 DC Thomson has recognised the continued buzz around TV show Miraculous – soon to be everywhere – and given it the This Is treatment, taking it from the screen to your shelves
This Is Miraculous
On sale out now
Frequency monthly
Price £4.99
Distributor Marketforce
Display with Pink, Frozen
---
DC Thomson's regular This Is magazine sets its sights once more on Miraculous, or, to give it its full title, Zag Heroez Miraculous: Tales Of Ladybug & Cat Noir. For the uninitiated, it's a relatively new franchise, but one that is now the subject of a wide-ranging licensing programme, of which this second This Is issue devoted to the franchise is a key part.
The TV show that launched the brand is now in its second season, it airs on the Disney Channel where it's the number-one show for girls, while the first outing is currently available on Netflix, further boosting awareness.
The magazine itself features no less than six free gifts, as well as games, puzzles, quizzes, posters and activities.
Highsnobiety
On sale out now
Frequency biannual
Price £10
Distributor Seymour
Display with i-D, Dazed, Hypebeast
This fashion and culture magazine concentrates on streetwear, with the current issue looking at how street and skatewear became mainstream (further boosting the sales potential).
There are two different covers, including one featuring Mo'Wax boss, DJ and recording artist James Lavelle.
Road To Avengers: Endgame Sticker Coll'n
On sale out now
Frequency collectable
Price starter packs £3.99, stickers 90p
Distributor Panini
Display with Harry Potter Contact Trading Card Game, Fantastic Beasts 2 Sticker Collection
The Avengers bandwagon rolls on, with the new film bringing an end to the current cycle of Marvel films, meaning this sticker collection is perfectly timed.
It features all the familiar characters, with 192 stickers to collect, alongside 50 cards.
Chateaux & Castles Quarterly
On sale out now
Frequency quarterly
Price £6.50
Distributor Seymour
Display with Condé Nast Traveller, Lonely Planet
This US publication looks at places of historical interest and beauty in the UK, Ireland and the rest of Europe.
The spring issue features a close look on these shores, as well as tulip gardens.
Crochet World
On sale out now
Frequency bimonthly
Price £7.50
Distributor Seymour
Display with Inside Crochet, Simply Crochet
For the devoted crochet enthusiast, this American magazine offers up a transatlantic twist on the art of crochet.
It includes 26 projects for readers to get their teeth into.
Grand Designs Self-Building & Renovating Guide
On sale out now
Frequency one shot
Price £8.99
Distributor Marketforce
Display with Grand Designs, Homebuilding & Renovating
This is a special, premium-priced bookazine from the team behind Grand Designs magazine.
It offers everything readers need to know about building their own home, and includes case studies and a supplier directory.
Build The Terminator Binder
On sale out now
Frequency one shot
Price £7.50
Distributor Marketforce
Display with Build The Terminator partwork
One of the key partwork launches for 2019, the series enables readers to build their own cyborg.
This binder houses all of the issues that come with the pieces.
Classic Bike
On sale 22 May
Frequency monthly
Price £4.40
Distributor Frontline
Specialist choice
Paul Bridgewater,
The Cabin Newsagent, Isle Of Wight
Who buys it?
We have a classic motorbike club near us, the secretary is one of my customers, so we stock a few for members.
How do you display it?
In the window sometimes, but together on the shelves, classic book magazines sell themselves. I tend to use the windows more for mags with covermounts, because they look better.
My week in magazines
An indie mag for indie stores
I've been chatting to the editor and founder of Film Stories, a magazine that RN has mentioned a few times since its inception recently.
Like many of the publications covered here over the past 12 months, it's a fiercely independent magazine and one that has eschewed the traditional route to market.
Simon Brew founded the magazine after exiting online film site Den of Geek, treading the less well-worn path of internet to print, rather than travelling in the more obvious opposite direction.
It went to crowdfunding first for its launch, getting backing from industry types to readers from all over the UK and beyond.
And now, after further dipping into his savings, Brew and co have worked to give the mag a further profile to the newstrade – it's now in key airport and train station WHSmith outlets, and he's working with Select and Seymour on moving into independents and the wider market, too.
It further ties in with something I've been banging on about for a while now. For this kind of independent publisher is the kind that should be cultivated by independent retailers. They're the ones who can take a risk on magazines without demanding the kind of financial support the publisher simply cannot give; the kind of retailers who are nimble enough to take on board a new title without upsetting everything else.
Film Stories has noble ideas, too – looking for different journalists, unpublished writers, underrepresented groups, rather than the same pool of talent as other publications.
It's a truly independent operation and is, as much as the TV listings, puzzle mags and women's weeklies, the future of publishing.
Such is the mag's belief, its creators are going into their own pockets, raiding their own piggy banks, to make it happen. I recommend taking a few issues and pushing it to customers.