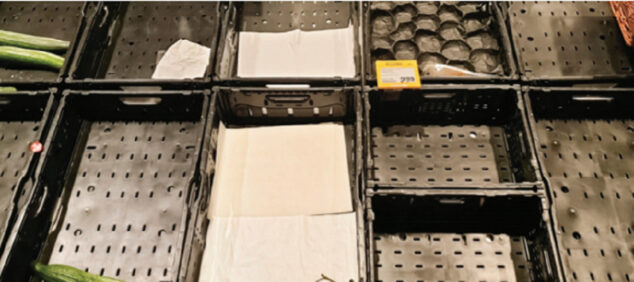 Independent retailers are taking advantage of gaps in nearby supermarkets caused by the national shortage of lorry drivers and production issues.
Last week, Iceland managing director Richard Walker warned that the key seasonal Christmas period could be "cancelled" by the issues, which are being experienced by the multiples and independent convenience sector. Walker cited fast-moving lines such as bread and soft drinks as key categories in short supply.
The issues experienced by the supermarkets have provided an opportunity for local shops, with retailers across the UK exploiting the gaps in nearby competitors.
Mike Nichols, of Costcutter Dringhouses in York, told betterRetailing he had noticed his nearby supermarkets with shorter dates on bread. "I've noticed there's been a day knocked off and this could be because they're struggling to get goods out on the shelves quickly enough due to the driver shortage," he said.
Labour shortage forces stores to rethink staffing models
"There's a massive opportunity for independent convenience stores to ensure they keep their dates fresh.
"After noticing this, we started to order less in a small quantity and then sell out. When customers come in the next day, the bread has better dates. That's what customers want because they know it's fresh and you also reduce your wastage. You're better than supermarkets because they can't offer good dates anymore."
Similarly, retailers have also benefited from shortages of milk in their closest competitors. Vince Malone, of Premier Tenby Stores & Post Office in Pembrokeshire, added: "We are noticing Sainsbury's and Tesco are having days where they're not having deliveries, and that's having an impact on us. One week we sold 500 2l bottles of semi-skimmed milk, compared to 150 to 200 normally.
"The problem is storage, but we just have to go to Booker twice a day to pick up milk. That's our job as shop owners, and Booker has been superb because they order ahead for us."
National lorry driver shortage creates rebate disparity among symbol groups
Another retailer reported an increase in elderly customers ordering milk after Milk & More had stopped taking orders over the phone.
Ken Singh, of Boghar Bros Store in Pontefract, added: "Supermarkets nearby are low on products such as bicarbonate of soda. These are more niche products, but it's a good opportunity nonetheless." Another store owner, who asked not to be named, has also been monitoring the availability of their nearest Co-ops and stocking accordingly.
"We've been busy and we've noticed more customers come into our stores where the nearest Co-op stores have had the poorest availability. This has been particularly prevalent on days where there's not been a Co-op manager to monitor stock levels," they said.
Read more symbol group news