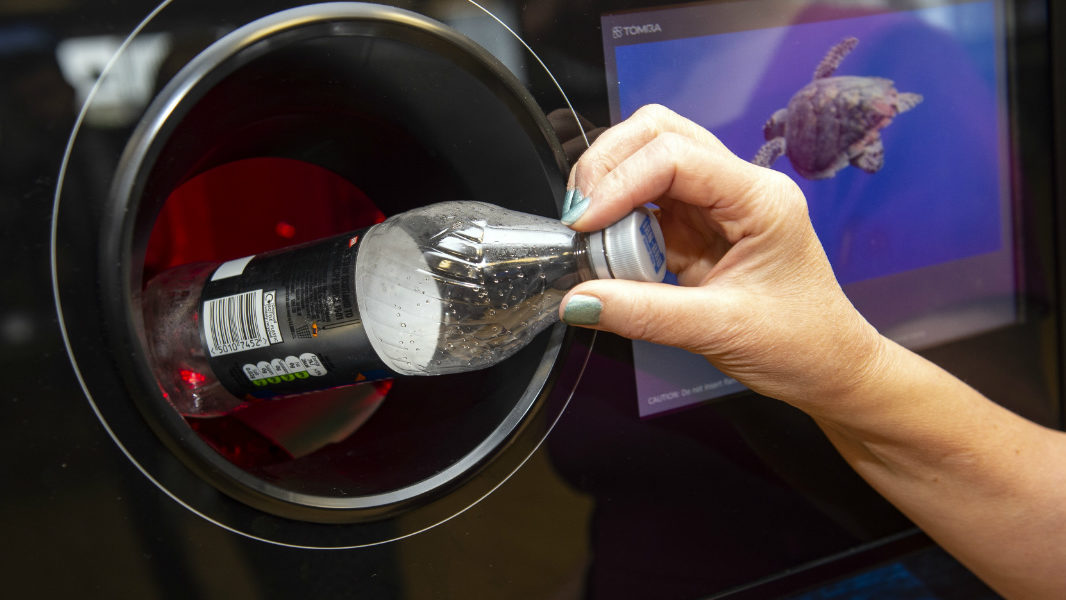 The commission independent retailers will receive for taking part in Scotland's upcoming deposit return scheme (DRS) next year has been revealed.
Scheme administrator Circularity Scotland Limited (CSL) announced the specific handling fees for the industry on 7 May.
The government confirmed last December that DRS would be implemented across Scotland on 16 August 2023.
Handling fees
In its communication, CSL confirmed store owners operating a manual scheme, including takebacks over the counter, would receive a 2.69p handling fee per item returned.
Those using a reverse-vending machine (RVM) will earn 3.55p for the first 8,000 items returned each week, with an extra 1.5p for each additional item. The payment will be in addition to the refund of 20p deposit paid by the retailer to the customer at the point of purchase.
The Fed's deputy vice-president and owner of Premier Mo's Blantyre welcomed the commission rates, but warned time was running out for stores to get ready for the roll-out of the scheme.
Reverse vending machine firm RVM Systems partners with SGF
He told betterRetailing: "We welcome the figures being published, as we are now starting to run short of time for retailers to make the decisions required.
"Many of the retailers have raised concerns this has not been done soon enough, as they have had shop refits. We now have a job to work out the affordability of RVMs.
"The figures quoted aren't overly generous and retailers will struggle to make this affordable."
An industry source added: "The handling fees announced compare well with schemes internationally and they do make RVMs more affordable.
"However, there is serious concerns from many retailers that the fees will simply not cover every cost, particularly in relation to staff costs and the loss of selling space.
Reverse vending machine firm RVM Systems partners with SGF
"The fees are unlikely to achieve the key aim of ensuring full-cost recovery for small retailers." Independent retailers have been waiting a long while to get confirmation on commission rates for participating in the DRS.
At the start of the year, accounting company PricewaterhouseCoopers (PwC) was appointed by CSL to carry out analysis as to what the fee should be.
At the time, it was understood by betterRetailing that this would then be voted on by members of CSL.
The first intention was for the company to recommend a fee, but it was viewed as an "unpopular piece of work", largely due to the likelihood it would receive objections from various industry parties.
RVM requirements
At the end of last month, CSL also revealed its RVM specifications to help provide guidelines for Return Point Operators (RPO) and suppliers of RVMs for use in the DRS.
A CSL document, seen by betterRetailing details information on container identification, container handling, RPO operations, as well as technology and data.
An industry source praised CSL for ensuring RVMs enable "co-mingling", meaning plastic and metal bottles – aluminium and steel – can be collected in one single container, or separated if they choose.
However, glass must be collected in its own container, and should be allowed either to break naturally, or if mechanical breakage is used, it must be demonstrated that fragments greater than 10mm are achieved.
DRS plans laid out at NFRN Scottish Conference
In addition, the document confirmed only CSL-approved bags, tags and barcodes may be used for collection from an RVM.
A selection of tags and bag sizes will be provided to participating stores.
The publication of the RVM specifications comes two months after Biffa was appointed official logistics provider for the DRS, meaning it is responsible for the infrastructure of sorting centres, and arranging container collections from stores.
It is understood wholesaler Menzies, among others, may potentially be a partner for collecting returned bottles.
In addition, voluntary return points will go live this November, enabling retailers to be a location for bottle returns that is used by multiple stores to drive down operational costs and prevent multiple purchasing of RVMs.