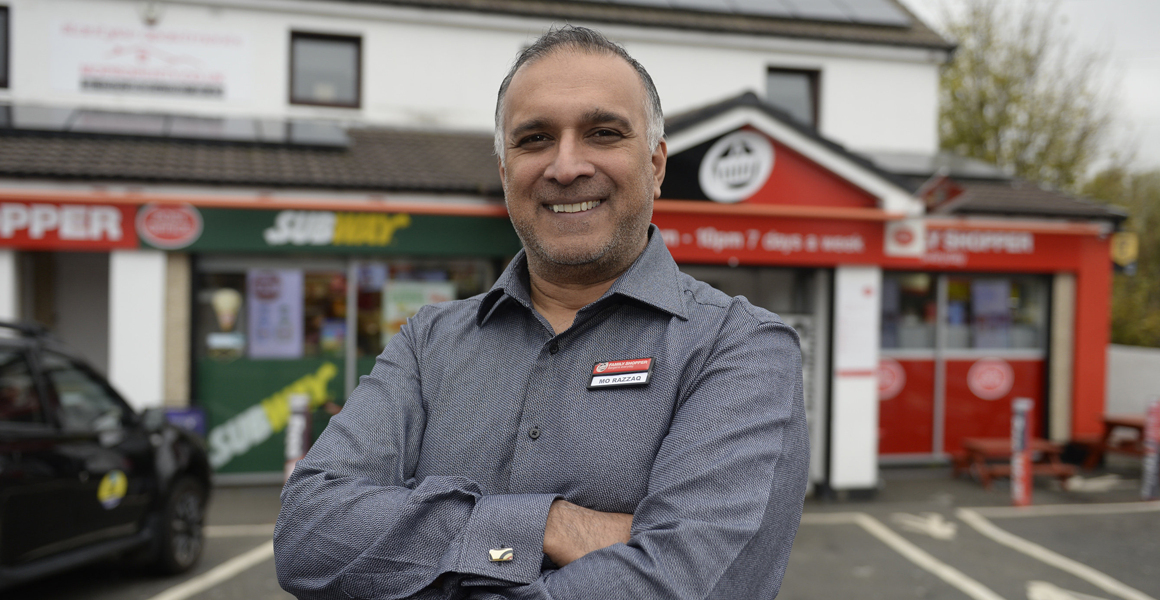 Family Shopper / Subway / Roxy's Desserts / Post Office
190 Main Street, Blantyre, Glasgow, G72 0ET
A unique dessert bar, an intelligent loyalty scheme and a shop you want to spend time in. betterRetailing discovers why Family Shopper Blantyre is the UK's top store
In the small town of Blantyre, about 15 miles outside Glasgow, Mo Razzaq has created a shop worthy of national recognition that customers are willing to travel to.
The store operates in a challenging demographic, with a high unemployed and ageing population, which resulted in a decline in footfall. Mo knew that he had to create something different to bring customers back to his end of town.
"We've put a lot of effort into our store this year and adapted it so it's user friendly, comfortable, caters for the elderly and disabled, and is at the heart of our local community," he says.
His changes led to him achieving more than 80% of the benchmarks across 12 retail disciplines in the Independent Achievers Academy this year, which includes Customer Service, Availability and Merchandising. His strongest performances were in the Retail Innovation, Shop Layout and Digital Engagement categories.
"We've actually got a lot stronger as a result of benchmarking every year. Our food to go has developed, our promotions have improved and we've spent a lot of time on digital innovation," he explains. "We are developing all the time, and benchmarking helps that process."
One of the biggest launches in Mo's store this year was Roxy's dessert bar, which is branded to look like a franchise, but can only be found in Family Shopper Blantyre. It tempts people with indulgent ice cream, waffles, milkshakes and pancakes, and keeps them there with a relaxing atmosphere, mobile charging ports and free Wi-Fi. The service provides Mo's business with margins of 60-70%.
Mo keeps customers coming back in with his own loyalty scheme, called Privilege. Shoppers can use their phones to scan QR codes on posters around the store to access special deals, a trick that has helped him double the basket spend of certain shoppers.
But the programme's beating heart is software called Darius, a powerful tool that retains information every time shoppers claim a deal and add the information to a user profile. The software builds up a complex picture of every shopper in the loyalty scheme and uses it to target them with bespoke deals relevant to their demographic or purchasing history.
We are developing all the time, and benchmarking helps that process
"Previously we had all this data but we didn't know what to do with it. Now we've found a way through Privilege to harness it all and build on it," he says. We've seen a 10% uplift in sales overall, but I know we can do much better."
The challenge for Mo next year is to bring all the parts of his shop together under one complete offer, so that the loyalty scheme can run across his Subway franchise, Roxy's and the store.
"We want to develop our loyalty scheme further and use the information gathered through it to improve the services we provide to customers, our time-of-day offers, our range and promotions," Mo explains.
Now Mo has got his footfall back and is learning more about his shoppers, the next step is to build the basket into bigger shopping trips. "We want to use our scheme to give customers more meal deals," he says.
We're looking to offer healthier options in store alongside recipe cards, so that people looking for an evening meal can pick up all the ingredients in one go and cook quickly."
Family Shopper Blantyre is creating a unique offer and retaining shoppers with a loyalty scheme as sophisticated as any competition from the major multiples, but Mo still plans on developing his business further next year by benchmarking with the IAA.
"It really does push you," he adds. "It takes time to complete, but it's worth it. It ensures you don't get stuck in a rut, that you push yourself forward and always think about what you can change."
Find Family Shopper Blantyre