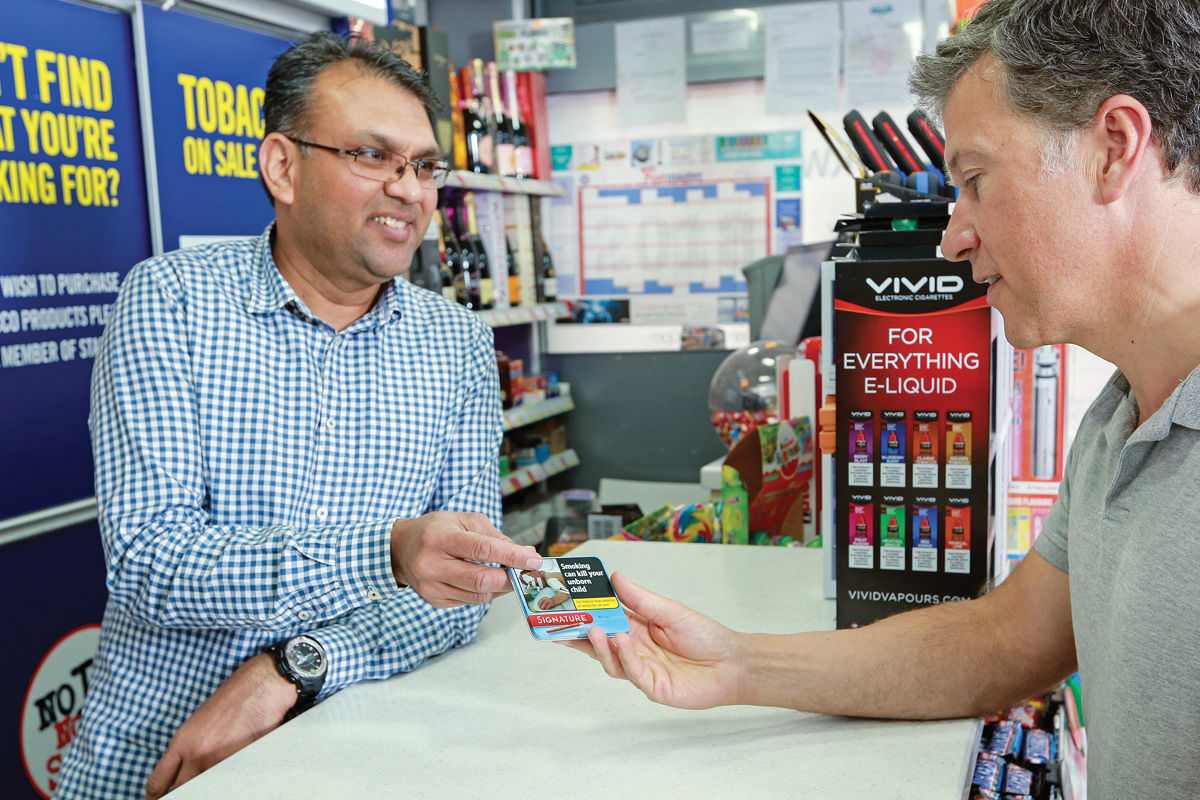 The long-term decline in cigars is slowly levelling out in 2019, with pockets of growth presenting retailers with opportunities. Here, we reveal everything you need to know about the market in five charts, and explains what you need to stock to drive sales and profits.
Cigar miniatures is the segment to get right
Cigar miniatures are showing signs of fighting back against the long-term decline of cigars, growing by 2.8% in value to £105m this year. Given that this segment accounts for nearly three in every four sales, this is significant news for cigar retailers. The segment also contains the fastest-growing cigar in the market – Moments Blue – which has grown its share from 4% of cigars in 2013 to 14% in 2018.
Read more: Cigar price comparison – Pricewatch 2019
The small/panatella segment continues its double-digit volume sales decline. Alastair Williams, country director for Scandinavian Tobacco Group, says: "Within this segment, Moments Panatella is showing a 0.7% share increase since last year, now accounting for 2.6% of sales."
Within the medium/large segment, Henri Wintermans Half Corona remains the bestselling, with a 72% market share. However, despite consistent growth from 2014 to 2018, it has dipped from 74% since last year as Villiger cigars makes ground from 19% to 21%.
Tony Lyles, Ritmeester field development manager, says to capitalise on the opportunities in cigars, it is critical that retailers position them in a noticeable area in the gantry. "Cigars are now the only colour seen when the gantry door is open and offer high margins, such as 18% for Royal Dutch Miniatures and 25% for Royal Dutch Double Filter," he adds.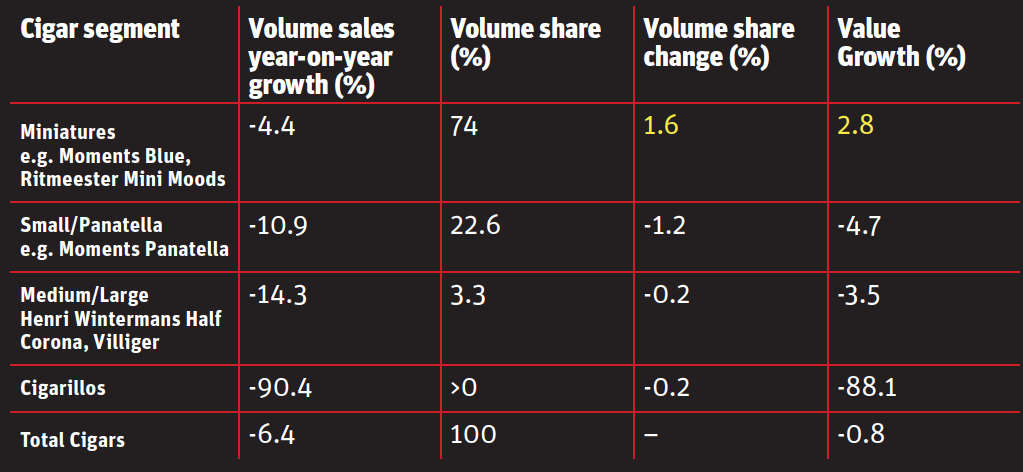 More than 97% of cigar sales come from four companies
There are four main companies that you need to know to succeed in cigars: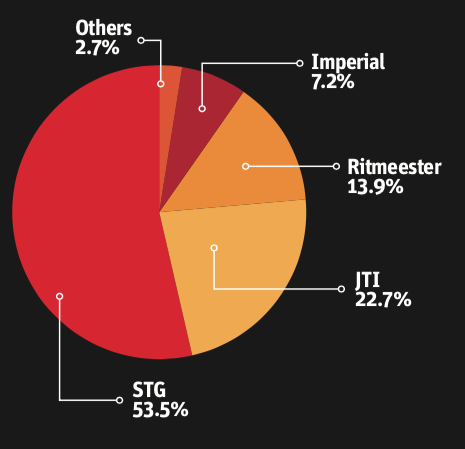 Scandinavian Tobacco Group
JTI
Ritmeester
Imperial
Sixteen products make up 98.9% of cigar sales in independents and symbols
Despite the name change last year, Café Crème – now called Signature – remains the top-selling cigar brand in the UK. Data from January 2018 to August 2019 shows that during the changes, the brand consistently held its share at 36%, fluctuating by only 0.2% above and 0.1% below. Explaining the decision to change Signature's name, STG's Alastair Williams says: "Consumer research came back with three key words: authentic, premium and contemporary. We felt the name 'Signature' reflects this perception."
This table shows sales in independent and symbol stores. From a wider, total market perspective, the top 16 products make up 94.7% of sales, showing that independent retailers are potentially missing out on sales that come with a broader range.
Read more: Café Crème cigars to be renamed Signature
Hamlet Blue and King Edward Coronets appear on the independent list, but not the overall market list, while Mehari's Red Orient and Royal Dutch Elites appear on the total market list, but not on the independent and symbols list.
Ross Hennessy, head of sales at JTI, says: "Hamlet is now the number-two cigar brand. Research has shown that nearly a third of smokers will choose to buy elsewhere if their preferred brand is unavailable, so we recommend retailers stock the full range."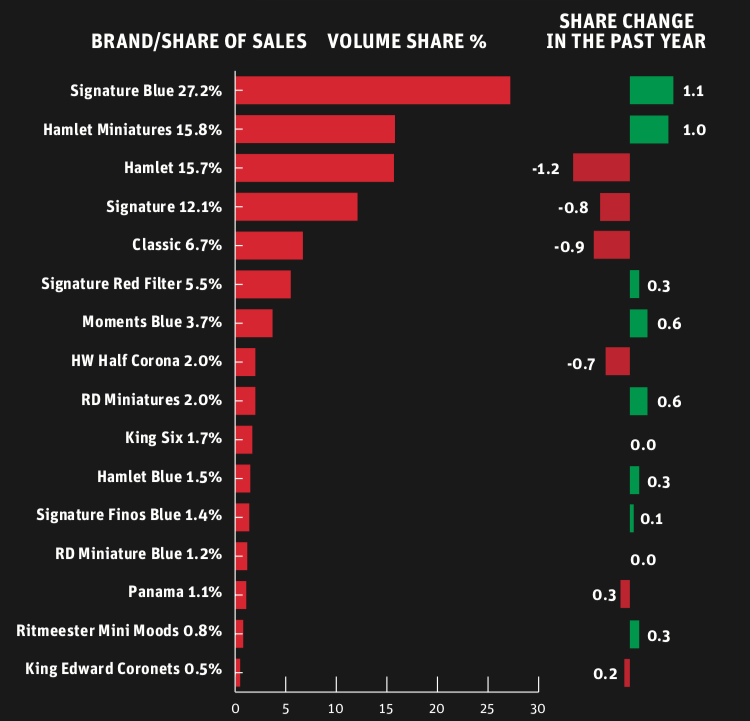 Independents and symbols are losing shoppers to the grocers
Cigar shoppers are moving towards the multiples and convenience supermarkets, with symbols and independents losing footfall.
"A main reason of this is because smokers went from the multiples to independents after the 2012 display ban, but since convenience stores went dark three years later, we have seen smokers return to their previous shopping habits," says STG's Alastair Williams.
Retailers need to make sure they are offering a stronger range, high availability and competitive prices to keep their shoppers.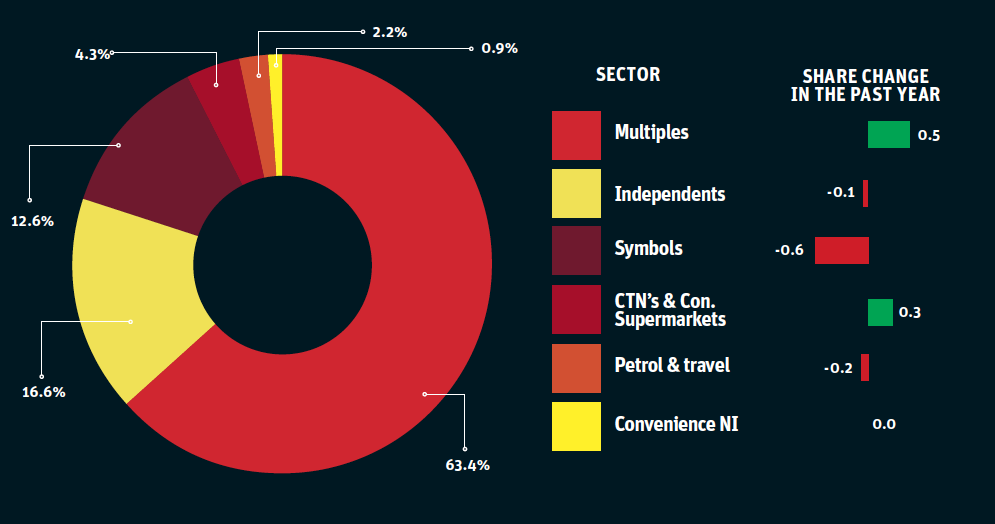 Cigar decline is levelling out
The long-term decline of cigars is nothing new, but looking at the graph below, the days of dramatic decline in 2015, 2016 and 2017 do appear to be slowing. When you focus on the red line for miniatures, the stability is even more profound. Since October 2017 the decline has been mostly flat, even short-lived spurts of growth during 2018.
The graph also shows that the market was unchanged by two of the biggest shake ups in tobacco in recent years – EUTPD II the collapse of the UK's biggest tobacco wholesaler Palmer and Harvey.
Read more: Retailers can take £250 extra a year for every cigarette shopper they switch to cigars
"For the past two years, cigars have not been governed by plain packaging and can be sold in smaller pack sizes than cigarettes and rolling tobacco," says Lyles.
"EU TPD II had little impact on cigars, mostly because we fought very hard and won the right to be exempt from plain packaging. At the moment, the jungle drums for plain packaging have gone quiet, but we're certainly not staying complacent," says STG's Alastair Williams. "We certainly think there is opportunity in the next piece of legislation coming in – the menthol ban."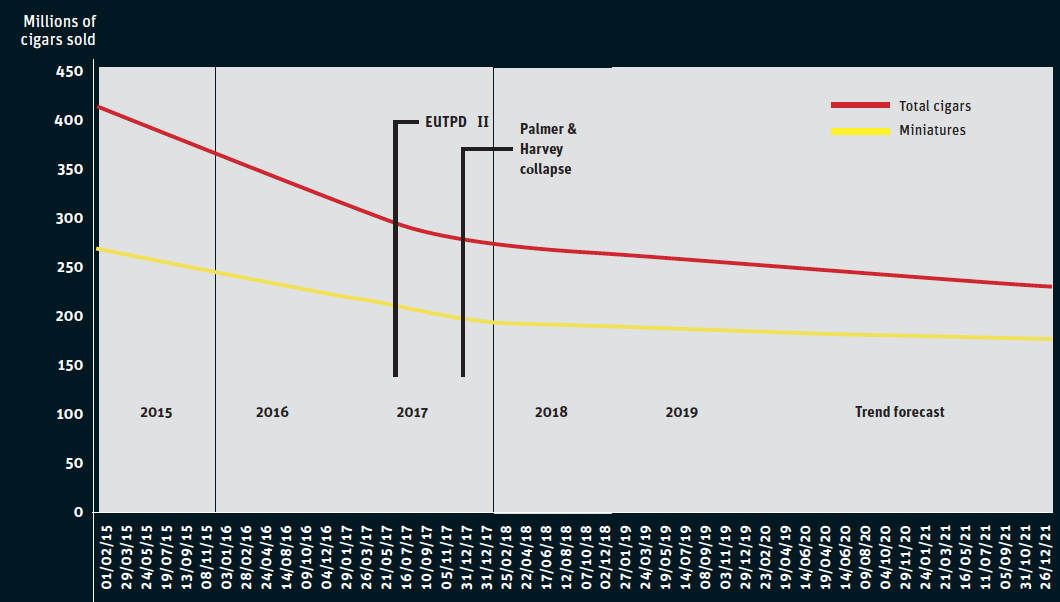 Focus on: Pipe tobacco
Three products make up just under 70% of all pipe tobacco sales:
JTI's Condor Ready Rubbed – the new pipe tobacco bestseller
After plummeting from 24% of the market to 14% between March and August 2017, the brand seized the top spot from St Bruno Ready Rubbed at the start of 2018 and has remained consistently at the top since then.
Imperial Tobacco's St Bruno Ready Rubbed – the former bestseller
Since a drastic spike in market share in 2017, up by 7% in just two months at Condor Ready Rubbed's expense, the brand is now wrestling with Clan in a tight-knit race for number-two position.
STG's Clan – the mover and shaker
In 2015, Clan held a 15% market share to Condor Ready Rubbed's 20% and St Bruno's Ready Rubbed's 24%. In the past four years, the product has experienced gradual, consistent growth, reaching a peak of 23% last November. Since then it has been within just one or two per cent of St Bruno.
Read more: Cigars could fire up millennial sales
STG's 2020 plans
STG recently announced it has acquired Netherlands-based Royal Agio Cigars adding brands such as Mehari's, Panter and Balmoral to its range. The company is expected to take over distribution in the first half of 2020 and add 2% to its market share in the UK.
For convenience retailers, the two main products are Mehari's Ecuador, Java and Red Orient – the 11th biggest cigar from a total market perspective. Red Orient currently does not appear in the top 16 list in independents so retailers should expect the company to want to replicate its success here. Mehari's Ecuador is the 10th bestselling Panatella and one of only four products in the segment that increased its market share between August 2018 and 19.
Read more: A strategy for selling cigars