Strenghtening impulse
AS the pandemic has flipped shopper trips on their heads, the humble mints and gums category, stalwart of the counter, has suffered somewhat.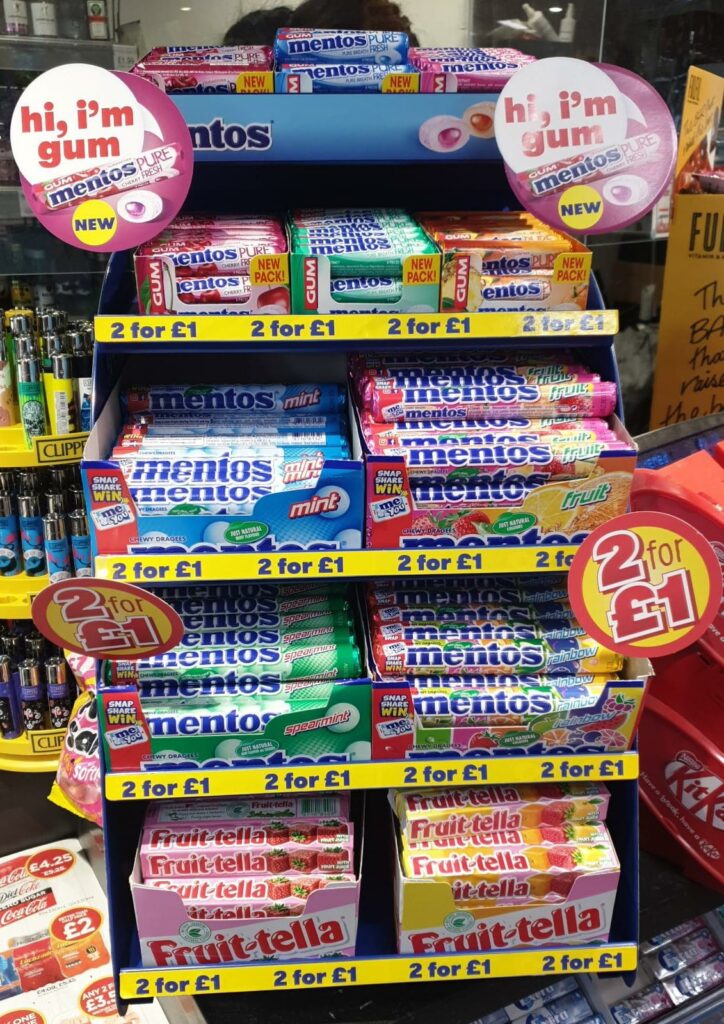 People have spent less time popping into local shops on their way to and from work or social occasions, and that has had an effect on the refreshment category.
"My mints and gums slowed down last year, and now people are coming out again they're going back up, but I don't think we'll see the full effects until after May," says Giresh Patel, of N&R News in Blackheath, London.
Now people are getting out more with the easing of restrictions, it's a great time to remind them of products that work as on-the-fly purchases, according to Levi Boorer, Ferrero's customer development director. "The sugar confectionery category in general very impulsive, with most purchases unplanned by the shopper prior to entering the store. Product availability is therefore key, with prominent spaces and PoS units helping to capture attention and consideration," he says.
"Now, more than ever, shoppers have a functional approach to their visits, and have a clear idea of the products they need before entering the store.
"By having sugar confectionery products available in store, retailers can enable shoppers to pick up something extra that can give them a little treat to enjoy later."
Core heritage
Ultimately, this category is powered by industry mainstays. Brands such as Extra, Airwaves and Trebor have consistently driven sales and kept many newcomers off the shelves. Mars Wrigley's total gum portfolio is worth more than £248.6m. Within that, Extra sugar-free gum is worth more than £203m, with its core flavours Peppermint and Spearmint the top-performing varieties, with a combined worth of more than £104m.
When it comes to Mars Wrigley's other key brand, Airwaves, 45% of consumers claim to not buy any other gum brand, says Victoria Gell, fruity confections portfolio director at Mars Wrigley.
Trebor is also marking its centenary year in 2021 with a campaign called the Big 100. This campaign gives shoppers the chance to win a range of prizes worth up to £10,000, including daily £100 giveaways.
It will have bespoke PoS, which Mondelez head of trade communications Susan Nash says is crucial for such an impulsive category. "Mints is a highly impulsive category, so a campaign like Big 100, with impactful PoS, is a great way to capture shopper attention and make the mints fixture unmissable to help drive impulse sales."
Retailer view: Dennis Williams, Premier Broadway Convenience, Edinburgh
"As Westminster and Holyrood are looking to take on HFSS foods, we did a refit in September that took our mints away from the counter and put magazines there. Magazine sales are up 40%, but mint sales haven't been affected. My mints are mostly singles, but I do sell Mentos in four-packs.
"With 1,700sq ft, we have a bit of room to play with, but if you're a small shop, it might hurt your business. Chewing gum stays on the front, and that's steady. My bestsellers are Extra Spearmint, Extra White and Extra Peppermint, which I sell mainly in individual packs, but I also sell Extra £2 PMP tubs.
"I see slightly older people take mints, and it's more of an age mix that takes chewing gum. People buy chewing gum to take the smell of cigarettes off their breath, I have no doubt about that."
Firm flavours
Despite the firm entrenchment of these brands' core lines, there have been some attempts to inject new products into the category. In April, Mars Wrigley built on the 2020 launch of its Extra Refreshers gum with a new Tropical flavour, citing a growing popularity of fruity gum among under- 25-year-olds.
"Flavours are set to grow, especially as we head into summer, so it is very fitting for us to launch bottles with a new tropical flavour," says Sasha Storey, senior brand manager for Extra at Mars Wrigley.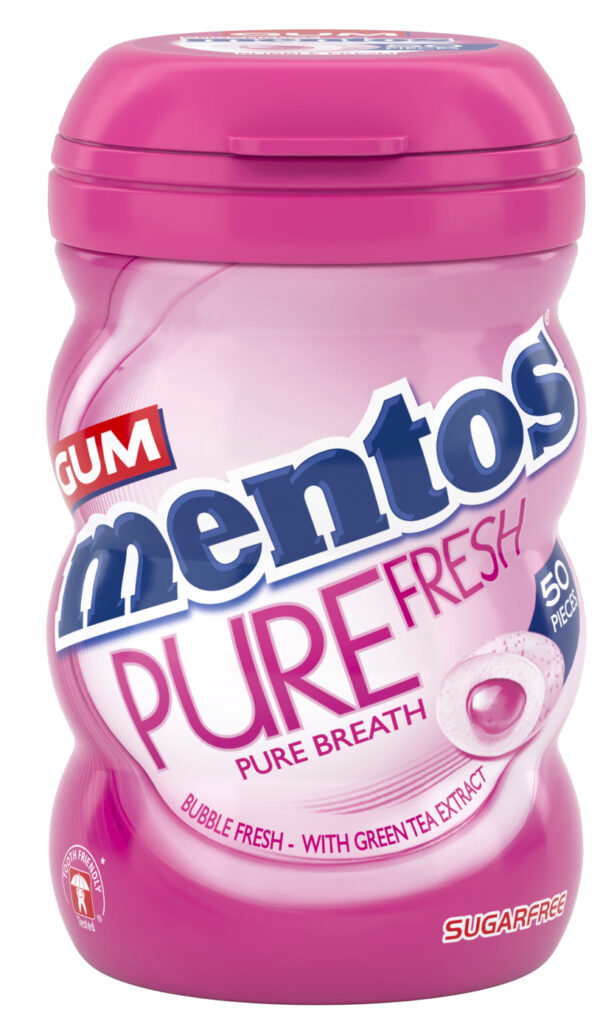 Kim McMahon, product manager at Mentos, thinks now is a good time to drive innovation in the category, and incentivise people to return to mints and gums, after the launch of Mentos Pure Fresh Cherry Roll and a Pure Fresh Bubblefresh bottle format.
"There are 30 million gum chewers in the UK, but we have seen a decline in frequency, driven by consumer changes in habits due to reduction in travelling and commuting," adds McMahon. "That's why we're investing in the category, to ensure the products are front of mind to ultimately encourage more sales at the till."
Retailers should bear this in mind, and try to balance a core range of established favourites across mints and gums while giving fair representation to any new brands that may appeal to their customers.
Fresh formats
Due to the impulsive nature of the refreshment category and its frequent positioning near the counter, it can be easy to quickly establish whether a product is working or not. "When something new comes out, we do try it – like Starburst Chewing Gum – and as it's an impulse category, people will at least give it a try at the beginning," says Zahid Sharif, of Greenend Convenience in Manchester.
From this point, retailers can adjust their ranges accordingly, and, with the easing of lockdown, might find it's a better time than ever to switch up their range.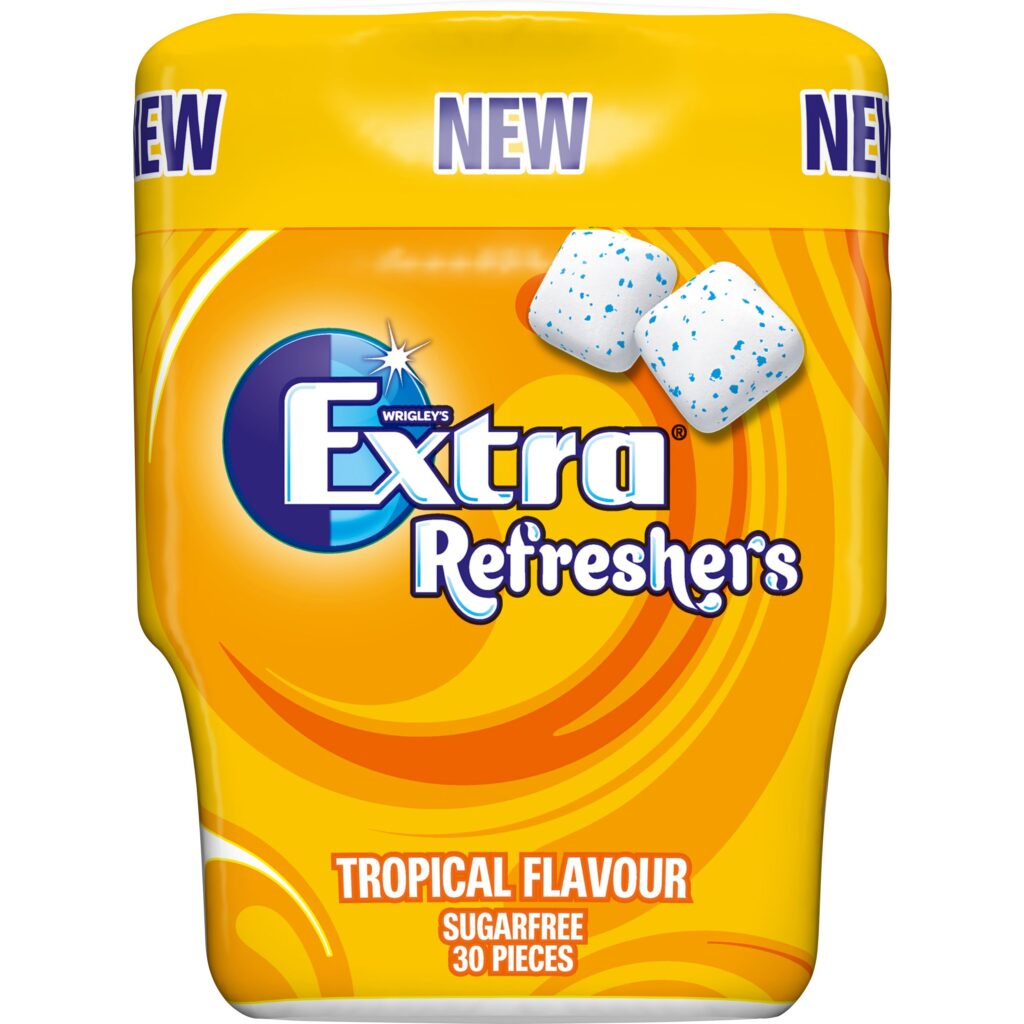 Beyond flavours, gum is beginning to show its variation in format terms, with price-marked tubs seeing an increase in some shops amid a general trend towards value purchases in a time of economic downturn. Extra Refreshers are also available in a unique bottle format which makes the newer product stand out at the counter.
"While individual packs remain essential lines for stores of all sizes, the larger bottle format is set to be one of the bestselling formats of the year," says Storey. "Gum bottles will be driving the growth in 2021 with 1.7% projected growth, so we recommend it is stocked alongside core single packs for maximum sales success." However, if customers have more of a tendency towards single packs, then offering deals such as two-for-£1 can drive incremental sales.
This feature appeared in the 4 May issue of Retail Express. To get the latest issue, click here