The evolution of the big night in
It might feel like the bubble of the big night in has burst, with pubs reopened and restrictions getting looser across the UK. The question for retailers is whether or not their customers will react to these changes by going back to the on-trade in their droves, leaving at home entertainment to fall back to pre-pandemic levels.
However, while evidence suggests nights in may not be as big as they were in 2021, they remain a more important part of customers' calendars than they were pre-pandemic. "We anticipate that nights in will continue to be a huge opportunity for retailers as we move through 2022, as friends and families enjoy socialising together at home – whether that's for sophisticated evening meals or relaxed movie nights," says Amy Burgess, senior trade communications manager at Coca-Cola Europacific Partners (CCEP).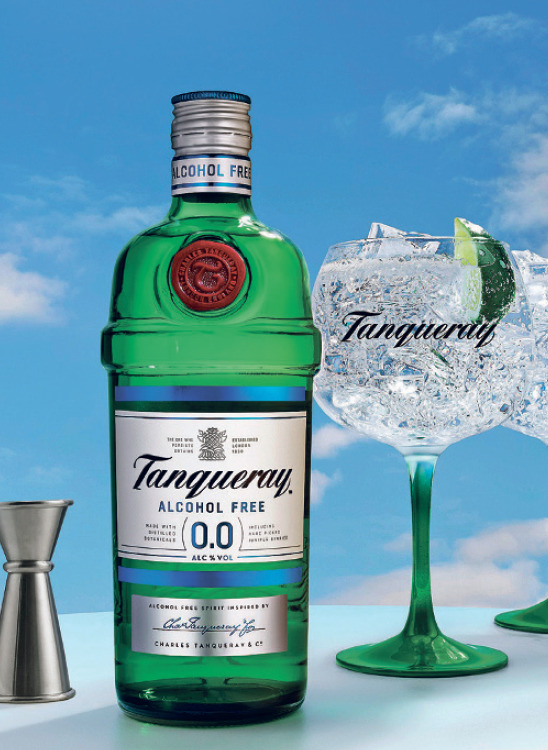 "These at-home habits and occasions have developed throughout the pandemic." In fact, for many customers, nights in have become something that's important to their mental well-being at a time when not everyone feels comfortable going back to pre-pandemic habits. "Many [customers] are taking on more than before, with an extended working day meaning that a night in can give a much-needed escape to the sofa," says Levi Boorer, customer development director at Ferrero. 
To create an appealing offer, retailers should examine how their ranges work alongside their customers' needs. When the population was locked down, for example, home baking became a trend. People may no longer have the time to bake from scratch, so retailers could provide products that meet them in the middle – like partbaked bread. "Sales of part-baked bread have risen 8% in the past year as consumers who don't have the time or skills to bake from scratch seek convenient things to serve up for their nights in," says Jen Danby, marketing director at St Pierre Group. "This indicates that people are still looking to add a premium twist to their nights in."
Understanding the different occasions
The big night in has evolved from a replacement for the on-trade during lockdown to a wide array of different events that retailers can provide for. A spokesperson for Britvic has highlighted 'high' and 'low' tempos within at-home socialising, both of which offer opportunities. "
Everyday/low-tempo occasions include family meals, lunchtimes, snacking and pick me- ups, with soft drinks meeting different needs. "Hydration involves trading up from tap water to squash. Refreshment sees cola and fl avoured carbonates, with fl avours and no sugar, driving the trends," they say.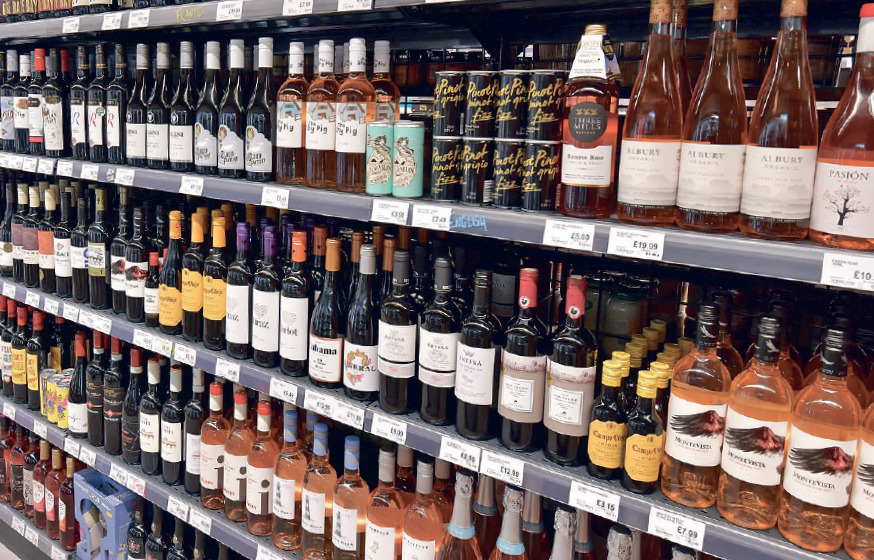 "Special/high-tempo occasions fall into two kinds. Socialising and winding down involves mixers with spirits, but also enjoyed as adult soft drinks. Craft spirits' rise has prompted the emergence of premium, artisan mixers and trading up from own label to branded offerings, such as London Essence. "Special occasions and gatherings include barbecues and other adult socialising, with premium carbonates at the forefront. Consumers perceive glass packaging as premium, associated with soft drinks drunk outdoors."
The importance of larger bags and multipacks for this kind of socialising cannot be overstated when it comes to nights in. Customers will be catering to larger groups of people so will be stocking up in advance. At a time when budgets everywhere are being stretched, buying in bulk offers moneysaving opportunities. "Consumers are on the lookout for larger, value-for-money packs for nights in," says Jon Wood, commercial director of Calbee UK. 
Read more: Category advice: St. Patrick's Day
"Larger packs suit a night in perfectly. They are ideal for cosy nights alone, evenings for two, and/or for entertaining family and friends. "Multipacks are ideal for consumers looking to purchase snacking products for the big night in as the packs can provide a range of flavours to choose from." However, alongside the demand for value, there has been continued growth in premium products, as customers look to bring on-trade quality into their own homes as a treat. "The move towards premiumisation hasn't slowed since restrictions have been lifted, and premium brands, such as St Pierre, give consumers an opportunity to 'trade up' and elevate everyday meals, such as gourmet burgers and hot dogs," says Paul Baker, founder of St Pierre Groupe.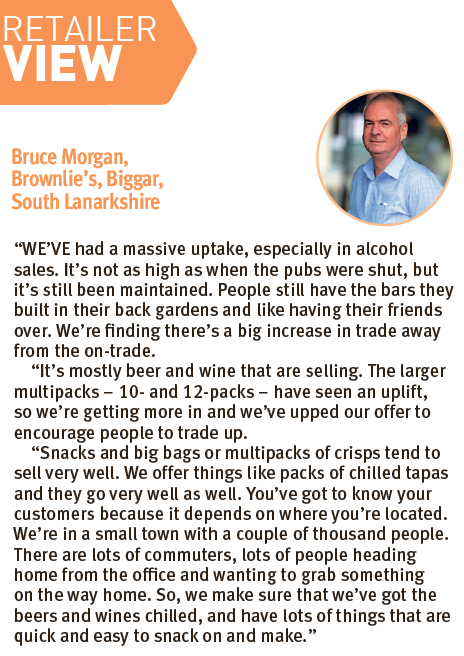 Becoming a one-stop shop
A big night in involves plenty of different ingredients, from snacks to share at the start, to bigger meals and desserts, and alcohol and soft drinks to consume throughout. Customers planning a big night – or indeed buying things in a more spontaneous manner – will appreciate finding a store that caters for all of their needs, particularly if the hassle of walking too many aisles is taken away and they can grab everything in one shop.
"Consumers ideally want to enter stores and easily find what they are looking for and know they will find value. With effective cross-merchandising, retailers can spark an impulse sale and drive basket spend by pairing items together, offering a bit of inspiration on how to change up weekend plans," says Johnny Dennys, head of brand and trade marketing at Mast-Jagermeister UK. 
"To encourage shoppers to do their big-night-in shopping at your store, ensure you are stocking the right products, at the right price and merchandising effectively. Try merchandising spirits, mixers and snacks together to encourage a higher basket spend, and make that shopper mission easier for the consumer." This approach doesn't just make your customers' shopping experience simpler. It can also significantly increase basket spend with additional impulse purchases.
Scott Snell, vice president of customer at Pladis UK & Ireland, agrees, recommending that retailers create a heavily merchandised fixture in a high-footfall area of their store dedicated to the big night in. "It's about making the shopper experience as seamless as possible, so themed space and signage, and offering secondary sitings – such as at point of sale – are essential considerations to maximise sales. Incorporating paired products and cross-category promotions will also help to increase impulse sales across a number of categories, as shoppers spend more time in store as a result," he says.