Craft and premium options
Beer and ciders can be divided by flavour, type and country of origin. But it is the price tag and provenance that can have major impacts on sales. With many customers steering clear of the on-trade because of the cost-of-living crisis, they are looking to convenience stores for their beer and cider, but are willing to spend a bit more to get something with craft or premium credentials.
"The growth of craft cider demonstrates this trend perfectly. This sub-category is in strong growth (16.3%), which is all the more impressive considering many other cider subcategories are struggling to annualise against the highs of 2020 and 2021. What's more, craft is increasingly stealing share within total cider (from 17.2% to 20%)," says Sally Mc- Kinnon, head of marketing at Westons Cider.
However, while there is scope for some stores to lean into local and smaller brands for their stores, within craft and premium, there are more recognised and familiar brands that enjoy a far greater share of sales. Retailers should start with these and then look at stepping further into the craft world depending on customer feedback and sales data. "The emergence of craft beers 20 or so years ago transformed the beer market and customer behaviour within it. Drinkers are now more adventurous with their beer drinking, but the majority still have rm favourites, both in beer styles and brands within them, which should be kept in mind when designing a beer mixture," says Giles Mountford, drinks marketing manager at Badger Beers. "Having a lot of different craft beers will meet the needs of a hardcore craft drinker, but much of the core volume still comes from the more straightforward beers that appeal to a mainstream audience."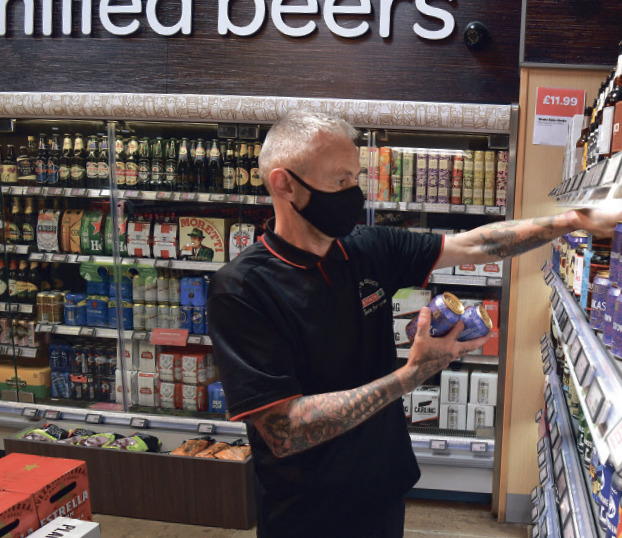 Merchandising beer and cider
While the larger multipacks of beer or cider customers a sense of greater value for money, ultimately tighter budgets and the convenient nature of independent stores mean that retailers will see the majority of sales coming in smaller pack formats. With this in mind, retailers should focus on stocking four-pack and six-packs of their bestselling options.
"We are seeing smaller multipacks – such as small and mid-packs – growing their share of spend, and expect this trend to continue over the coming months as many look to continue shopping but with a more restricted budget," says Alexander Wilson, category and commercial strategy director at Heineken. "Since shoppers started reverting to these habits of making smaller, but more frequent shops, retailers should be looking to supply customers with choice, and offering a range of beer and cider multipack sizes to help cater to a variety of consumer occasions."
Additionally, if retailers are to attract sales from people seeking beer and cider conveniently, then they need to be showcased in the fridges for maximum impact. Putting multipacks in the fridges as well will help to drive sales, particularly in summer as people look for something to pick up on their way to barbecues and summer parties. "Cider is the impulse drink of choice, so retailers can respond to this by offering a 100% chilled range, stocking a wide range of options in cans and bottles," says Calli O'Brien, head of marketing at Aston Manor Cider. "If a store has limited chiller space, then it's worth retailers at least ensuring there are a good selection of flavoured ciders available chilled alongside topselling ciders. When a shopper buys cider on impulse, having it chilled and ready to drink are often more important than price – however, promotions still play an important role in communicating value for money that will help to win longer term customer loyalty."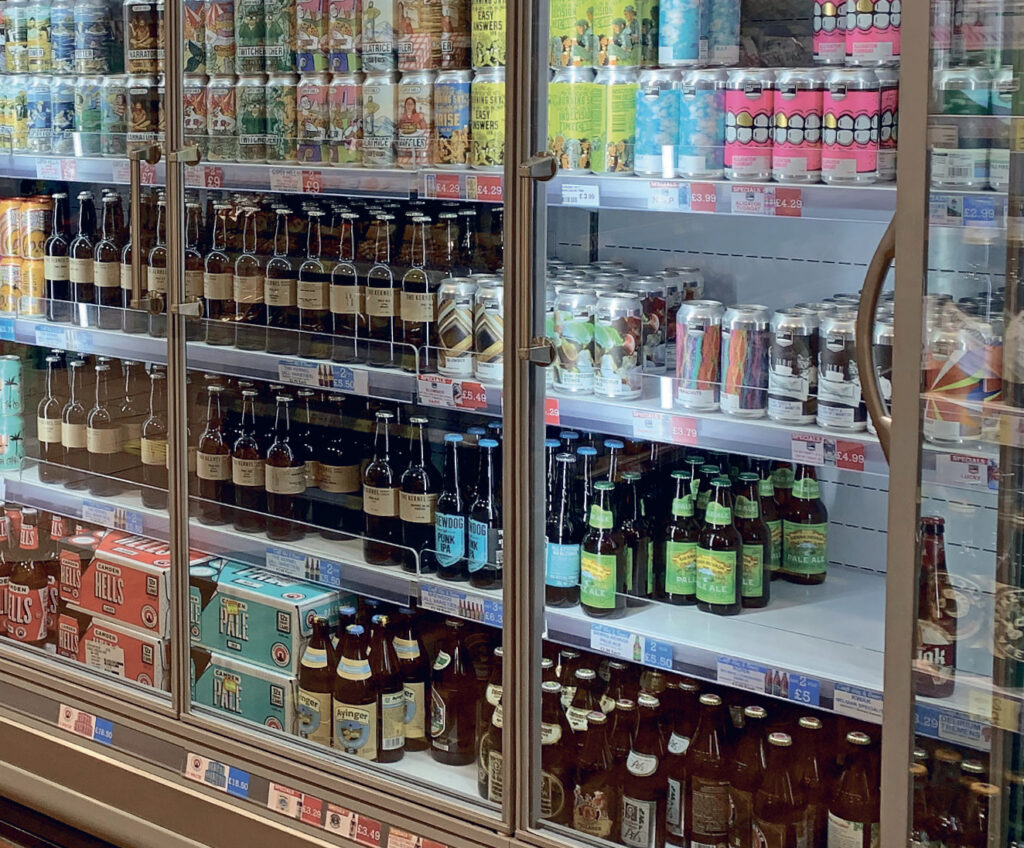 No and low
One of the major evolutions within beer and cider has been the growth of no- and low-alcohol options from a niche alternative to something that most major brands now produce. With younger generations especially reducing their overall alcohol intake and others looking to reduce their calorie intake as well, the growth of low and no has been a strong one. "From a category point of view, the no- and low-alcohol trend has also continued its growth, with 70% of consumers agreeing they are proactively trying to lead a healthier lifestyle and 68% of UK drinkers saying they have tried a low- and no-alcohol beverage," says Heineken's Wilson. While retailers shouldn't yet feel the need to stock as extensive a range of low and no as they do for their alcoholic counterparts, not having anything on o er can actively cost your store customers – not to mention return visits. Talk to your customers about their preferred brands and then make sure to have them stocked both in single and multipacks, in the fridge and out on the shelves for take-home. For beer specialist stores, there are craft breweries out there that specialise in no- and low alcohol beers, which could give your store an added point of difference for craft customers.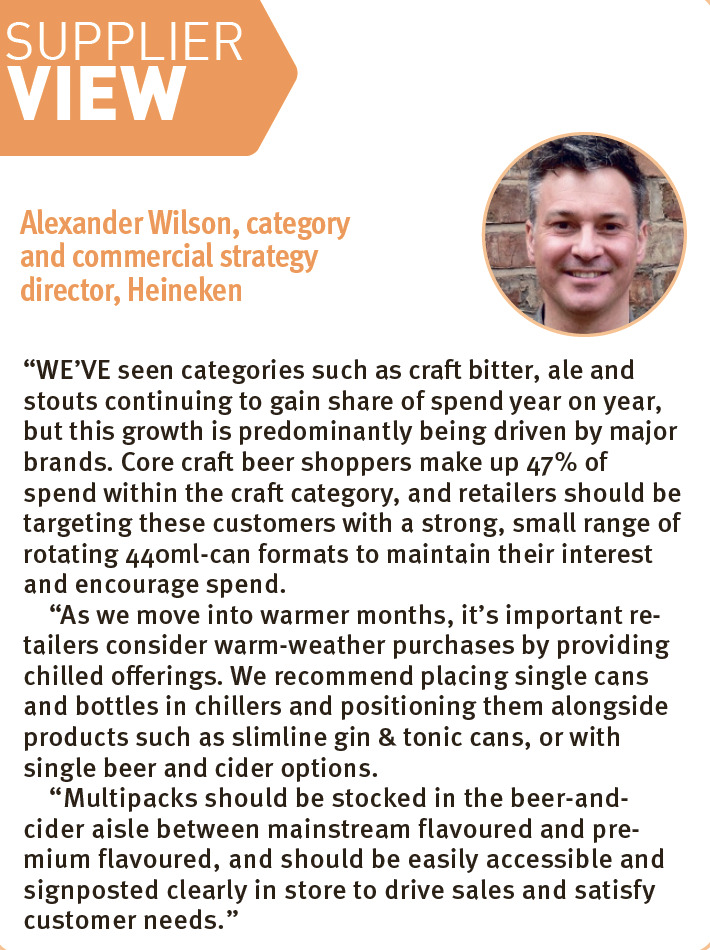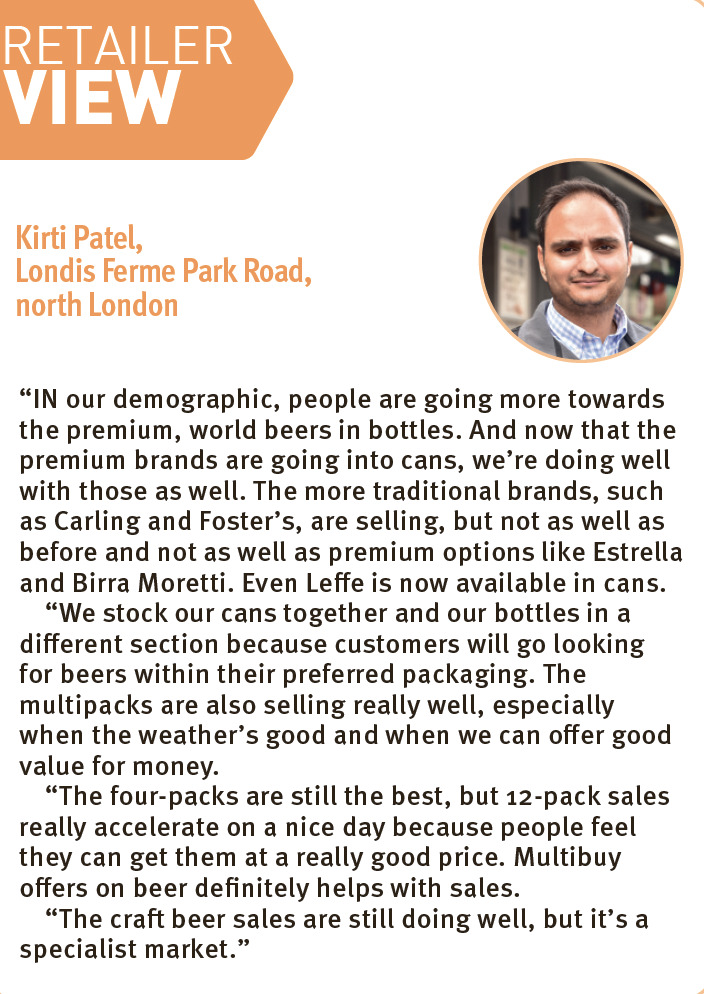 Product launches
Carlsberg 0.0- Carlsberg is launching an alcohol-free beer. Carlsberg 0.0 is currently available in 4x330ml format in Tesco, with wider rollout planned later in the year. It has 63 kcals per 330ml bottle.
Badger Beers' new design- Badger Beers has revealed new designs for its premium bottled ales, with packs set to appear from August for Hopping Hare, Blandford Fly, Cranborne Poacher, Fursty Ferret, Golden Champion, Tangle Foot and Master Stoat, which was launched this year. The redesign aims to help revitalise the PBA category, and present Badger as a unique and innovative brand within it. The new designs feature an illustration of a wildlife character – including a mouse, ferret and hare, among others – above a clear, brief taste description.
BrewDog Black Heart- BrewDog has added Black Heart, a stout with a 4.1% ABV, to its core range. Available in 4x440ml can multipacks and launching exclusively with Booker in the convenience channel, Black Heart is a dry, Irish-style stout. The stout category is currently worth £150m in the on-trade.
BrewDog pack redesign- Brewdog has updated its design to differentiate between the various beer styles and make it easier for customers to pick out the beers they want. The refresh sees the packs move from all white, to integrate the can creative of each of its beers, making them easier to differentiate in the chiller. The new packs will also provide three-word descriptors focusing on taste, along with a visual of the beer in a glass.
Sheppy's Low Alcohol Cider with Raspberry- Sheppy's has launched a Low Alcohol Cider with Raspberry (0.5% ABV), the second low-alcohol cider in its range. The new cider will initially be available via the Sheppy's webshop, as well as to on-trade, in cases of 12x500ml bottles (RRP £21.50).
Two flavoured ciders from Cornish Orchards- Cornish Orchards has launched two fruit ciders that are available now. Cornish Orchards Raspberry & Elderflower Cider and Cherry & Blackberry Cider have an ABV of 4% and are ordered as accompaniments to at-home al-fresco drinking occasions.
Thatchers Blood Orange Cider- Thatchers Cider has extended the format range for its Blood Orange Cider to include a 10x330ml can pack. Thatchers Blood Orange was launched in spring 2022, and attracted more shoppers than any other innovation within the beer, wine and spirits category. The Somerset-based cider maker has packaged its cider in a 10x330ml can pack.
Strongbow Tropical Cider- In March, Heineken released Strongbow Tropical Cider, which features a blend of mango and pineapple, alongside a range-wide packaging update.
Brothers Raspberry Ripple- Brothers Cider has introduced a Raspberry Ripple flavour. It is available in 500ml and 330ml glass bottles, and in 6x330ml and 10x330ml multipack can formats. The launch of Brothers Raspberry Ripple is being supported with a disruptive marketing campaign comprising influencer partnerships, social media activations, and PoS materials available to drive visibility in depots and in-store.
Read more alcohol product news and category advice