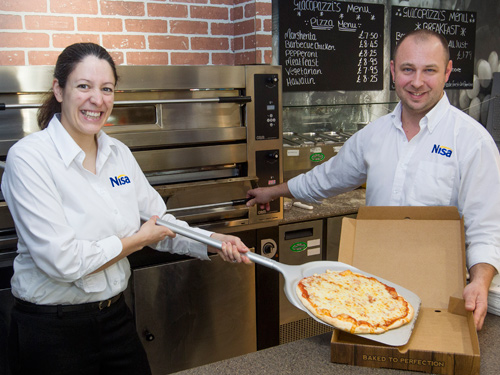 Whatever your plan, retailers and industry experts agree changes to businesses that are made without the support of staff are unlikely to succeed. Tom Gockelen-Kozlowski finds out more
"It's a never-ending job," says Franck Casonato, who gained great experience by working in a pizzeria before opening his own takeaway at his store Giacopazzi's in Kinross, east Scotland. He then faced the challenge of passing on what he and his wife learned to his staff.
"It's about spending time showing them what you want them to do and the standard you want them to be at," he says. Moving into food preparation means his staff are now required to meet legal food hygiene standards but the business has maximised the benefit of training by also introducing a range of freshly-made sandwiches that can be made to order.
"When we built the store we made sure there was a large area for food preparation," he says. "I still think there's much more we could do with food to go."
Dan Cock is at the very beginning of a similar journey. "I try to get my staff together for a team meeting every week so they know where they are," he says. He has also provided them with tours of the building site to see the progress first-hand.
At Bestway, Paul Adams tries to ensure a store's staff are at the heart of any business plans he works on. "We jointly engage staff and the retailer and they become a stakeholder in the changes. We can take them off-site, provide training, or put them in businesses where there's already a successful food to go operation," he says.
Back at Premier Whitstone Village Stores, Dan Cock raises another important about staffing – employees can become the best champions of any changes you make. "A lot of the staff live in the community too, so what we're doing is good for them and their families."
For more ways to guarantee your business adapts successfully, read this week's RN (20 January)