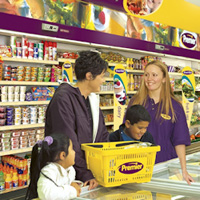 While there is lots of turmoil in the grocery market, local shopkeepers can be optimistic that
the billions spent by the big four on new shops is not taking sales from them. On the other hand, trading remains tough and will continue so for some time.
Data collected by industry observers like Kantar Worldpanel and AC Nielsen is released monthly and provides a useful benchmark for local store owners. But you have to keep watching the numbers as they are not as dramatic as you may think.
The big message from the Kantar team is that grocery inflation is running at 5.2 per cent but sales are only up by 3.8 per cent. While the big winners in its August analysis are the discounters – Aldi and Lidl – it estimates the sales rise at symbols and independents is 13.4 per cent across the 12 weeks to 7 August.
However, if you average the market share positions for 13 Kantar reports to smooth out seasonal fluctuations, you find that Asda has lost 0.3 per cent market share and Sainsbury's has picked up 0.2 per cent, leaving the big four flat. The Co-op has lost 0.6 per cent, while Waitrose and Iceland have picked up 0.1 per cent and Aldi and Lidl 0.2 per cent each. Independents and symbol retailers share is flat, which may be good news as over two, three or four years the sector has lost market share.
Costs rising ahead of inflation
What does this mean for your shop? Compare your numbers for the past month with the same period last year. If your sales are up by more than 5.2 per cent then you are growing sales. But be careful. Your assortment of products may include some where costs are rising ahead of the grocery inflation figure. Confectionery, soft drinks and snacks are areas where manufacturers have pushed through bigger price rises, for example.
It also means that you are doing OK if you are retaining shoppers. However, that is no reason for complacency. Think about what the supermarkets are doing to attract shoppers. Cutting the price of fuel. Price matching on key brands. What value deals are you offering shoppers? And how committed are you to keep the deals long term?
Over the past year, according to Asda, the multiples have grown volume sales by 0.3 per cent. On the back of all their investment, that shows how tough the market is. How can you respond? Think about how good you are at sales disciplines? How well do you communicate promotions to shoppers? Do you ask whether shoppers would like to buy anything else while they are in your store? It may be hard work but it is essential.