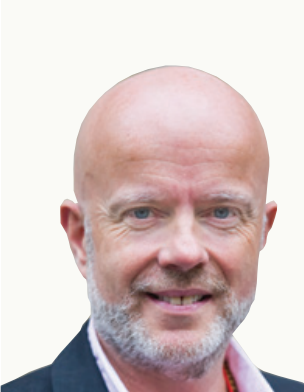 There is no doubt these are challenging times for all businesses, and as always, food retailing is up there on the front line.
Along with dealing with coronavirus issues and related changes in shopper behaviour, we have to contend with supply chain issues, fuel shortages and the ongoing challenge of people management, with labour now in short supply in many places.
For me, working with people is the single biggest challenge and the single biggest opportunity for entrepreneurs. The sale of Thornton's Budgens over the summer was the culmination of a six-year experiment in running a business from the heart.
What, you may ask, does 'running a business from the heart' mean? As I define it, it means allowing people to truly be themselves, to fully access all their talents and to feel trusted.
The traditional retail model is of command and control – 'do as I say, do what you are supposed to and don't ask questions'.
Andrew Thornton's store empowers his staff to embrace plastic-free products
While the chain of command in a multiple is long, and decisions are often made a long way from the coal face, if you are an independent retailer or a supplier, ask yourself how much of a command and control style do you need?
When I sold Thornton's Budgens, the feedback from my team was that the aspects they most valued of the 'heart' style of leadership were trust and freedom.
To help build this, we did not have a store manager – we had two co-leaders, who were both women, and they had two co-deputies, who lead the overall team of 65 people, and managed the five outside concessions we operated.
This immediately moved away from the need to get approval for decisions from a single, all-powerful store manager and helped us develop 'self-leadership'.
With all of the leaders, I let them know very clearly that I trusted them to work when they needed to, and that they did not need to operate to a pre-defined schedule – as long as the work was done, they did not need to check in with me if they wanted to work at different times to suit their family situation.
How to train your team your for success
All of my team had busy and full lives, and some of those with young families had to juggle parenting with a working partner, or being a single parent.
The gift I could give them was my flexibility, and they appreciated me for the freedom it gave them. The fact I trusted them, and did not need to clock-watch their hours, was hugely important, and the loyalty this generated was extraordinary.
So, here is a challenge – consider what changes can you make to trust your team more and give them more freedom.
Think of a small step today and implement it. I can assure you, you'll be rewarded many times over.