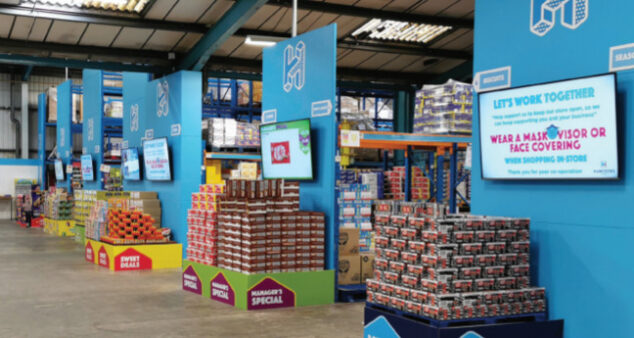 Confectionery wholesaler Hancocks has updated its depots, online business and ranging to cater to the needs of more independent convenience stores.
Following increased demand in the last year, the company's sales and marketing director, Helen Bradshaw, told betterRetailing the recent investment is to help retailers meet post-pandemic trends. "Many of our convenience customers had completely overhauled their stores during the pandemic and have broadened their businesses," she said.
"We hold monthly surveys with them, and this helped shape our understanding about what they wanted from us in terms of service and ranging. We invested in more infrastructure to help us deliver more to our customer base."
Hancocks launches new bakery products to meet growing demand
Bradshaw added Hancocks is looking to personalise its offering to independent retailers. "We're taking a much more tailored approach and a big piece of the work is how we alter our message to suit different customers, such as convenience stores," said Bradshaw.
"For example, we've changed the layout of our depots so they can find the products they want more easily and ensured there are experts on hand."
The company, which operates a delivered wholesale service, has also invested in improving the navigation, customer service and checkout process through its online website.
Pez character dispensers now available at Hancocks
Customer trends towards larger shops during the pandemic saw a drop in impulse sales throughout convenience, but Bradshaw claimed Hancocks bucked this decline. "Confectionery was still seen as an affordable treat and it still does really well. Where we've seen growth is through premium American imports," she said.
"We've got exclusive partnerships with a range of global brands, such as Pez and Tootsie, and customers often ask whether we can do more with these brands. We've also taken on dedicated staff with a purpose of developing this area and securing more supplier relationships.
"Customers tell us they love finding a treasure trove of products they can't find elsewhere."
Hancocks adds 10 new items to pick and mix range
Bradshaw added the company had also seen demand increase for prepacked products as the public stays more conscious of hygiene. "I do think pic'n'mix will come back, but customers will still be cautious for a period of time due to worries about contamination," she said. "What we've done is quickly developed some prepacked pic'n'mix solutions, such as cups and large pouches."
The investment comes as Hancocks opened a distribution centre in Worksop at the end of last year. Commenting on how it would benefit customers, Bradshaw said: "We've got 25,000 independent customers and more than 50,000 users a week online.
"There's lots of opportunity, and the distribution site will improve our capacity by a third."
Read more Hancocks Cash & Carry news