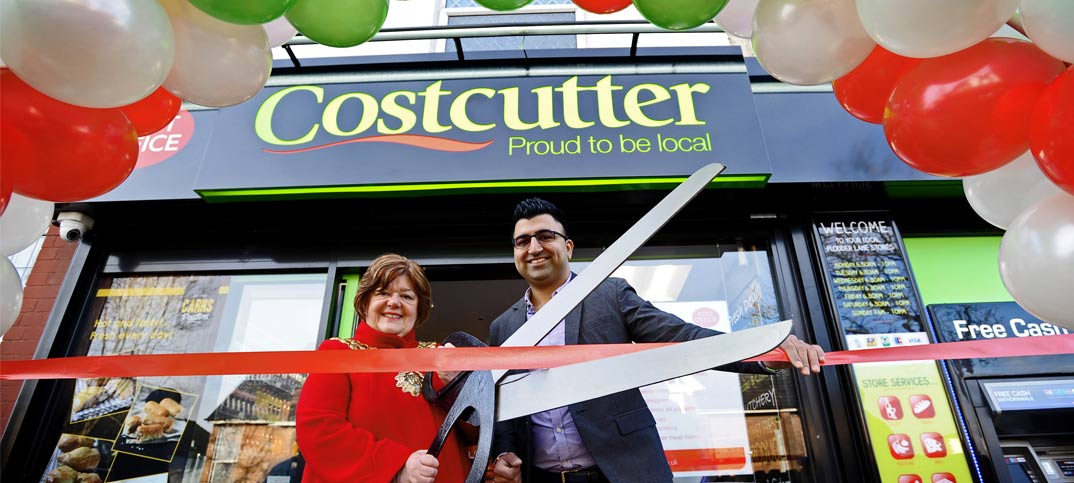 Costcutter retailers have stepped up investment in their businesses this month with the launch of new premium, 'purpose-built' convenience stores designed to attract more footfall and basket spend from shoppers.
Baz Jethwa was celebrating last Thursday at the official opening of his second store, Plodder Lane Costcutter in Farnworth.
The 3,000sq ft business has adopted Costcutter's premium black fascia and has undergone a £250,000 refurbishment, which has led to the addition of Post Office services, Costa Coffee and an extensive selection of food to go and fresh produce.
The store was officially opened by Bolton mayor Carole Swarbrick, with shoppers being treated to live music and free samples from local suppliers.
It follows on from Mr Jethwa spending £400,000 on his flagship Campbell Street Costcutter store in 2014, which led to sales growing to £1m a year after the refit.
Mr Jethwa said he is now looking to open a third store later this year. He added: "People don't want to go to the high street to do their shopping anymore.
"They want to go to modern shops that are on their doorstep, which is what we're looking to provide with our shops."
Meanwhile, Asmat and Usman Saleem have also completed work on their new premium-branded Costcutter site in Kelty, Fife.
The store is the third to be opened by the brothers and places a large emphasis on fresh fruit and vegetables, chilled goods and food to go.
Asmat Saleem said: "We have a lot of families in the area so the store has been purpose-built around them.
"We decided to go for the premium store because it's a good standard to have, and means people will want to spend more time in the shop."
Jamie Davison, business development director at Costcutter said: "Asmat and Baz are fantastic examples of retailers who are investing in the future of their businesses.
"They recognise that offering the very best convenience retail experience for their customers will help them drive their businesses forward."