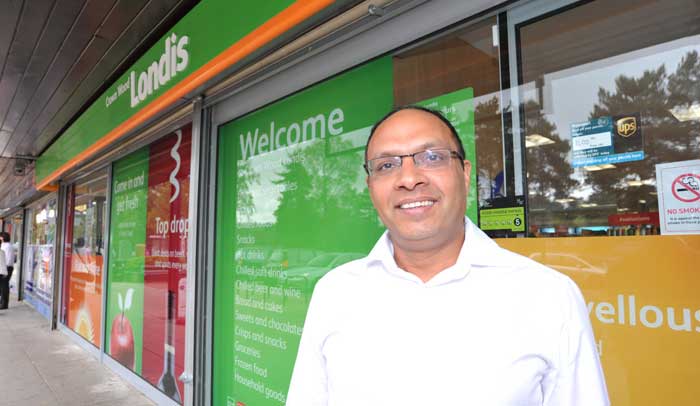 After his family's clothing shops succumbed to the pressures of Primark and other discounters, Yogi Tatla was without a job. But his services are now in demand as a Londis retailer – and he's found a way to compete with the big boys. Steven Lambert reports
The world of fashion retail may seem a million miles apart from that of the convenience sector, but Yogi Tatla believes there are some striking similarities between the two – at least when it comes to creating a point of difference to stand out against the competition.
He says: "When I was 16 I started working in the family business, which was in fashion. We had ten stores at the time, all dotted around the M25, and I was helping to run them.
"But eventually we started facing increasing pressure from the likes of Primark and other discounters. By the time I was 38, I'd found myself jobless, so I decided to take up a job stacking shelves at a Budgens store."
Yogi was determined that larger rivals would not get the better of him in his new position. Having worked his way up to duty manager in the space of a month, he was also able to seek the advice of Kevin Whalley, a Budgens retailer in Langley, who had previously worked as a director at Tesco.
"I got a lot of invaluable advice from Kevin about retailing and it gave me the confidence to buy my own store."
That came to fruition in 2008 when Yogi took over a disused Co-op store in Bracknell, Berkshire.
"We were lucky in the sense that the Co-op had pretty much left all the chillers, shelves and fixtures in the store when we arrived, so we managed to open quickly without putting a huge amount of investment into it."
However, with his store "sandwiched" between a Tesco and a Sainsbury's on a shopping parade, Yogi soon realised that he needed to make some changes in order to compete effectively.
He says he has since taken a three-pronged approach to growing sales and footfall: "Firstly, I keep an eye on what the supermarkets are doing by going into them and doing a weekly shop. It means I can see the kind of promotions they're running and make sure we're not losing out to them on price on staple products.
"Secondly, we make sure we stand out by offering a range of quirkier goods that customers won't be able to find in the larger stores. For example, we started stocking 'marshmallow sandwiches' which we found in a local cash and carry, which are really popular with kids.
"We also source a lot of American products such as Lucky Charms cereal, which we charge £5.99 for, and people keep coming here specifically to buy it. We make sure we put quirkier lines in places where they are easily seen, like the front till, and they get popular through word of mouth."
We make sure to put quirkier lines in places where they are easily seen, like the front till, and they get popular through word of mouth
Yogi says he also supports this second point – and builds shopper loyalty – by having a catalogue by his tills where customers can make suggestions on what products he should stock.
"We had one of the children from the school nearby ask if we could do 5p lollipops. We got them in, and now we have a constant queue of school kids every lunchtime asking for them. We get through a whole box of 120 lollipops every day."
The third part of Yogi's plan involves being better than his rivals on store theatre and presentation, something that he has been able to improve following a major refit in December 2012.
The move also allowed Yogi to focus more on key areas such as chilled and fresh foods. In addition, he has grown his space for chilled beer and wine from three metres to an impressive 10 metres.
"When we take a bite of something, we take a big bite," jokes Yogi. "We constantly had people getting frustrated that they couldn't get a cold beer after work, so that was something we wanted to address."
With his average weekly turnover up 20% since the refit, Yogi says he is now gaining ideas from shoppers, fellow retailers and Londis on how he can improve his business even further.
But with the time and effort he has already put into creating an attractive and enticing convenience store, it appears the former clothes shop owner has already got his market collared.
Visit my store