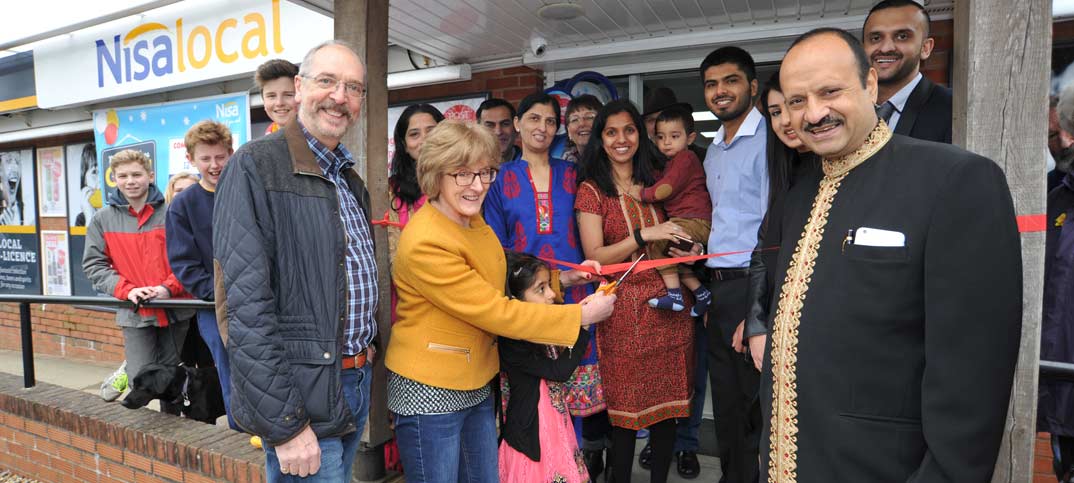 With a successful refit in one store under his belt, Vim Odedra undertook another in his West Chiltington shop. After a £140,000 investment, Vim now has a store he and his customers can be proud of.
Steven Lambert
reports
Following a successful refit at his Nisa Local Canvey Island store, Vim Odedra decided to go one step further and undertake a complete overhaul of his Nisa Local store in the village of West Chiltington in West Sussex.
After a £140,000 investment into the store, which involved a complete floor-to-ceiling refit, and the extension of popular product categories such as alcohol, Vim says the business is now one he and his customers can be proud of.
"We have been running the West Chiltington store since 2011, but it hadn't been updated for around 10 years," says Vim. "We had it in the pipeline to refit the business for the past two to three years, so when we finally found the time to do it, we went straight to work."
"We did a complete refurbishment and added a new floor, tiling and ceiling, along with LED lighting and a completely new serving area," he says.
This work saw Vim and his team make big changes to the layout of the store, removing supporting pillars from the middle and extending floor space from 1,100sq ft to 1,800sq ft.
"As with our Canvey Island store, we've also updated to Nisa's premium fascia, so we now have new graphics and a better design both inside and outside the store."
With little passing trade and the majority of his business coming from more affluent and elderly customers, Vim says the refurbishment has allowed him to update his product ranges to better meet the needs of local shoppers.
"The demographic in West Chiltington is completely different to that in Canvey Island. Tobacco makes up 10% here, for example, while in Canvey Island it's nearer 30%.
"Another example is alcohol. The majority of locals in West Chiltington are wine drinkers, so that's why we've decided to extend our wine range by 20%.
"We're also looking at including more locally-sourced wine. We already stock one wine that's produced about half a mile away that retails at £45, and we now have a regular buyer for it."
Vim has used the investment to introduce open chillers and upright freezers, adding that he has allocated 15% more space for frozen food and 20% more space for chilled goods.
He says: "We're also making local products a priority in these areas. We've already been approached by a local company which makes frozen meals such as roast dinners for elderly people, and that's something I'm considering stocking."
Meanwhile, Vim has added another feature that has proven popular at his Canvey Island store – an M&S-style queuing system where customers pass by promotional bays filled with impulse items such as chocolate and £1 lines.
He says: "It's been really popular in Canvey Island and we have had a lot of people picking up items while they queue."
Alongside the changes, Vim says he and his staff will continue to deliver vital services such as the Post Office and home delivery for older shoppers.
He adds that future plans include a similar refit to his third store in Uxbridge, which he is planning to start work on in the next three to six months.
He says: "We want to support local communities as much as we can, and the feedback we've been getting from customers about the new West Chiltington store has been very positive.
"We wanted to bring the 'wow' factor to the store and I think we've achieved that."
Visit my store