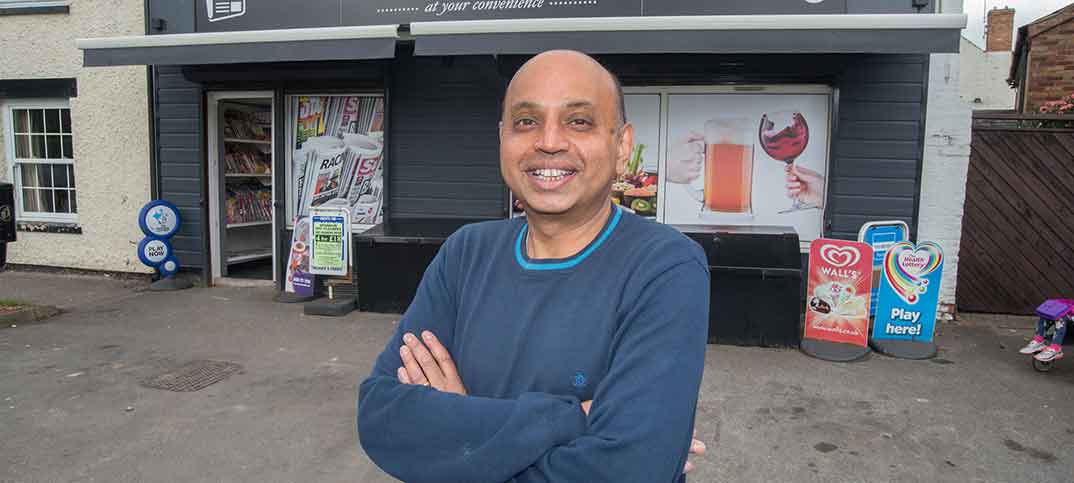 2 Pasture Lane, Sutton Bonington, Loughborough, LE12 5PQ
Produce grown by students at a nearby university campus, niche spirits that attract customers from 20 miles away and food to go – there is a lot that makes Sarj Patel's business stand out. Tom Gockelen-Kozlowski reports
Pasture Lane Stores might sound like the kind of trend-heavy store opened in the past few years, but retailer Sarj Patel has been dedicated to serving the needs of the rural south-west Nottinghamshire village of Sutton Bonington for more than a quarter of a century.
It was this experience which, last year, gave him the confidence to make the store fully unaffiliated, replacing his old Lifestyle Express signage with his own unique frontage.
"We look like a proper local shop now," he says.
Although Sutton Bonington is more than five miles from the nearest supermarket, and nearly 20 miles from his nearest wholesale depot, Sarj values the camaraderie, networking opportunities and ideas sharing which he finds in his local cash and carry.
"It's great to know what's going on," Sarj says.
So when a new Dhamecha depot opened in Leicester two years ago it gave him the increased self-assurance to take his own path.
The refit was a major one which cost Sarj £45,000. Yet, with many older customers in the village relying on the store, the disruption the work caused had to be minimised.
"The guys worked through the night and provided a shipping-style container which we would operate in when we weren't able to open."
Our alcohol range means we have customers from Loughborough, five miles away, and even from the other side of Nottingham – we haven't advertised it, it's all word of mouth
It is not the first time that Sarj's instinct has told him to go it alone. He previously worked for Marks & Spencer, but wanted to do things his own way so started to look for his own store.
"You hear people say it when they are looking for a house but, for me, when I saw the store I thought 'this is the one for me'," he says.
Sarj's dream store hasn't been without its challenges, however.
Sutton Bonington was a once thriving coal-mining village, but he has seen a nearby newsagent, grocer and butcher all close in the past 26 years. Where possible, he has tried to step in to fill the gap.
"It's just us and the Post Office now," he says.
One initiative which is helping Sarj cater to these growing demands, is a new joint Ginsters and Palmer & Harvey operation – Chilled Direct – which is helping Sarj improve his fresh and chilled offer.
"I've worked with Ginsters directly for years but this is a whole delivery offer with milk, yoghurt and bacon as well as sandwiches," he says.
The ability to offer a compelling fresh offer is now a vital ingredient in the store's success. While Sutton Bonington suffered from the decline of the mining industry, the nearby university campus – part of the University of Nottingham – provides regular footfall and opportunities for Sarj to exploit.
He even stocks fruit and vegetables grown by agricultural students when the season allows it.
Sarj has also built a range of specialist spirits which can trade for up to £40, he has introduced New World wines, a coffee machine and offers an expanded range of cakes and snacks.
"The M1 is only a few miles away and a lot of locals commute so, as well as students, they will come in the morning for a coffee and a sandwich," Sarj says.
"And our alcohol range means we have customers from Loughborough, five miles away, and even from the other side of Nottingham – we haven't advertised it, it's all word of mouth," he continues.
Sarj is adamant that taking the independent step was the right one for him.
He said: "We've seen a £2,000 increase in our weekly turnover, an increase in passing trade and our basket spend is up to £7".
Visit my store