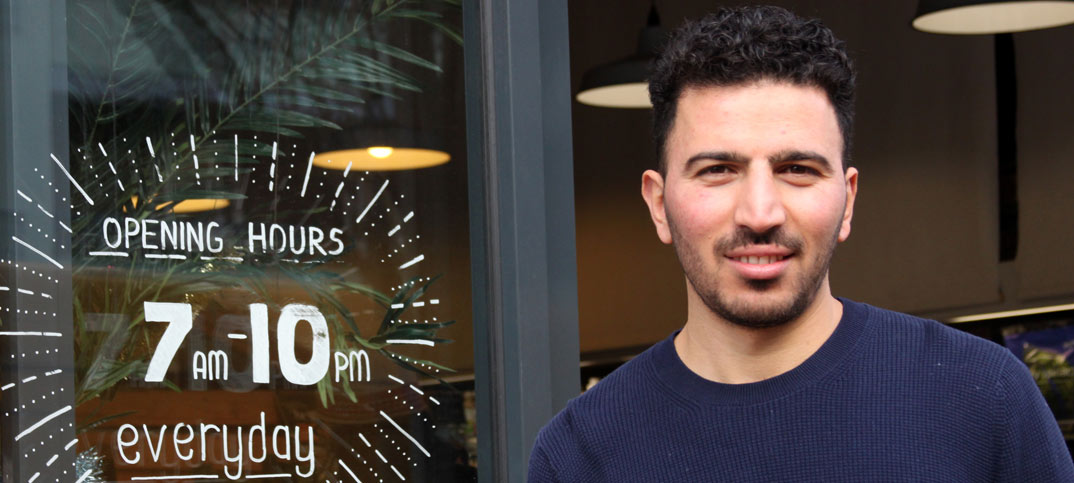 Resting on his laurels is not the way Mehmet Guzel runs his business. After an exciting 2014 he's already working on making this year even better.

Steven Lambert

paid a visit to his 

Bethnal Green store in London

It's 11am on New Year's Eve in Mehmet Guzel's Simply Fresh E2 store in Bethnal Green, East London, and already the business is buzzing with customers doing last-minute shopping and buying pre-party alcohol and snacks as the clock ticks down to 2015.

We count six members of staff busily refilling shelves or serving shoppers, all with a warm welcome and a smile despite the mad rush. It's a feeling that Mehmet and his team have had to get used to very quickly following a number of recent profitable additions to the business.
The last time RN was here nearly a year ago, Mehmet was midway through implementing a handful of big plans to grow sales among the store's regular clientele of office workers and affluent urbanites.
Chief among these was the creation of a deli counter serving a selection of olives, fresh meats, cheeses and other antipasti.
This was completed at the start of summer, just in time for the key barbecue season, and interest in this section has gradually increased since then, according to Mehmet.
He says: "We have seen sales go up and we now take up to £2,500 a week from the deli. We're by a main bus route and we have a lot of people coming in to pick up fresh meat to use in sandwiches. And over Christmas, we've had customers coming in buying large blocks of cheese from the deli. We work with The Fresh Olive Company and a supplier in Kent and the margins are pretty good. We take about 35% on the cheeses and up to 70% on the olives."
The deli is packed when we go for a sneak peek, but a dedicated member of staff is on hand to deal with the wealth of orders flying in. A small sign on top of the glass counter invites curious shoppers to 'ping for service', which is backed up by an A-board outside the shop promoting the service to passers-by looking for a quick impulse purchase.
But it is not the only change we have noticed since our previous visit. A whole host of new products have also made their way onto shelves, including a number of craft beers and lagers.
Mehmet's store is already well established as a supporter of local brewers and drinks companies, with long-standing relationships with firms such as Borough Wines. However, he says there is a constant need to find the next big thing in this market.
"We've just started working with brewers such as Weird Beard and Wild Card, and we have descriptions up next to their beers to give customers a better idea about the brands. I want us to keep introducing new things like this on a constant basis, as it keeps customers interested and means they don't think we're stocking the same old things every day."
This thirst for innovation stretches across the entire business, whether it's introducing innovative lines such as gourmet popcorn toppings or mini hessian gift bags containing packs of premium tea and a ceramic cup, right through the store's 'Mem Says Fresh' bags for life, created by local artists and designers.
I want us to keep introducing new things on a constant basis, as it keeps customers interested and means they don't think we're stocking the same old things every day
Simply Fresh E2 is also fast approaching its 1,000th loyalty card customer, and Mehmet is already formulating plans to grow this number further. He says: "Last January, I was expecting us to have a quiet month but instead our sales were up by around £1,000. I soon realised it was down to people keeping up New Year's resolutions and buying more fresh fruit and healthier products, something we are well known for being a Simply Fresh.
"So this year we're going to increase our fruit and veg range and bring in a dedicated healthy range of 50 products, including supplements. We're also looking at sending leaflets out to local gyms and health clubs, offering people 15% extra points if they sign up for a loyalty card."
Much like the new customers he'll be targeting this month, Mehmet is already setting himself up for another healthy year ahead.
Visit my store