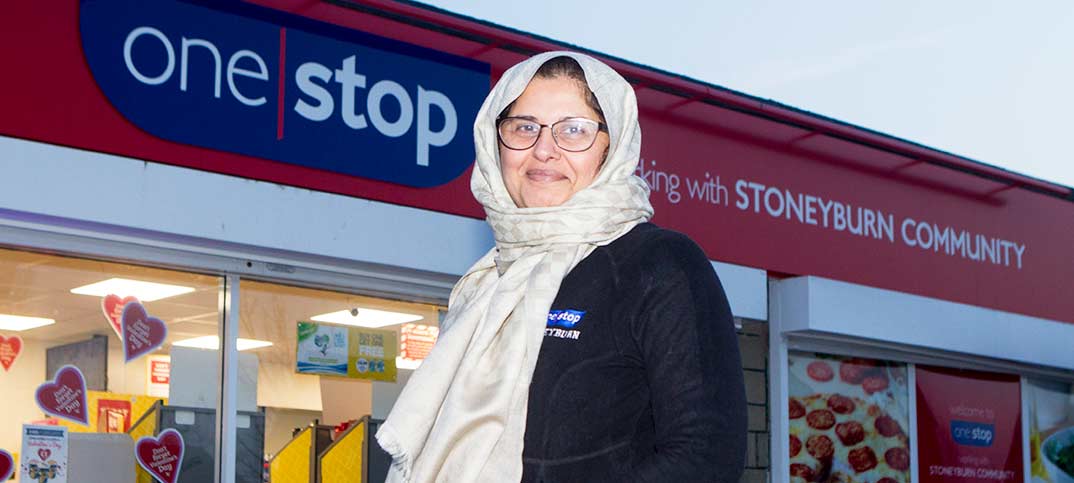 When Yasmine Mohammed returned from Pakistan 18 months ago she had a big decision to make. Could the Scot bring her business back from the brink? Chris Rolfe finds out
What would you do if you realised your business was in a downwards spiral and far behind the times – shut up shop or opt for a total refit?
This was the dilemma facing Stoneyburn retailer Yasmine Mohammed 18 months ago.
"I came back to Scotland from Pakistan in August 2015 and found my c-store, which I'd owned since 1996, had been run into the ground in my absence. I had two options – sell up or do something," she says.
As Yasmine was considering her options, her daughter Narmeen, who manages the business alongside her, fell upon the solution.
"Narmeen was writing a dissertation on local shops for her business management degree. She interviewed a One Stop manager and was very impressed with the look of the store and the way it was run – I asked her if she thought we should join One Stop and she said 'go for it'," she says.
A BDM visited the store and liked it so much that within 12 days, Yasmine was signed up and planning a £180,000 refit.
"We've had customers saying 'that's my favourite beer – I can't believe a corner shop sells it'."
Between May and August last year, the wall dividing the store and the family's former takeaway was knocked down to create the current 1,500sq ft unit and an expanded grocery range, along with new fresh and chilled produce, was added.
Looking back on the past seven months, Yasmine describes the results achieved as "a complete transformation".
"We've gone from turning over £3,000-£4,000 a week to over £12,000," she says.
Yasmine and Narmeen, attribute this to several factors. Firstly, the business is more disciplined under One Stop's systems: "We have to get everything done by 12pm, including our fresh and warehouse orders and our temperature and date checks. We get at least three fresh deliveries each week, bread every day and six milk deliveries a week. It's more manageable financially and physically."
The store's promotions have also been a big hit with customers.
"We get a promotions pack each month. At Christmas we were given tinsel and bunting. By new year it was gone and we were on to Valentine's Day."
Yasmine also adds her own ideas to take full advantage of seasonal sales.
"A nearby florist sells bunches of flowers for up to £20. We bought over £400 at cost price at Christmas and sold the lot."
Permanent meal deals – a sandwich, snack and drink for £3 – also work well. With fresh coffees costing up to £2.80 and sandwiches priced at £2.80, Yasmine says the value is clear.
"Add that up and you can see how much customers are saving with the meal deal. The other day, a customer asked if I was taking the right money because it seemed too little."
Low prices on essential groceries have also made the store a destination.
"You can get free range eggs, Warburtons bread and Wiseman milk all at £1, which is a huge sales driver," says Yasmine.
But it is new products introduced during the refit that are making the store stand out.
"Before switching to One Stop, we had never sold a chicken fillet or a whole chicken. Now, 17% of our sales are fresh food. I never thought in my wildest dreams we'd be selling these in a corner shop."
A range review for beers, wines and spirits added variety, including bottled beer brands such as Staropramen, Singha and Tiger.
"We've had customers saying 'that's my favourite beer – I can't believe a corner shop sells it'."
Together, Yasmine and Narmeen say the effect of the changes can be seen in the increased basket spend. Customers think nothing of spending £40 to £70 in their shop rather than driving to Tesco 15 minutes away.
"Many shops fail because they stay the same. We've been successful because we've been innovative. It's hard, but worth it."
Visit my Store