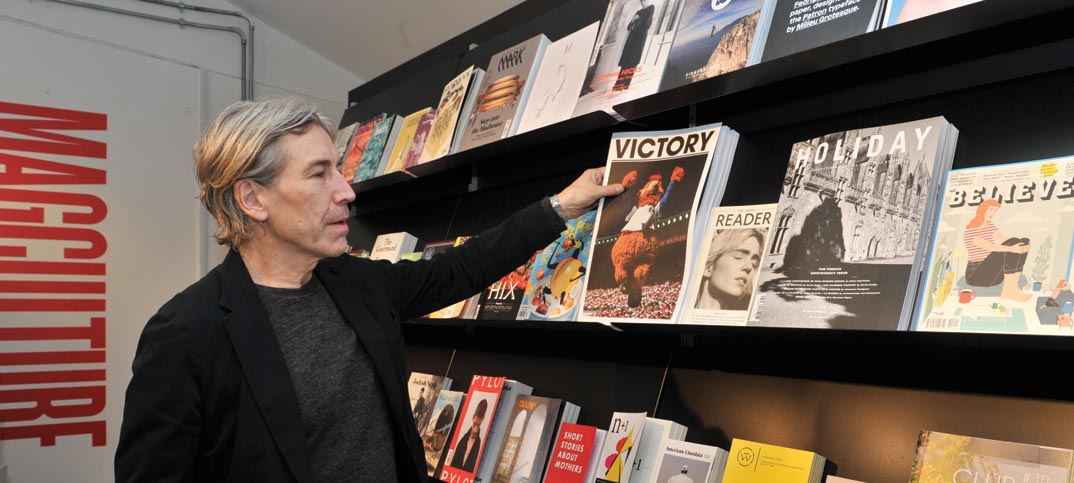 London retailer Jeremy Leslie launched his MagCulture shop in December following the success of his website for niche, specialist magazines, in order to be the first to
fill a gap in the market.
Steven Lambert
reports
Looking at the wealth of magazines on the shelves of Jeremy Leslie's new MagCulture store in Clerkenwell, London, it's instantly obvious that this is not your typical newsagent.
Whether a customer is interested in issue 16 of Spanish interiors magazine Apartamento or the latest edition of luxury men's title Fantastic Man, the store is a haven for what Jeremy says is a growing market of shoppers seeking specialist and one-off publications.
"Small independent titles have a lot of interest right now," says Jeremy. "I was conscious London didn't have a shop that provided for these types of products. I sensed a gap in the market and realised if I didn't fill it, someone else would."
While his store has only been open since December, the history of MagCulture stretches back to 2001, when Jeremy launched a book of the same name.
The MagCulture book centres around magazine design and was created using insight from Jeremy's 25 years of experience working as a graphic designer on print titles ranging from Time Out and the Guardian to customer magazines for Waitrose and BskyB.
This was followed by the launch of a MagCulture website in 2004, which allowed Jeremy to spread his thoughts on the magazine market to a wider audience.
He says: "I moved the site onto WordPress in 2006 and started adding more posts, and we gradually built up an audience in the UK and America. We then started selling magazines through the website due to growing demand, and also started setting up a few pop-up shops in Shoreditch. This eventually led us to where we are now."
With the store located in what used to be in the heart of the capital's old printing industry, and with City University just a stone's throw away, Jeremy says students and magazine enthusiasts make up a large part of his current customer base.
Visitors can expect to find a range of more than 250 magazines all on full-cover display, which are sourced from publishers and distributors including Comag, Turnaround and MMS, as well as host of other specialist and independent suppliers.
With the average price of magazines ranging between £8 and £10, rising up to as much as £20, Jeremy says a lot his sales come from planned purchases or customers picking up titles after browsing, which they are actively encouraged to do thanks to a number of leather seats dotted around the shop floor.
The store also features a 'most popular magazines' and 'new magazines' section to promote launches and best-selling titles, which are advertised on an A-board outside the shop to encourage footfall.
Meanwhile, a flat screen projector in-store is used to highlight the MagCulture website's main page, which features reviews of magazines and news of upcoming events being held by Jeremy, such as talks with various magazine editors being held at the business.
While you're unlikely to see the likes of Heat or Now magazine gracing his shelves anytime soon, Jeremy says he is looking into setting up a separate section dedicated to more mainstream current affairs titles such as the Economist.
"We already stock Private Eye and the New Yorker and I think it's something we can build on," he says.
With the 10th anniversary of the relaunched MagCulture website this month, Jeremy says he hopes the opening of the store has helped other people share his passion for magazines.
He says: "For most people, magazines are ephemeral things that come and go. From a design and cultural point of view, they're a fantastic record of their era. We want to celebrate this new form of high quality magazine."
Visit my shop