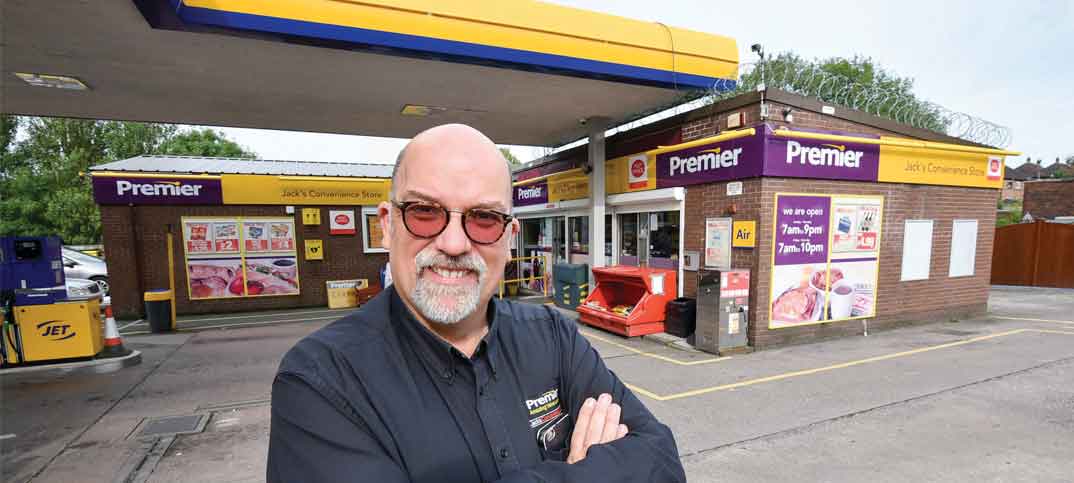 When the village of Norton-on-the-Moors lost its post office, Chris Wardle saw it as the perfect fit for his Premier petrol station convenience.
He tells Joe Cooper why being 'a shop with a forecourt, not a forecourt shop' is key to providing a service that is about more than just filling up
It's not often you see a post office in a petrol station forecourt, but then again, Chris Wardle's Premier, on the outskirts of Stoke-on-Trent, is no ordinary store.
"We're a shop with a forecourt, not a forecourt shop," says Chris, who was born and bred in the village of Norton-in-the-Moors. His no-nonsense and "nimble" approach to business, combined with a love for the place where he grew up, has ensured its continued success, despite an Aldi opening just down the road a few years ago.
Jack's Convenience Store & Norton Post Office is named after the village blacksmith, which opened in the 1850s. One hundred years later it was bought by Chris's father, in 1963, when it was operating as a hardware store. By 1999, the business needed more space and the family bought the lease on an old Texaco garage 300 yards down the road.
In 2014, the village's old postmaster retired and the Post Office was looking to relocate the business. Chris saw it as the perfect fit for his store, a valuable community asset that would hit the village hard if it was lost.
Despite this, the move caused an uproar among a vocal section of the community, who feared a move even slightly further away would make the post office less accessible. The story was documented in the BBC Two series Signed, Sealed, Delivered, about the huge changes in the post office network at that time.
"People now agree it was the right thing to do. They would have been left unable to use the post office and they'd be spending money outside of the village and not in my store," says Chris.
His bravery has paid off, as his post office was named among the six best independents among thousands across the country.
"Have faith in your decisions. If I'd have backed out we'd have been left without a post office and that would have devastated the village"
"The Post Office love what we are doing. We are outperforming all expectations," he says.
Around 14,000 cars pass down the busy main road every day and investing in the forecourt has also contributed to the store's success.
"We've ploughed money into it – we've got new pumps, gauges, everything," says Chris. "We've changed our fuel to Jet and our sales have doubled. I keep prices competitive – at the moment I'm on £1.17 for a litre, whereas my nearest competition is between £1.20 and £1.23."
Interestingly, Chris's store was one of the first petrol forecourts in the country to get an alcohol licence after he proved that more of his trade came from walk-in custom than drivers who might be encouraged to drink-drive.
"The balance is now about equal though, as petrol sales have risen," Chris adds.
Competitive prices are important inside the store too, particularly since the business took a hit when Aldi opened a few miles away. Chris hit back with an extensive £1 range, including hammers, clocks, batteries and cleaning equipment, and ensures he runs Booker's promotions on essentials such as milk and bread.
"The £1 range is doing really well. The big advantage of being an independent retailer is how nimble you can be compared to the big supermarkets."
Food to go has been tried, but didn't work. "There's a sandwich shop down the road so I let them get on with it," Chris says.
"We've got fresh fruit and veg, however, and have fresh bread delivered daily."
The store also sponsors a local football team and raised money for a village defibrillator, which is outside the store.
To top it off, the store has been dubbed the happiest in Stoke, after Chris and his staff made it their mission to make every customer smile or laugh during their visit.
"I've lived here nearly all my life and have known a lot of my customers as long," Chris adds. "It's my village and I care about it passionately."
Visit my shop