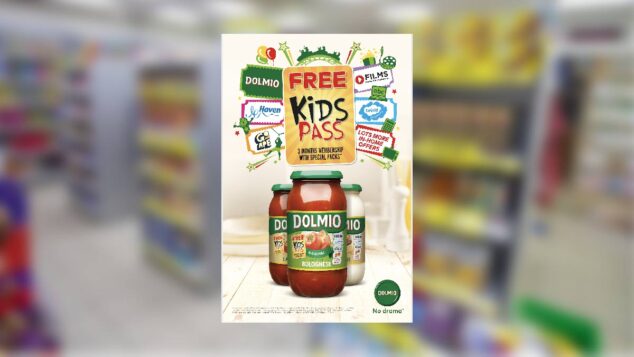 Mars Food UK has announced a partnership with rewards provider the Digital Rewards Group for an on-pack Kids Pass UK promotion on Dolmio products, offering discounts and offers across retail and leisure activities.
The partnership is available to all retailers and wholesalers from today (2 March), and runs until the end of the year.
More than 20 million promotional Dolmio packs are available. Each has a unique code that offers a three-month Kids Pass UK membership for free.
Mars Wrigley launches 100 calorie Mars, Snickers and Twix bars
Kids Pass offers discounts across retail, dining, days out, and cinema. It also has a Stay-at-Home option in light of the continuing lockdown restrictions, which offers discounts across education, streaming, audio and food services.
These include learning app Twinkl and Shop Disney.
Shopper simply have to redeem a unique code on promotional packs on the campaign webpage, download the Kids Pass app, and look for offers that suit them.
Diet Coke on-pack promotion with Readly launched
Shoppers have until the end of 2021 to activate their free three-month membership.
Rob Hollis, Mars Food UK marketing director, said: "Every family across the country has been impacted over the past 12 months and we hope this promotion can offer something for everyone to enjoy this year."
James Mellor, business director at the Digital Rewards Group, added: "It's great to see Kids Pass partnering with such a household name to give something back to families and households at a time when they need it most after what's been a tough year for everyone."