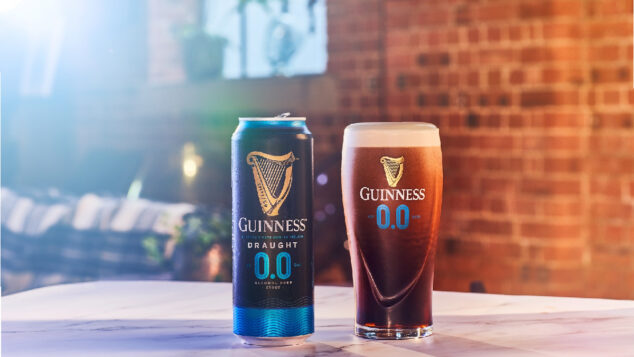 Diageo has announced that its alcohol-free Guinness 0.0 stout will be available to convenience and wholesale later this month.
Available in an RRP range from £3.50 to £4.50 for a four-pack of 440ml cans, it contains 17 calories per 100ml. Diageo has launched the product to tap into the growing demand for low- and no-alcohol options, with the category now seeing a retail sales value worth £150m in UK retail.
Diageo launches alcohol-free Gordon's spirit & tonic RTD
It will initially be available in select Morrisons and Co-op stores this week before the wider retail availability, with an on-trade release set for September.
Guinness 0.0 undergoes the same production process as the alcoholic variety, but removes the alcohol through a cold filtration process that allows it to retain its signature taste and appearance.
Diageo launches alcohol-free spirit from Tanqueray
The supplier originally launched the variety in a limited supermarket run in October 2020, with a projected convenience release for spring 2021, but undertook a product recall after a possible contamination was identified in some batches. Diageo says it has put in place additional measures and controls throughout the production process to ensure product quality.
Neil Shah, Head of Guinness GB said: "We are incredibly pleased to have Guinness 0.0 back on shelves and in pubs and have put in place additional quality assurance measures to make sure this really is the best alcohol-free Guinness possible. So, even if you choose not to drink an alcoholic drink, you can still enjoy an iconic pint of Guinness without the alcohol. We firmly believe we have created a taste experience truly unrivalled in the world of alcohol-free beer and can't wait for people to try it."
Read more product news