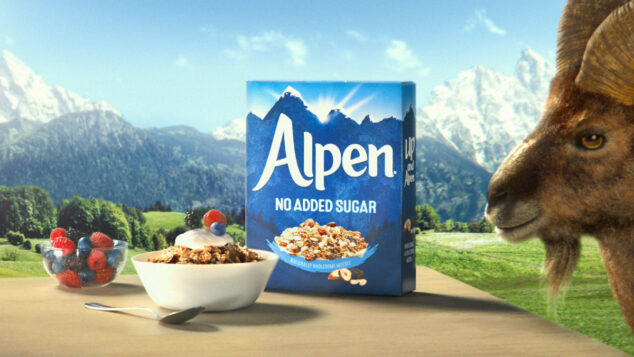 Weetabix is marking muesli brand Alpen's 50th birthday this month with a brand relaunch, led by a £2m ad campaign called 'Up & Alpen'.
The new campaign sees Alpen return to TV for the first time in over four years, and will also include a new brand website and pack design for the £50m brand. The new pack design will be across the brand's 550g and 1.1kg muesli box variants in its Original, No Added Sugar, Simply Berries, and Chocolate flavours.
Weetabix extends cereals range with Melts
According to Alpen's head of brand, Helena Blincow, Alpen has a 31% share of the muesli category, and has grown by 4% year on year.
"In the last year, 5.6m UK households have purchases Alpen muesli or bars, and we're now worth over £50m annually," said Blincow. "As we reach such a big milestone, there couldn't be a better time to revitalise the brand and accelerate its popularity even further with a substantial investment.
Weetabix On The Go launches Caffé Latte variety
"Our bold new design and 'Up & Alpen' campaign will launch just ahead of traditionally busy summer months for the category, raising awareness of the portfolio and bringing more new and existing customers to the aisle."
The campaign will also run on the brand's Instagram and Facebook pages, and the redesigned brand website will showcase Alpen's Swiss origins and give consumers recipe ideas.
Read more product news