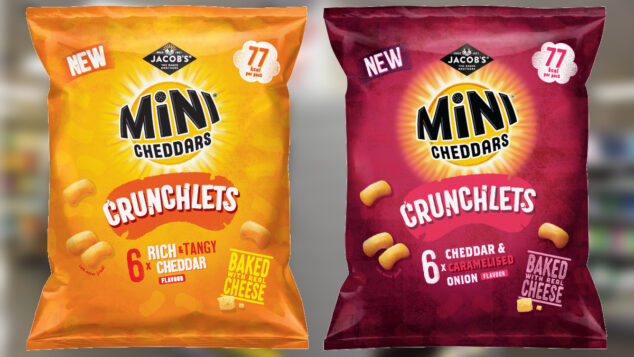 Pladis has added a new range to its Jacob's Mini Cheddars brand with the launch of Jacob's Mini Cheddars Crunchlets.
Available now in Rich & Tangy Cheddar and Cheddar and Caramelised Onion flavours, Crunchlets are a baked snack made with real cheese.
They are available in 6x17g multipacks, 115g sharing packs with an RRP of £1.50, and a 65g £1 price-marked pack (PMP) exclusive to the convenience channel. Pladis hopes retailers can use them to drive sales for lunchtime and evening sharing occasions, further bolstering Mini Cheddars' 14.4% growth.
Pladis unveils Christmas 2021 savoury biscuits from Carr's and Jacob's
This launch marks the second time Jacob's has launched new products beyond its traditional circular biscuit, following Mini Cheddars Sticks earlier this year.
Christopher Owen, marketing controller at Pladis UK&I, said: "New formats have proven hugely popular for us, with Jacob's Mini Cheddars Sticks having secured a place in the top 20% of sharing snacks just eight weeks after launch. We're confident that Jacob's Mini Cheddars Crunchlets will replicate this success – particularly given that, in consumer testing, they ranked in the top percentile for purchase intent."
Pladis unveils 2021 McVitie's and Flipz Christmas range
Pladis will support the launch of Crunchlets with TV, social media and out-of-home advertising, following the return of Mini Cheddars to TV for the first time in four years with its 'Welcome to Cheddar Town' campaign.
Crunchlets packaging will be recyclable through Pladis' partnership with Terracycle.
Read more about Christmas products and seasonal advice