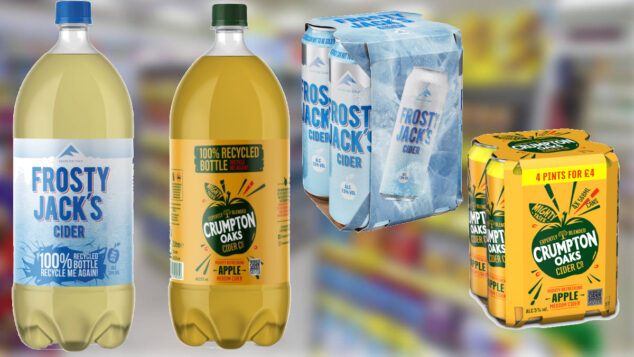 Aston Manor Cider has introduced 100% recycled PET bottles across its entire Frosty Jack's and Crumpton Oaks ranges.
The supplier has also removed plastic ring carriers from its full can range.
It estimates the switch to 100% PET across Frosty Jack's bottles will save 122 tonnes of virgin plastic each year, the equivalent to saving 1.8 million bottles and 261 tonnes of carbon dioxide.
New eco-alcohol packs proving tricky for stores
Meanwhile, switching Crumpton Oaks to PET will save 82 tonnes of virgin plastic per year, equivalent to 2.6 million bottles, delivering a reduction of 175 tonnes of carbon dioxide.
Additionally, the removal of plastic ring carriers will remove 1.3 million pieces of plastic from circulation in 2022. There are single-serve cans available as an alternative. Frosty Jack's has also launched a carded 4x500ml pack for take-home occasions.
Read more product news