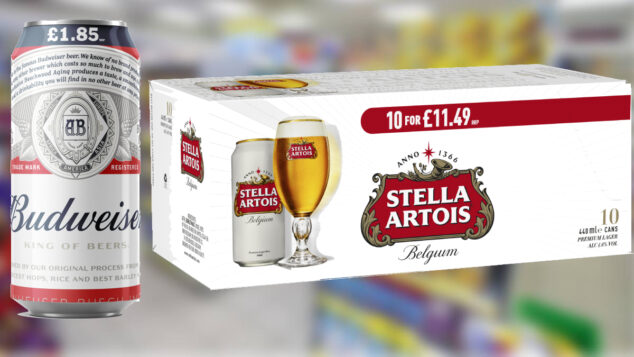 A number of store owners told betterRetailing they were experiencing ongoing issues with alcohol brands including Budweiser, Stella Artois, Strongbow and Tennent's Super in recent weeks.
Budweiser Brewing Group (BBG) removed plastic rings from four-packs of Budweiser and Stella Artois cans last October in a move expected to save 250 tonnes of plastic each year.
However, local stores quickly reported the alternate cardboard packaging was "disintegrating", causing waste and products to fall out onto the shop floor.
Steve Wilson, owner of two convenience stores in Scotland, said the boxes collapsed every time they were in transit back from the cash and carry.
Budweiser to exclusively distribute Spanish lager Mahou in UK
"It's getting beyond a joke," he said. "If I go to my local depot and pick up two or three boxes, by the time I've got back to the shop and opened my van doors, the cans have fallen out of the cardboard which has just disintegrated from going around roundabouts.
"Another time, I picked up a case from my trolley to put into the van and the whole box collapsed and beer was spilling out of all the cans on the floor."
In a bid to salvage the products, Wilson has been using tape to keep the cans together. "I'm having to put Sellotape around the cans to keep them on the shelf," he said. "But this isn't a long-term solution, as it takes time out of my day to do."
Challenged by betterRetailing on the faulty goods, a spokesperson from BBG's UK & Ireland business confirmed it would be making changes to the packaging to offset any impact experienced by retailers.
They said: "While we carried out robust testing on our updated packaging and took all reasonable steps to make the packs as secure as possible, the removal of the plastic wrapping on the primary and secondary packaging has meant that additional care must be taken when handling.
Budweiser launches new Corona four-pack PMPs
"We carried out a full end-to-end investigation after being made aware of the challenges some customers were experiencing with our plastic-ring-free packaging.
"During this investigation, we listened to our valued partners and have taken on board their feedback to improve the durability of our products.
"We have implemented various solutions, such as improved pallet protection, to mitigate some of the impact identified. Our teams are also in the process of rolling out improved packaging, including lock mechanisms on our 4x568ml wrap design, to avoid circumstances where cans can fall out. These new solutions will be available on shelves within weeks."
Elsewhere, retailers have claimed the barcodes on new four-pack cardboard packaging used on Tennent's Super have been incorrectly printed, leading to confusion.
Wilson Rea, owner of KeyStore More in Lanark, confirmed when the barcode on the outer packaging is scanned it lists the price of a single can, instead of the sum of four.
Budweiser launches PMP pint cans and 10-packs of Budweiser and Stella Artois
"All of a sudden, Tennent's Super took the barcode off their single cans and printed the same one on the packaging of the four-pack," he said. "One of our new staff members nearly sold a four-pack for £2.29. Luckily, another employee noticed, but I imagine there's retailers out there who haven't noticed."
Rea added the issue is also affecting his stock management. "This is a massive error," he said. "It's not a big seller for us, but it's messing up my stock control because the barcode is wrong."
Alcohol supplier Heineken has also come under fire by stores who have claimed new packaging being used for Strongbow products is causing personal injury.
Shad Rafiq, owner of Premier – Shads Bishopton Stores in Cardiff, told betterRetailing his staff and customers have suffered as a result. "It's absolutely horrendous," he said. "People keep getting their finger trapped in the new carry-hole which has been added to the packaging of Strongbow."
Diageo refreshes Guinness Foreign Extra Stout bottle design
In response, a spokesperson from Heineken said: "Green Grip eradicated the need for plastic rings to hold cans together and is part of our plan to save 500 tonnes of plastic per year through the removal of plastic from our packaging.
"If any consumers or retailers have had an issue with a pack, we encourage them to get in touch so we can fully investigate."
A Budweiser Brewing Group UK&I spokesperson responded to comments about Tennents Super barcodes: "We removed the barcodes on individual cans on our Tennents Super 4x 440ml and 4x 500ml skus in the UK as part of our portfolio-wide initiative to remove plastic rings from our beers. The barcode for these skus is now on the card packaging, to avoid double scanning at checkout.
"As we cycle through remaining stock, there may naturally be instances where barcodes are present both on the cans and on the card packaging, and we are working with any retailers affected on individual solutions. We thank our customers as we manage this transition to more sustainable packaging and less plastic waste.
"We will continue to work with our customers on our offering to ensure we are meeting evolving consumer needs."
Read more product news