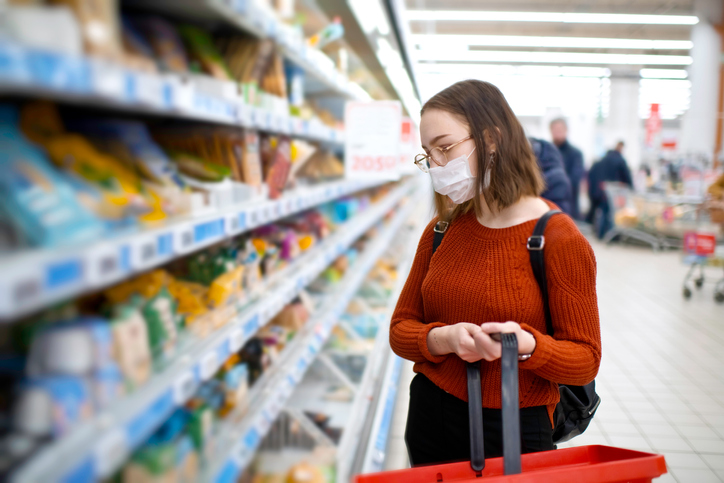 Retailers have experienced an increased demand for Christmas goods, following Boris Johnson's last-minute changes to the coronavirus tiered system at the weekend.
The prime minister addressed the nation on Saturday, placing London and the majority of the South East under tier 4 restrictions. He advised those in the allocated areas to stay at home except for essential travel and exercise.
Johnson also banned households from mixing on Christmas Day, and reduced mixing to just one day for all other tiers. He blamed the decision on a new variant of the coronavirus that spreads at a faster rate than others.
Speaking to betterRetailing, Craig Etchells of C&W Etchells in Manchester said he had experienced increased pressure on his parcel handling service since the weekend.
"We've handled an incredible number of parcels that people are sending because they're unable to visit relatives," he said.
Sandeep Bains of Simply Fresh Faversham in Kent, a tier four area, said he had seen a "big increase in home deliveries" since the announcement. He added that people are mainly purchasing spirits and fresh items such as fruit, vegetables, meats and cheese.
But it appears areas that have remained in lower tiers have been less affected by the news. Ajmer Kaur Sohal from Premier Ken's Convenience Store in Winsford, Cheshire, said she had not witnessed any panic buying.
"Cheshire is in tier 2 so the situation isn't as bad," she said. Serge Notay of Premier's Batley agreed that Yorkshire hasn't been as affected by the news.
Meanwhile, Wales entered another lockdown last Saturday with plans to ease restrictions for five days over Christmas scrapped. As with areas in tiers one to three in England, two households will be able to meet on Christmas day only.
Vince Malone from Tenby Stores in Wales, said he had also handled more parcels since the announcement. He said: "We saw an initial panic for posting parcels, then a bit quieter yesterday very quiet today. Shop today along with our town is a ghost town. We have no big supermarket in town so it looks like everyone had travelled to one."
Port delays
Meanwhile, France suspended freight traffic from the UK on Monday in a bid to stop the new variant spreading across borders. There are now 1,500 lorries stuck in Kent due to the ban, putting more pressure on retailers as customers become concerned about product shortages.
Sainsbury's issued a statement announcing that it "may run out of some food items" due to the closures, but warned customers not to panic buy. A statement from Nisa to its partnered stores on 23 December read: "Depending on how quickly things return to normal there may be implications on some fresh products between Christmas and New Year."
In an update, Parcelforce and Royal Mail said deliveries to European services except the Republic of Ireland remained suspended as of 23 December, and Post Office retailers were ordered not to accept new orders. The strains of the last minute changes appeared to show, with images seen by betterRetailing showing that Parcelforce had failed to collect mails taken in by some Post Office branches on 22 December.
A resolution to the border closure was found on 23 December, with Covid tested drivers allowed to cross the channel. However, there is still likely to be an impact in stores. Food and Drink Federation chief executive Ian Wright explained: "Even working extremely quickly and with Calais possibly shut for Christmas Day it is clear that it could take until the New Year to return to normal operations. Lorries will take time to return to their normal pattern of collection and delivery. That means we are likely to see, locally, reduced on-shelf availability of some fresh vegetables and fruits, beginning next week. We will also see potential significant disruption to the flow of ingredients into the U.K. Though all in the industry are already working hard to mitigate any impact for shoppers they are almost certain to be impacts across the supply chain."