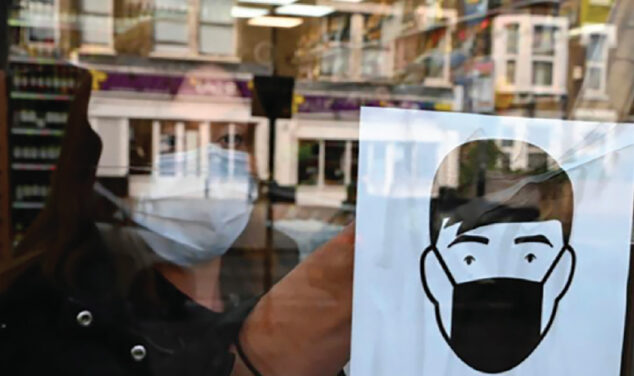 Stores in Scotland were given just two days to prepare for new Covid-19 measures last week.
From 17 December, stores were mandated by the Scottish government to control the number of customers in their store, promote social distancing, use counter screens and ensure fresh air is entering the store.
The full guidance on how to implement the new legal requirements was published less than a day before.
On the day the Scottish measures came into effect, the Welsh government announced it would also be re-introducing mandatory social distancing requirements on stores, but chose a 27 December start date, giving stores 10 days to prepare.
Government Covid bailout 'isn't enough' say city-centre retailers
Scottish store owner and NFRN national deputy vice president Mo Razzaq told betterRetailing: "The guidelines are very frustrating. They've not given us proper advice, and left us high and dry. "They've just dusted off the previous one and put the onus on us to do different things.
"I'm not too pleased. They've left us to try and figure it out. They knew it was coming and didn't do anything for us."
The new customer cap requirements bring back the prospect of queues outside supermarkets. Shop owner Abdul Qadar told betterRetailing: "This will be good for small shops. Just like last time, queues at supermarkets means customers in local stores."
Scottish stores must legally reintroduce social distancing measures
Several retailers told betterRetailing there was no change from their current health measures in store.
Sharon Hunter, NFRN member and owner of The Little Shop in Hawick, said: "We're lucky that we've had a lot of this in place anyway – we limit customers to four at a time, we have social distancing in place and a one-way system. I'm glad we've had it already because it's consistent for customers."
It was a similar picture at Duncan Winfield's Lybster Post Office in the Highlands.
He said: "We're doing what we've always done – keeping the door open, making hand sanitiser available, enforcing mask wearing and limiting customer numbers to four at a time."
Points for convenience stores from the Scottish government's new retail checklist
Produce or update a Covid-19-specific risk assessment
Promote and 'ensure' the continued use of face masks by customers and staff (even when behind a screen) using signs and verbal prompts
Consider offering free face coverings to staff and customers
Use 'Covid marshals' at store entrances as appropriate to promote face masks and hygiene stations
Make sure hygiene stations are clearly visible at entry, exit and till points
Consider using physical distance floor markings where queues may form
Install screens at counters
Set a customer limit based on how many can use the store while social distancing
If your store has more than one access point, introduce a one-way system
Review store layouts to help with social distancing
Maximise fresh air coming into the shop by keeping doors and windows open
Introduce and carry out an enhanced cleaning schedule, including disinfecting frequent 'touch points', such as baskets
Wash hands before loading goods into store
Staff should do a lateral flow test twice per week
Find out more on our coronavirus information hub for retailers