Nicotine pouches have been around for a while, but convenience retailers now have a major opportunity to push sales as smokers continue to look for ways to quit.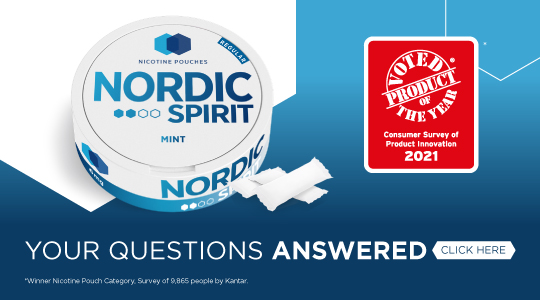 This is a high-margin category and, as displayed on our profit breakdown (see p32), by converting one two-pack-a-week smoker to nicotine pouches, you can increase your profits by 125% per year.
The top-selling pouches in the market are Nordic Spirit Mint 9mg 20s, Nordic Spirit Bergamot Wildberry 9mg 20s and Nordic Spirit Mint 6mg 20s, all offering margins of 19.5%, but, on average, it's only found in 30.86% of stores, meaning there is a sizeable number of stores not cashing in and taking advantage.
A little down the table of bestsellers and you find brands such as ZoneX from Imperial Tobacco. While the supplier hasn't focused on it as much in the UK as its Blu vape brand, it, too, offers margins of up to 19.5%.
Tobacco-free nicotine pouches rapidly increasing in demand
Target market
But the first step to converting tobacco smokers onto nicotine pouches lies in understanding who the target demographic is and what it is that is appealing about pouches.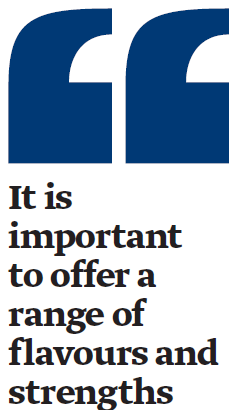 Kieran Marsh, portfolio brand manager at JTI UK, says nicotine pouches are a convenient alternative for when smoking and vaping might not be possible – including indoors, outdoors, in public spaces and even when travelling.
As pouches are tobacco-free and smoke-free, they offer a discreet product for smokers, vapers and dualists (smokers and vapers), appealing to a wide range of next-gen nicotine users – the target audience isn't limited to one group.
"The pouches fit comfortably under the top or bottom lip, making them easy to use, with a steady delivery of nicotine after just a few minutes.
"As the demand for alternative nicotine products continues to grow, customers will continue to look for such products to fit in with their lifestyle, especially as restrictions start to ease," he says.
Likewise, as awareness of nicotine pouches increases, it's important to understand that a person's preference is a personal thing, and there is no 'one-size-fits-all' approach to pouches.
"For this reason, it is important to offer a range of flavours and strengths. Although mint and menthol dominate, some consumers prefer a fruit base, such as citrus, and Zyn also offers an Espressino variety," says Shona Daly, UK commercial trade activation manager at Swedish Match.
Pod-mods and pouches: trends in next generation nicotine products
Flavours and strengths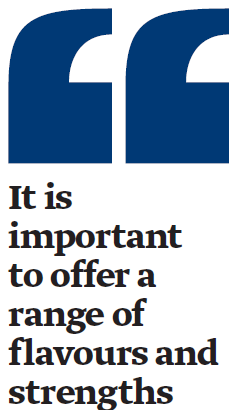 Looking closer at flavour and strength trends, menthol/mint is by far the most popular flavour for tobacco-free nicotine pouches, representing just above 70% total market volume.
"Consumers like the minty, refreshing taste from menthol varieties, and so it is natural they would initially gravitate towards these flavours," says Daly.
The popularity of mint/menthol flavours is also attributable to the characterising flavour ban which came into effect last year, where there was a shift in smokers looking for alternatives.
Zyn's bestseller is its Cool Mint 6mg variety, but it also offers a 3mg pouch for those wanting a lower level of nicotine.
This summer, the brand is also expanding its range with a new variety, which will be available in medium and strong strengths. Moving onto strengths, Arjan Singh Rhoud, of Premier Morley Convenience Store in Leeds, says he stocks a range of nicotine pouches in his vaping unit. "Nordic Spirit is our bestselling nicotine pouch, and we sell a lot of the higher-strength ones. This is because shoppers who are trying to stop still want the nicotine kick first," he explains.
The best ways to display your store's vape products
Just like how stronger e-liquids, such as nic salts, appeal to first-time switchers due to the higher nicotine content, nicotine pouches operate in a similar way, coming in a range of nicotine strengths. As they don't produce any vapour, it could appeal to a wider demographic.
In the UK, the most popular nicotine pouch strengths are 9mg with a 34.5% share, and 6mg with a 29.4% share.
"At JTI, we have a selection of Nordic Spirit strengths in order to suit every preference, including Mint, Bergamot Wildberry and Elderflower in regular and strong options. Recently, in order to offer even more choice to customers, we also added an extra-strong Mint variety to the range," explains JTI's Marsh.