The demand for value
Within the tobacco market, there is almost a 50/50 market share split across factorymade cigarettes (FMC) and roll-your-own (RYO) categories – at 53% and 47%, respectively, according to Duncan Cunningham, UK corporate affairs director at Imperial Tobacco & Blu. The supplier has reported a noticeable shift towards lowpriced propositions across the entire category.
Cunningham says: "The lower price tiers now account for most sales, with the sub-economy segment making up 63% share of FMC, and the economy segment accounting for 51% of RYO, with both value segments growing at 4% year on year." This shift towards value will only grow, as the national insurance and energy hikes have now come into effect. But, while shoppers are concerned about these rises, many will fi nd other ways to get the products they want or will simply shift to another brand. Samm Orgar, from Orpins Stores & Post Offi ce in Ashford, Kent, has noticed this change also.
£6.4bn- The value of tobacco in independent stores
"People are just buying the cheapest brand they can fi nd," Orgar says. "They're not choosing from across the range like they used to. Before, everyone had their own brand, but now they're buying our cheapest line, which is B&H Blue." "Retailers need to be prepared to cater to this change, given the value of tobacco shoppers in terms of the wider sales they generate in store," adds Cunningham. "Tobacco shoppers have an average spend of £19.60 versus nontobacco at £11.40, and they also visit more frequently, averaging 2.9 visits a week in comparison to 2.5 for other shoppers." Ross Hennessy, sales vice president at JTI UK, echoes this and says: "Price remains a key factor for adult smokers.
"Within the RYO category, value RYO is the leading sector with a 53.6% share, so retailers should stock up on products, such as Sterling. Also in demand are value FMC brands, such as B&H Blue." Alongside RYO tobacco, accessories will be in demand. When a shopper buys from the RYO tobacco range, ask if they need papers, such as Rizla, or Swan fl avour fusion cards or fi lters, such as Swan Slim and Extra Slim.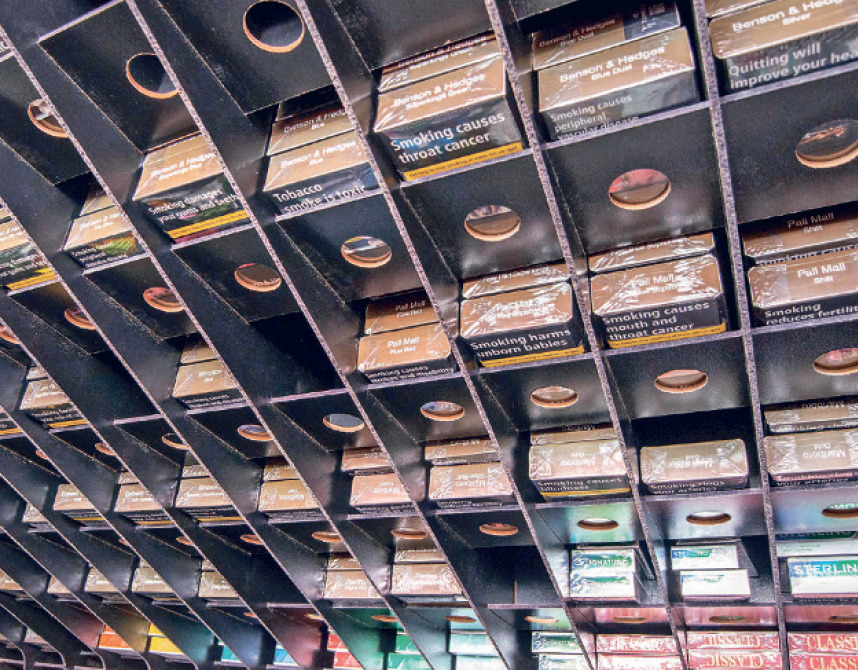 Staff training
"Talking to your customers is important, especially with tobacco customers," says Alastair Williams, country director at Scandinavian Tobacco Group UK (STG UK). "These customers may be the most loyal you have, so it makes sense to treat them accordingly." Confidence within tobacco is key, so make sure your team and managers are aware of what's in stock, what's available and include information on pricing – as this will be (if not already) a common request from customers. Williams also recommends training your teams on lines likely to be popular in summer.
£15.6bn- The value of tobacco in the UK
He says: "With spring here and summer on the way, some of your adult tobacco customers may start to think about largerformat cigars to enjoy in the sunshine, so ensure your staff are equipped with the knowledge to have those kinds of conversations." Imperial's Cunningham, however, suggests utilising sales reps visits to boost knowledge that can be passed on to teams. "Retailers are a hugely important route to market for us, representing a signifi cant proportion of our sales," he says "As such, we continually invest in supporting retailers so they can make the most out of our products with sales and trends advice, promotions, store visits and in-store furniture."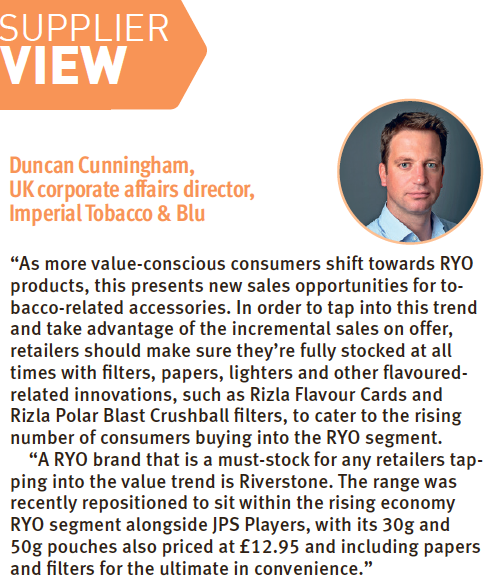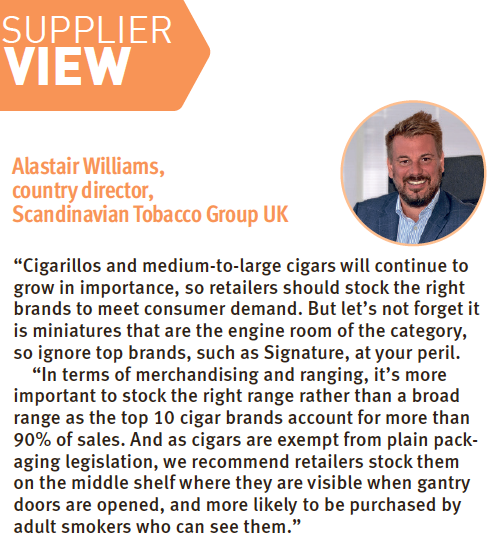 Being a responsible retailer
Being a responsible retailer is more than just applying Challenge 25 on tobacco transactions. It is having the processes in place to ensure stores abide by the law. For example, do you have a refusals log staff can look at to show who's underage, attempted to use a fake ID or was unable to provide one? If you do, how regularly do you and your team check it? If you don't, JTI's fi scal and regulatory affairs manager, Ian Howell, recommends you introduce one.
He says: "JTI recommends maintaining a log of refusals to be updated by staff, which is checked and signed weekly. "We also recommend displaying prominent signage in your store about age-restricted products, to remind customers and staff about the 'No ID, No Sale' policy. "Finally, carry out refresher training for your team every month to ensure all staff remain mindful of the policy and their responsibilities."
In 2020, JTI worked with the Independent Achievers Academy to help Agnelo Desousa, of Trinity Food & Wine in Laindon, Essex, become a more responsible retailer. Speaking about the results, Desousa says: "We're recording all sales where ID is requested now, as well as any refusals. "We check the log and sign it weekly, too, which has made us more organised and aware of underage sales."
Imperial's Cunningham adds: "Retailers must implement a verifi cation policy and demonstrate a process is in place to make sure nicotine products are only marketed to and used by adults. "We encourage retailers and their staff to familiarise themselves with Challenge 25 policies to ensure age verifi cation on all tobacco and vape-related sales." Orgar moved her tobacco range below the tills to keep it out of site from underage consumers. "The legislation of closed doors was great because it meant kids couldn't see it and be tempted when they're older," she says.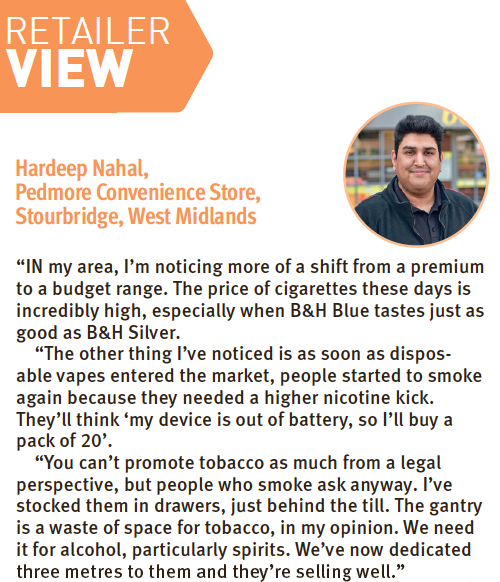 Aside from Challenge 25, helping suppliers and other convenience stores tackle the illicit trade is vital. "We urge all retailers to continue reporting anybody they believe to be selling illicit tobacco," says Howell. "They can contact HM Revenue & Customs' Fraud hotline on 0800 788 887, trading standards via the Citizens Advice consumer helpline on 0808 223 1133 or Crimestoppers on 0800 555 111." Retailers can also use JTI's microsite, jtiadvance.co.uk/ DontBeComplicit, and use the site's 'report' function.
If you're unsure how to be a more responsible retailer, reach out to your sales reps for advice. JTI, for example, recently announced the transition of its sales force to business advisers who are allocated smaller, dedicated catchment areas where they will be responsible for every trading channel within it, from independents to key multiple grocers and wholesalers. Retailers can also sign up to Imperial's Ignite app. "Our Ignite app is another great resource and allows retailers to keep up to date with the latest news, information and training opportunities to help them perform at maximum effi ciency," says Cunningham. "It includes a wide range of tools and advice, including incentive articles, downloadable PoS, product information and top tips on how to increase sales in store."
Read more: Premium cigarettes price comparison 2022 UPDATE – Pricewatch
Merchandising effectively
Tobacco is heavily affected by legislation, which is no secret. The challenge for many with a legislated category is ranging and merchandising effectively. "We strongly recommend retailers take it back to basics," Cunningham explains. "Focus on getting the fundamental elements of effective retailing right." By this, Cunningham means retailers should ensure any tobacco range links to key trends, such as the rising demand for value and meets the needs of their customer base. "No two stores are the same, so it's important to take time to consider what customers are buying most frequently, or not buying at all, and then adapting the range accordingly," Cunningham says.
Think about what your customers are buying more and focus on building a strong range within this. For example, if RYO tobacco experiences the highest sales, then offer a wider range of fi lters, papers, fl avour cards and lighters. "If you have more cigarette shoppers than RYO, try offering a smaller RYO range and focus your accessories range on lighters and fl avour cards," says Cunningham. For cigar shoppers, make sure your range includes a selection of the top brands. Many are brand loyal, so talk to shoppers about what they'd like you to stock.
The cigar and cigarillo opportunity
"The retail value of cigars increased has increased by 18.8% over the past year and now stands at just over £287m," says STG UK's Alastair Williams. "Cigar volume in the same period has also increased signifi cantly, growing by 21.8% to 428.9 million cigars, underlining the growing importance of the category to retailers." Cigar shoppers tend to be brand loyal, but according to Williams, shoppers are looking for a wide variety. "Some will be looking for value, so point them in the direction of a good-quality value brand, such as Moments," he says.
18.8%- The growth in retail value of cigars over the past year
"Others will be looking for flavour, while others will want a bigger cigar to enjoy." Some shoppers may even be switching towards cigarillos. Williams recommends talking to your customers to fi nd out what they want. Meanwhile, the cigarillo market has also experienced strong growth and is now worth £8m per month. Mark McGuiness, head of marketing at JTI UK, says: "Cigarillos is the leading and fastest-growing cigar category, with a current marketing share of 46%, up from 39.9% at the start of last year." The supplier's Sterling Dual Capsule Leaf Wrapped commands a 92.7% share of the UK cigarillo market and includes a mentholated Virginia blend tobacco and capsule that, when crushed, releases a peppermint fl avour. Also, retailers could trial STG UK's Signature Action, formerly Signature Dual, which is a peppermint cigarillo.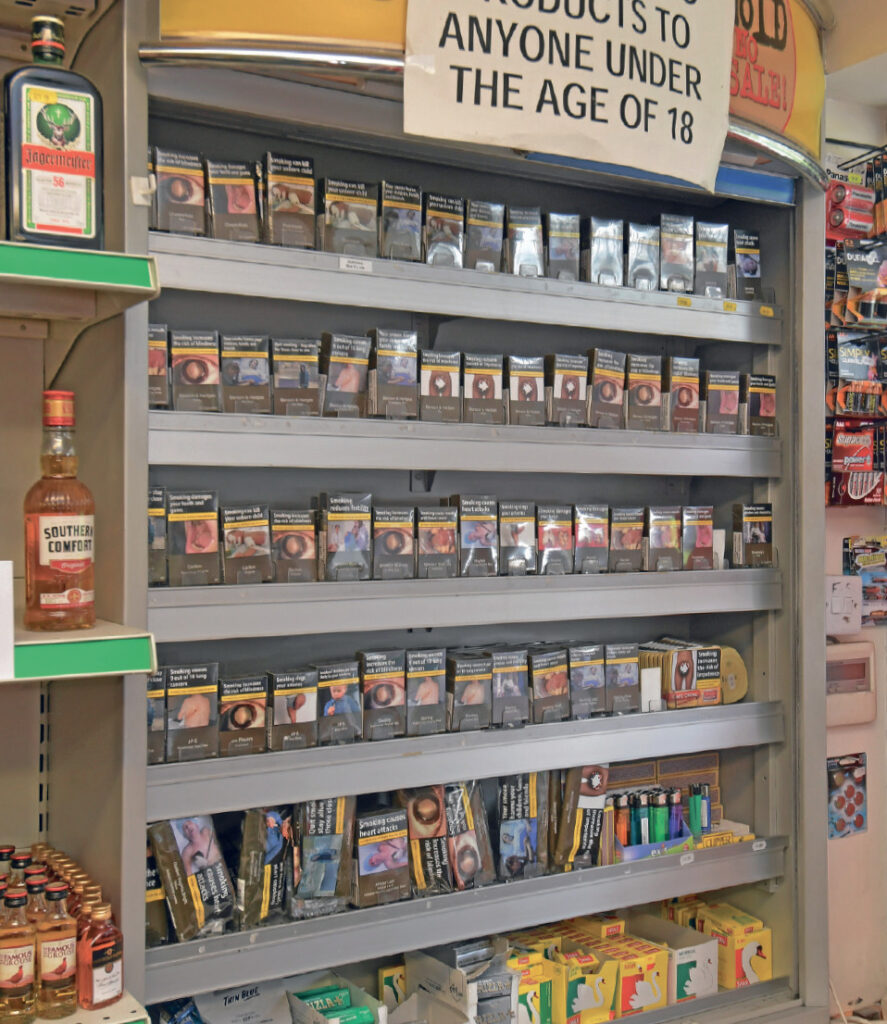 Top tips