What customers are looking for
The UK used to be a nation of tea drinkers, but these days coffee holds as much sway over the population, if not more. Regardless of the source, the need for that caffeine fix remains strong and stores should have something on offer in this department, no matter how big or small they are. Even the smallest CTN usually has one facing of teabags and one of coffee for customers. Expectations have shifted in recent years as well, with takeaway coffee machines becoming more prevalent in convenience stores, a wider range of new flavours within coffees and herbal teas becoming available, and the growth in popularity of chilled coffees in cans.
"The past 12 months have told a positive story for the ready-to-drink (RTD) coffee sub-category. RTD coffee is now worth £209m, a growth of 35.4%," says Adam Hacking, head of beverages at Arla. "Part of its popularity can be attributed to the fact it meets more than one consumer need – taste, hydration, an energy boost and satiety. It attracts a wider number of shoppers as consumption is driven by different need states, at different times of day. Worth £107m, Starbucks is one of the wider soft drinks category's most successful brands."
In the midst of a cost-of-living crisis, customers will be looking for promotions, deals and lower prices. Products such as teabags and instant coffee form a core part of many essential shops, so offering some with price promotions on them can yield positive results. Conversely, retailers should also consider the more premium market, whether that's in coffee, where people's tastes have been heightened by their experiences in cafés, or in both tea and coffee where Fairtrade concerns are rising. A blend of value and premium can attract a wider range of customers into the store.
"There are two key purchase drivers in the tea category – the first is taste," says Bryan Martins, Clipper marketing and category director at Ecotone UK. "The second driver is sustainability. We know that consumers care about reducing their impact through shopping choices. They want to feel assured that their tea is made ethically and sustainably."
Read more: Hot drinks price comparison – Pricewatch
Different winter demands
While coffee and tea are the predominant hot beverages, retailers should consider the autumnal and winter opportunity that is hot chocolate treats or the seasonal extravaganza that is 'pumpkin-spiced' products. "The hot chocolate segment as a whole is in strong year-on-year growth, proving its ongoing relevance to shoppers throughout the year," says Susan Nash, trade communications manager at Mondelez International. "Cadbury is the UK's number one hot chocolate brand and is growing at 8.7% year on year."
It is also important to consider herbal teas, particularly in winter, as people look for products that will help to boost their immune systems through flu season or to detox after Christmas overindulgence. "While infusions perform well all-year-round, with consumers renewing their focus on wellbeing during the winter, some of our infusions do well as the clocks go back. This includes Clipper's Mood Infusions range," says Martins.
Rav Garcha, who runs five stores in the Midlands, expects sales of take-home tea and coffee to grow this winter as people look to hot drinks to keep them warm instead of central heating. "Coffee is a high ticket item. Even a single person will go through a small jar of Nescafé a week," he says.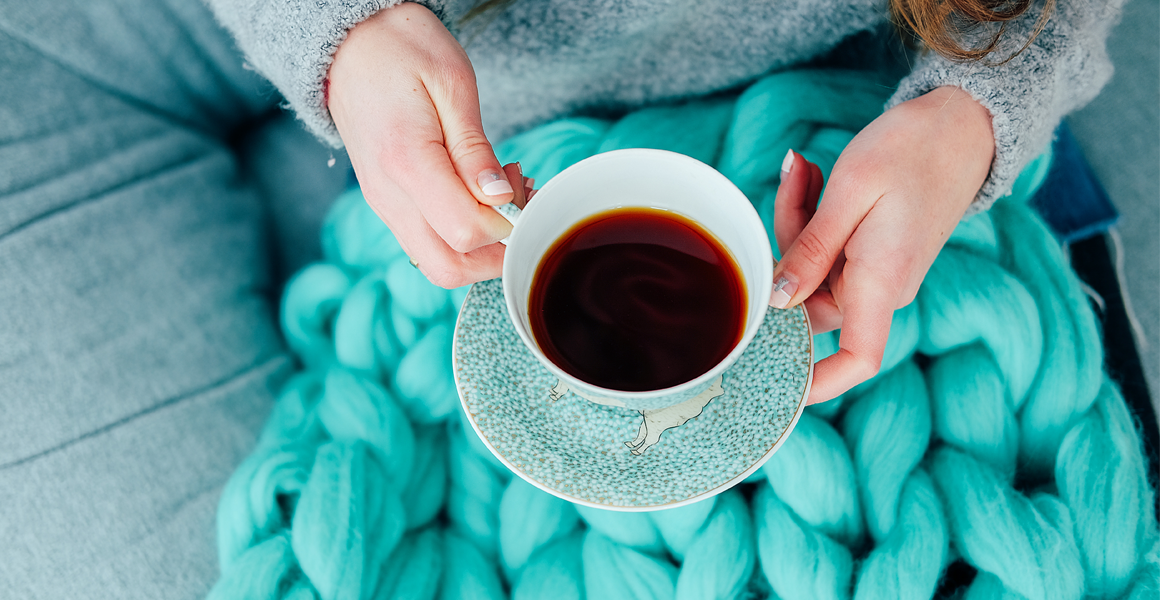 "And then when you consider the economic environment, people aren't necessarily going to put the heating on, but they will consume more hot drinks to keep warm instead." That need to keep warm goes beyond take-home coffee to takeaway coffee as well. There are plenty of machines available now to retailers, but they should think hard before selecting one. Cost, contract and machine footprint are all important considerations, as well as the variety of serves on offer, quality and brand recognition. Winter is also when people tend to indulge more in sweet treats, so having a coffee machine complemented by pastries can help to grow sales on a cold day.
"We've got a takeaway coffee machine on our counter, which is customer facing, but we serve them the coffee. We sell about 30-40 cups a day. We also have a cake stand on the counter and we do tray bake of the day," says Jonathan Cobb, from Miserden Stores and Post Office in Gloucestershire. "We do a lot of brownies and rocky roads and they cross-sell quite well. Where we are there's not much competition for coffee so it works."
Supplier viewpoint
Adam Hacking, head of beverages, Arla: "The RTD coffee category should be sited within the soft drinks fixture alongside dairy drinks and as close as possible the energy category. It is also important to give RTD coffee appropriate space within the feature, with multiple facings a key way to encourage a purchase. RTD coffee is also an ideal addition to meal and link deal executions. "Innovative new launches are continually hitting the shelves, keeping this sub-category fresh and relevant as it progresses at pace to match ever-changing consumer consumption habits. We expect to see the demand for multipack and multi-serve offerings grow among consumers. In addition, the category also offers scope for innovation around flavour profiles and limited editions that replicate popular serves in coffee house ranges."
Product news
Starbucks- Multiserve Starbucks launched two of its chilled coffee flavours – Caffè Latte and Caramel Macchiato – in a multiserve format. Available in fully recyclable and ethically sourced 750ml packs, the coffees are made with 100% Arabica coffee beans and have an RRP of £3.50.
Cadbury- Cadbury recently altered the flavour and pack design of its Cadbury Highlights Milk Chocolate. This lighter alternative to hot chocolate has 38 calories per cup as it looks to meet shopper demand for lower-calorie options.
Clipper Teas- Clipper Teas has extended its green tea range with the launch of Super Greens. Each bag contains 15% of people's daily recommended vitamin C intake (12mg). Sourced entirely from natural ingredients, Super Greens contains superfood acerola and matcha, helping to support the normal function of the immune system. It has an RRP of £2.50.
Read more coffee product news and category advice