Recycling plastics
Convenience retail – like so many parts of the modern world – needs to change its approach to and relationship with plastic. And for an industry that has relied on plastic packaging to keep products fresh and easy to carry for decades, reducing plastic usage and recycling what plastic is used will be a task that requires dedication and effort. But it is not without rewards. "
Becoming more sustainable is important for the future of the planet, but for retailers, it can be a great way to attract new customers and retain existing footfall, as well as save money," says Matt Gouldsmith, channel director, wholesale, at Suntory Beverage & Food GB&I (SBF GB&I). 
"One third of shoppers are now choosing to buy from brands they believe are doing social or environmental good, and 92% of consumers say sustainable business practices should now be standard." How can the industry do this? The ultimate goal for suppliers, wholesalers and retailers should be to create a circular supply chain for recycled plastic. While this terminology can sound complex, the idea itself is simple: plastic used in the packaging is collected, cleaned, recycled and then used to create a new generation of product packaging. And retailers, in particular, can play a crucial role.
"From a recycling point of view, retailers can start by ensuring as much plastic waste as possible is recycled through council kerbside collections," says a spokesperson for TerraCycle. "And they can even help recycle the waste councils don't collect by signing up as public drop-off locations for TerraCycle's free recycling programmes, or by purchasing one of our Zero Waste Boxes for the waste we don't have a free recycling programme available for."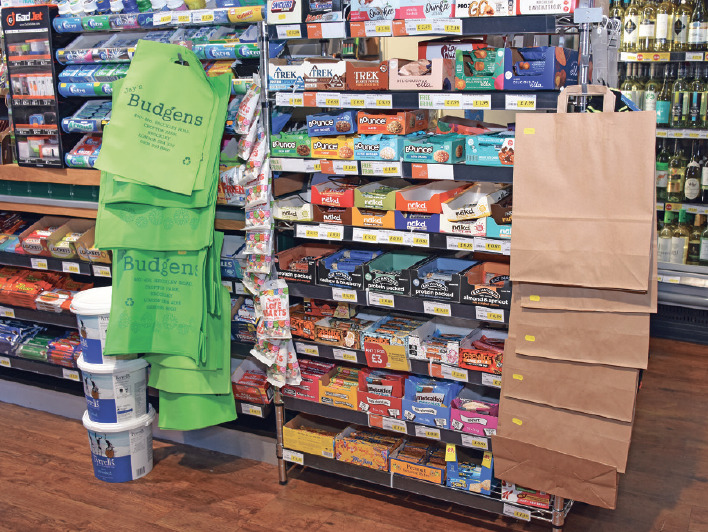 Work with brands
One supplier that has found an innovative way to increase the recyclability of its range is Coca-Cola Europacific Partners (CCEP). In May, the supplier announced it was introducing new, attached caps to its plastic bottles, making it easier to recycle the entire package and ensure no hard-to-recycle caps get left behind. 
Production of the new bottles with attached caps began at CCEP's site in East Kilbride site in Scotland, meaning that consumers in Scotland and the north of England will have already started to see new caps attached to 1.5l bottles of Fanta, Coca-Cola Zero Sugar and Diet Coke. The switch is set to be completed for all plastic bottles across Coca-Cola GB's range of brands by early 2024. All of Coca-Cola's bottles, including the caps, have been 100% recyclable for many years but not all are being recycled. 
Read more: How to make your store more accessible
Bottle caps are often discarded and littered. The new design means the cap stays connected to the bottle after opening, so the whole plastic bottle and attached cap can be recycled together reducing the potential for it to be littered while still giving consumers a positive drinking experience.
"The move is just one of the steps we're taking as part of our This is forward sustainability action plan, which targets six key social and environmental areas where the business has a significant impact and forms a key element of our 2040 net zero target," said Stephen Moorhouse, general manager at CCEP. "It's also one of many steps we're taking towards our global commitment, in partnership with The Coca-Cola Company, to help collect and recycle a bottle or can for every one that we sell by 2025, on our journey towards a World Without Waste."
This initiative from CCEP coincides with PepsiCo's launch of a major campaign for its Pepsi Max brand in September last year, highlighting that its flagship drink is now available in 100% recycled bottles. The campaign, titled 'Nothing tastes better than a 100% recycled bottle', shows the company's new 500ml and 600ml bottles. SBF GB&I is another soft drinks giant that is taking a lead on recycling. It recently confirmed that all of its on-thego 500ml bottles (excluding the cap and label) will be made from 100% recycled polyethylene tetraphyte (rPET) plastic by the end of the year.
This includes Lucozade Sport, Lucozade Energy, Orangina and Ribena. The company said the change would be a considerable investment as the demand for this material is pushing up costs – the European price of rPET is currently 39% more expensive compared with virgin PET. However, the company has committed to transitioning to 100% sustainable packaging by 2030 and Lucozade Sport, Orangina and Ribena bottles are already made with 100% rPET.
Further supply is needed to meet this for Lucozade Energy, SBF GB&I said. Recycled plastic has on average a 79% lower carbon footprint than virgin plastic and SBF GB&I estimates that this switch to rPET across its on-thego bottles will see a reduction of 36,058 tonnes of CO2. Liz Nieboer, head of sustainability at SBF GB&I, says the latest changes were the result of "years of hard work", but emphasises the need for improved recycling infrastructure as suppliers switch to greener packaging options. "There has been a historic under investment in the UK's recycling and collection infrastructures, meaning less than a third of bottles are turned back into bottles," she says.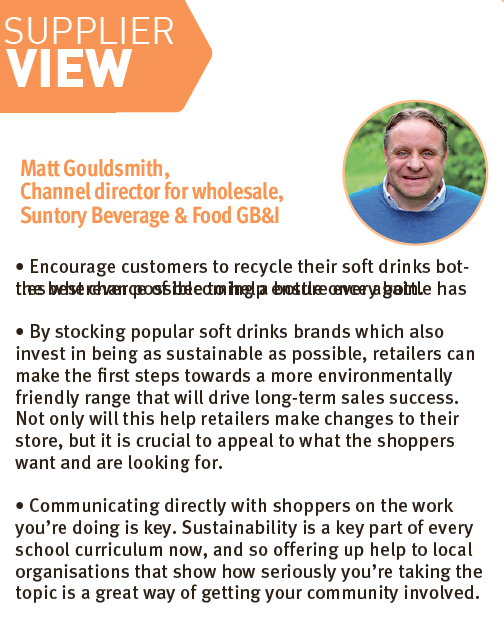 What the multipes are doing
If cutting plastic seems like challenge too far in difficult times, it is worth noting that this is an area where the big multiple retailers are also focusing hard. Earlier this month Heinz announced a project with Tesco to create a circular supply chain for its Heinz Beanz Snap Pots. 
The trial, beginning in July, is set to recycle 22 tonnes of plastic. The recyclable Heinz Beanz Snap Pots are made with 39% recycled soft plastics – one of the more difficult grades of plastic to recycle. Until 2020 just 6% of UK soft plastics were being recycled. "The new packaging gives our consumers an easy way to reduce their impact on the environment without having to give up the convenience of their favourite Heinz Beanz in a microwavable pot," says Jojo de Noronha, president for Northern Europe at Heinz, said. 
"What's more, knowing that this type of plastic can now be made into useful food-grade packaging like our Snap Pots could encourage more people to drop it off at their local collection point until more permanent recycling infrastructure for these materials is put in place, rather than adding them to landfill."
Since May, meanwhile, supermarket Waitrose replaced the colourful blue, green and red milk bottle caps of its main own brand milk range with a clear version. It means bottle and cap can now be recycled together and reused as food grade material, which was not possible with the coloured caps. It could increase the amount of plastic available on the market back into the food sector by 1,560 tonnes per year. What can be seen, then, is an industry that is fast waking up to it responsibilities when it comes to plastic waste and recycling. With considerable investment helping to transition the sector towards a circular economy, retailers who engage with this fast-changing opportunity can become beacons of sustainability in their communities. Are you ready?