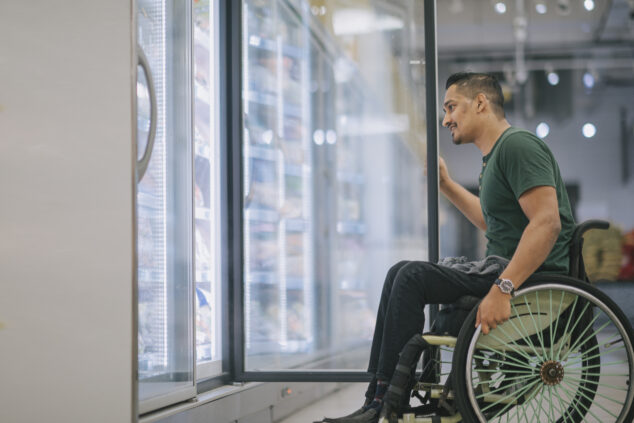 The importance of accessibility in convenience stores can't be overestimated. Steps and narrow aisles make it harder for shoppers in wheelchairs or with prams and pushchairs to enter and navigate a store, making the shopping experience inconvenient. 
Retailers need to ensure they are listening to customers with disabilities and doing what they can to make their stores as welcoming and accessible as possible. Otherwise, they risk alienating a large customer base.
Widened aisles, turning spaces – particularly around the till – and attention to detail when it comes to shelf edges and barkers make the shopping experience safer and less hassle. "We're mindful of what's on the shelf and how far they stick out because an arm could catch them," says Sophie Towers, from Kibble Bank One Stop in Burnley, Lancashire. 
Installing ramps where there are steps – particularly at the entrance – immediately makes your store more welcoming.
If that's not possible – one of Towers' stores has a heritage shop front, for example – then get a temporary ramp, train staff how to use it and put a sign about it up in the window.
"Being able to access shops is a big thing for people," she says.
It is also important that retailers don't focus solely on people with visible or physical disabilities.
The Association of Convenience Stores (ACS) recently encouraged retailers to work with disability charity Sense to increase awareness of complex disabilities. 
Throughout July, Sense is encouraging people to host a Sensational Tea Party – a bake sale/coffee morning with a sensory twist that gets people thinking about taste, sight, smell, hearing and touch.
"It's about making the staff extra aware. Is that person struggling, can I go over and ask if they need help? They might not need it, but it's important to think about it," says Towers.
"That doesn't just go for people with disabilities. It goes for everyone." 
The sacrifice is worth it
Some retailers might feel that widening aisles isn't possible because space is at a premium in their store.
Meten Lakhani, from St Mary's Supermarket in Southampton, widened his aisles in his latest refit to 1.2 metres, sacrificing shelf space.
As well as being the right thing to do, it didn't adversely affect his sales because wider aisles attracted parents with pushchairs who had are buying more.
"Their kids were picking stuff up on the way round as well, so they spend good money," he says. "We make sure that the aisles are very accessible. It's so important because you want parents and people with disabilities to come and shop with you."
By keeping aisles and the store clean and clear of obstruction, he doesn't just help customers with disabilities, but generates positive comments from his community.
Offer to shop for customers
There is enough space in Nishi Patel's Londis Bexley Park store in Dartford, Kent for people with disabilities to manoeuvre. "There are some disabled patients from the nearby hospital who come in on crutches or on mobility scooters who never seem to have an issue."
Patel makes sure his staff are on hand to offer help, especially as the store can temporarily become more tricky to navigate with stock deliveries, which leave stock on the shop floor. "A lot of the time, we say, 'give us a list of what you need, we'll go shopping for you if you want to wait outside and we'll bring it to you'," he explains.
There are also online disability training seminars Patel and his staff can access through his symbol group, although he hasn't made them compulsory. "We've got a tight store, but we give extra consideration to someone who is disabled," he adds.
It's always worth asking
Himansu Patel has widened his aisles at Londis Parkhouse Road in Shipton Bellinger, Hampshire, to accommodate wheelchairs and pushchairs, and has introduced a ramp entrance to his store that takes up space on his shop floor, but makes it more accessible.
Even though he has a moderately sized store without any obstacles, he encourages his staff to be on the lookout for anyone who might require assistance and to actively ask if they would like help. "If there's someone in a wheelchair, we'll always approach them and ask," he says.
"Some people don't want to be seen or treated differently and want their independence, but I've found that most people take it well.
"We have lots of elderly customers with walking sticks who can't bend over or reach up, and we'll ask them if they need help. If they want help, they will often ask themselves, but it's good to offer."
Think beyond wheelchairs
Disabilities come in a variety of forms, and retailers should be conscious of this when thinking about store layout and staff training.
"I hate displays that make noises without warning or give off smells," says Sophie Towers, from Kibble Bank One Stop in Burnley, Lancashire.
"It can have a real effect on people if they have a sensory problem or an allergy. In supermarkets, you have space to avoid them, but not in convenience stores."
Towers' team has also undergone free Dementia Friend training, which has made a huge difference. "More people would do it if they knew about it," she says.
"You get a badge you can put on your door. The team has learned ways they can support people they wouldn't have thought about before. One Stop is also raising money and awareness of Alzheimer's."
Explore our comprehensive archive of advice and insight for independent retailers