"I've been a retailer officially for three years, since I was 23," says Enya McAteer, of Mulkerns Spar Jonesboroughin Newry. "I came to manage Mulkerns Spar Jonesborough when the Covid-19 pandemic happened and they needed someone at short notice.
"I was almost thrown in the deep end but I'm glad everything happened the way it did, because it was either you're going to sink or swim – and I haven't gone under the water yet."
The store is 3,000sq ft with 26 members of staff, and is based in a small village that's on the border between the north and south of Ireland. As Enya and her team have customers visit from both Northern and the Republic of Ireland, the store accepts Sterling and Euros.
"We have a lot of elderly customers, too, as well as younger families who are starting to move in as houses are being built," says Enya. "It's lovely having such a good a mix of customers and it's vital we have a good relationship with each of them."
Enya was recognised as one of RN's first inaugural 30 Under 30 winners, as well as this year's IAA Category Star for Merchandising & Display. One of the things Enya and her team stood out for was ensuring promotional bays relate to the aisles that are close by. Enya also introduced flower displays outside the store, encouraging staff to give their ideas, which has increased her flower sales by nearly £2,000 during key seasonal periods. Finally, Enya builds bulk displays in the middle of the store with every promotion, for everyday items, like multipacks of Lucozade or Coca-Cola.
That could be a pyramid or colour-coordinated circles, just to have something different in the middle of the shop that customers look to," Enya said in her IAA interview. "It also gets the staff involved and we change it every three weeks."
Here are 10 ways Enya is meeting the demands of her customers, building impactful displays, and training her team.
Managing Covid-19
"I entered the business just as the pandemic hit," explains Enya. "You went home and all the time, there was a new rule or restriction, and retailers didn't have a clue what to do.
"It was almost like we were all copying each other. For example, when others put up screens, we thought we should do the same, so we did. Naturally, we followed the recommendations from the government, like masks, hand sanitiser, etc."
Enya also made changes to the store's opening hours, closing at 8pm, so staff could stock up and sanitise the store. "Everything was such a different vibe of retail and one like I've never experienced, everything needed extensive changes all the time.
"You were always posting on Facebook, and you were always communicating to staff about the new rules," says Enya. "Thankfully, we're back to normal now, but the positive is if anything similar happened again, we would be more prepared."
The impact of the cost-of-living crisis
"It's tough but what can we do? Every business, staff and customers are in the same position," says Enya.
Like most retailers, Enya's energy bills have skyrocketed – doubling in two months. This rise is unavoidable, according to Enya, as the store benefits from automatic lights, doors, and fridges.
"We've done what we can to reduce costs, but now it's seeing if we can further reduce them, like whether the deli lights need to be on once it's closed," Enya explains.
"Can we turn one of the ovens off sooner rather than later or is there an appliance that doesn't need to be used."
Increasing prices of their grocery products has been inevitable for Enya and her team, but she says customers have been accepting of it. Enya says: "Customers recognise it's not just us, but across the board."
The key is communication. To help manage expectations, Enya has informed her customers prices are likely to increase. "People know what to expect now and we're noticing they're budgeting and putting more aside for groceries each week," Enya adds.
Planning ahead of seasonal events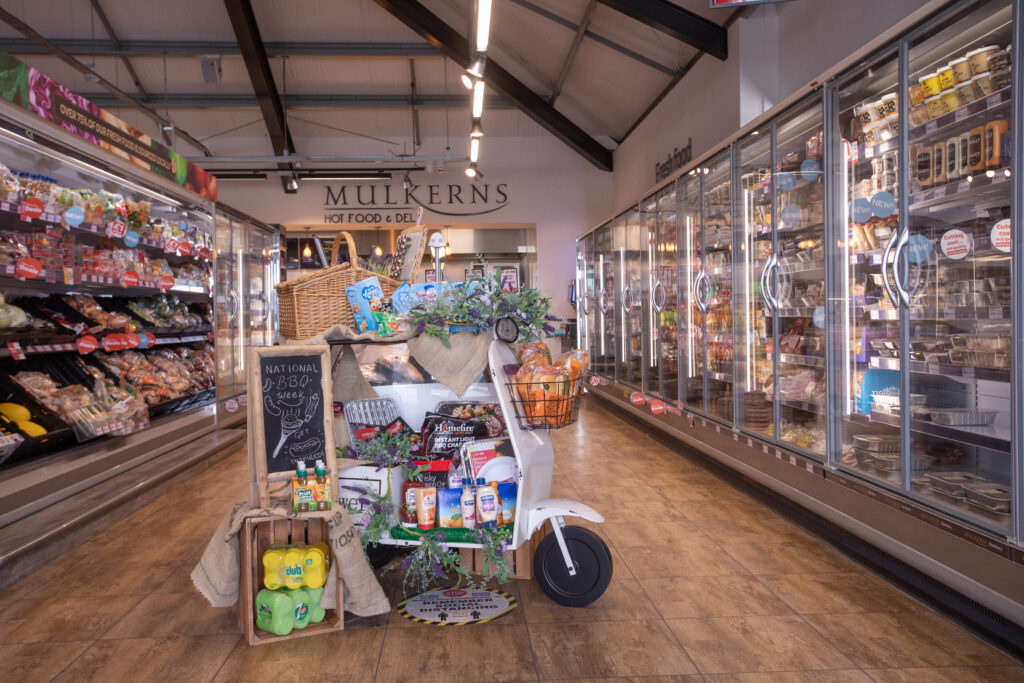 As shoppers continue to budget, Enya expects her customers to plan earlier for Christmas and other seasonal events. "It's going to be a tight Christmas," Enya says. "So already, I'm thinking, we need to promote the value message and get the Christmas stock out as soon as possible."
Enya is also thinking about the options they can offer to show value. These include a loyalty card so customers can put money aside to spend in Enya's store.
"We've put aside what we can't control, instead focusing on what we can. We promote our value and any savings we make on energy, we try and relay that to our customers. Of course, there's only so much we can do, but that's what we're dealing with right now," adds Enya.
Being proactive is imperative to Enya, which is why they're building festive and promotional displays early – to help customers plan ahead. "It's odd thinking about Christmas because it's only [at the time of writing] September, but that's retail for you." 
"Merchandising and displays are a really big thing for me, I love when you walk into a store and you see everything with your eyes," says Enya.
"Having strong displays has a good impact on the store and people enjoy seeing them and it helps sales, too."
For her displays, Enya uses a mixture of wholesaler and supplier planograms that are available online. "We tweak these planograms to suit our shop, so we're focusing on our top and fastest sellers.
"We honour our planograms and we check them every six weeks to make sure they're up to date," says Enya. "We also do gap checks every week."
If something is missing, this allows Enya and her team to question why there is a gap and put a plan of action in place.
"If it's not available, we figure out if there's a supply chain issue and whether it will be a long-term thing. We're not fond of gaps as it doesn't look great, so this allows us to find alternatives," adds Enya.
Involving your team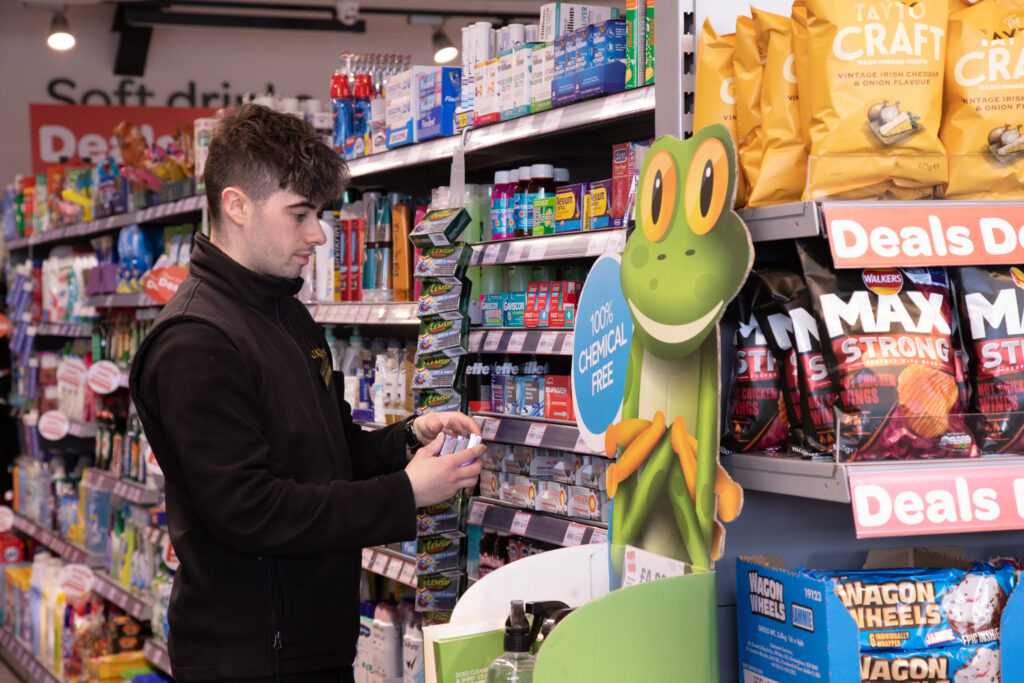 Enya includes her staff in every task, including carrying out gap checks. "I have category managers, so there's one for frozen and ambient, for example," says Enya.
"I'm quite picky with merchandising, but they are happy to approach me and say something isn't working and we then look at the display together to update it."
Enya also encourages her team to create their own displays, before giving her feedback and working on improving the display together. She adds: "I might say that product works well in a certain space, but other times, I'll say have you tried this? Often, it's moving a good-selling product to eye level.
"I give them hints about the display, especially if they haven't been managing the area for long or they're young."
Enya and her team print off reports to determine how successful a display has been and says her and her team's involvement has been imperative. "It teaches staff about the merchandising space, so they know how important it is and what each promotion adds."
Enya also has a checklist for her team, including basic training lists for each section. But Enya also knows the importance of leading by example. "If something is really important to me and the staff see me going around checking bits, they'll then do the same. It's ensuring everything looks presentable and that's a team effort," adds Enya.
Where our inspiration comes from
As part of building strong displays in store, Enya and her team promote them on social media. "I put it on the store's social media page, but also my private one, too.
"I put a photo of the display on my Instagram story and people react to it," says Enya. "If we don't promote it, staff go home and talk to their parents or friends."
For Enya, she wants parents and families to come in and say 'wow, that looks really good, I can't believe you've done that'. "We love to promote each display and also, if you don't promote, then you aren't upgrading your business either."
Enya visits other shops on her days off for inspiration, and also looks online and on Pinterest. "My partner will be rolling his eyes while I'm taking photographs of the cool things in other stores, but it's so cool what you can find," says Enya.
"There's been some occasions where even the smell draws you in and occasionally, I'll bring my staff along too so they can get inspiration."
Being as sustainable as possible
"Packaging is a big thing for us, especially with the deli and hot food counter," says Enya. "Most of our packaging is recyclable and compostable. We have no real plastic in our store."
In addition to packaging, Enya and her team use wooden utensils, as well as recyclable coffee cups. "We also recycle our coffee grinds. A local farmer comes in, takes them and uses them as eorganize," Enya adds.
The retailer also has a loyalty scheme in place whereby if a customer uses a recyclable cup, they get every fifth coffee free. "It's worked really well. We have builders regularly in our area and they've since switched to a recyclable cup because it means they're getting their coffee free quicker," says Enya. "It's even encouraged the staff to switch, too."
Enya also placed recycle bins outside for the customers, and recycles batteries. Other sustainability initiatives include automatic lights across the store and in the canteen. These lights are turned off when the store is closed and switched back on the next morning.
"We have different bins so we can recycle as much as we can, which lay behind the tills. Our next step is moving towards loose fruit and veg."
The challenge for Enya going loose is she works with bigger suppliers, and it's taking them time to update their packaging. "While we have no control on this, we have a local man who visits the fruit and veg market each morning, so whatever we can get loose from him that's not packaged, we do – it looks really nice and fresh," says Enya.
"We've moved a good portion of the category to be loose, but it's trying to get suppliers in a similar mindset. I know it's often cheaper to use plastic, but it's not environmentally friendly."
The store doesn't provide fruit and veg bags, instead encouraging shoppers to bring in their own bags or place them in a basket. "We've got a lot of options to promote our efforts as much as we can and change the customer's mindset," adds Enya.
Future plans
"I would love to be able to have an extension added, but I don't know where this would go. I've got a lot of plans, but I need a bigger shop to achieve them all," says Enya.
Instead, Enya is ensuring she maximises the space she has available. "We recently put in milkshakes and ice cream pots, which have sold well, so I would love to find the space to increase this section.
"I want to introduce iced coffee and a sit-down area," says Enya. "We have a beautiful view just outside the store, so I want to introduce a seating area, but finding the space is our biggest challenge."
The biggest move this year has been the bakery. "We installed it in April/May, baking our own bread and pastries. Our focus has been growing that area in store and trying to find sustainable packaging for those products, too."
What being recognised meant to us
"I remember walking into the store with the award and our staff started clapping, documented it on their own camera and wanted to see it straight away," explains Enya. "Customers then noticed it and started saying congratulations to us, too."
Enya produces a weekly newsletter and dedicated one to being recognised as a Category Star, thanking staff for their hard work. "The award is now proudly displayed behind the tills and one of my staff members ensures it remains clean by polishing it every day."
The retailer also posted about the recognition on the store's Facebook page, and it also featured in the local newspaper. "There's a link on the Facebook page, but the whole achievement got quite a bit of recognition," says Enya.
What we've learned from the IAA
"Get the basics right. Have a clean front entrance to welcome your customers and ensure your shelves are well-stocked," says Enya. "But also the importance of having great customer service.
"Put yourself in the customers' shoes – and I ask my staff to do the same thing."
Enya says the IAA has also helped her with learning the importance of having a greater variety of products, from unique confectionery to household staples, like milk.
"Get your range right first," Enya adds. "Once you have that right, the sales and footfall will follow because customers are happy with what's being provided to them. Then you can move on and think about what else you can do."
When asked about how to improve your merchandising and displays, Enya says: "Walk around your shop, look at it and think does it look right to me? Are the shelves too big, or are products squeezed on the shelf?
"What I did was take the displays section by section and reorganised them."
Reorganising the displays took Enya almost a year to complete, but she found she was able to delist products that weren't selling and find the range that works for her customers.
She believes you've got to ask yourself questions to build the right range: "Do you have a value option? Do you want to go for own-label or a branded option? Have you planned for the end of your promotion period? What's going on the display afterwards?
"If you have the space, create a bulk display or something on the side that sticks out. Do some sort of funky design – even something as simple as twisting the boxes round at an angle throughout will help you achieve this."
Enya also recommends that if you buy props to ensure the investment is worth it. "Make sure you can use it all year round, and keep them safe so they stay in good condition."
Why you should work with the IAA
"What do you have to lose? Benchmarking opened in September, so give it a go," says Enya. "Read each section, you might uncover new ideas."
Enya says benchmarking allows you to find something to improve, no matter where you are on your retail journey. "If you have a question, like what policies and procedures do you have in place, and you go 'I don't have anything', that's already made you think.
"Benchmarking gives you food for thought and new goals to reach. She adds: "Even if you benchmark bit by bit over three months, you're going to learn something along the way. It's worthwhile."
Since benchmarking with the IAA, Enya says she's had a lot more opportunities open up for her, too. "It didn't matter if I was recognised as a Category Star, there are so many stages within the process that are beneficial," Enya says. "You've got nothing to lose, it's worthwhile doing.
"We adapt and recommend benchmarking to everyone."