Selling CBD: An emerging opportunity for retailers
Cannabidiol (CBD) is a compound produced from the cannabis plant that contains little or no THC – the substance from the plant that gives you the high.
CBD has become a phenomenon in recent years and by 2025 the market is expected to be worth £1bn in the UK according the Centre for Medicinal Cannabis (CMC), which is equivalent in size to the total herbal supplements market.
To benefit from the gaining popularity of CBD, it is crucial to first understand what it is and the legality around it. In the UK, cannabidiol products must not contain more than 0.2% of THC for them to be legal, according to the Home Office.
This means that those who vape, eat or apply CBD to their skin won't experience any hallucinogenic or psychotropic effects associated with cannabis use. In 2016, CBD became legal to sell in the UK, although many argue that there is significant research still to be undertaken to determine what effects it has.
However, many consumers believe cannabidiol has a number of health benefits, such as reduced stress and anxiety.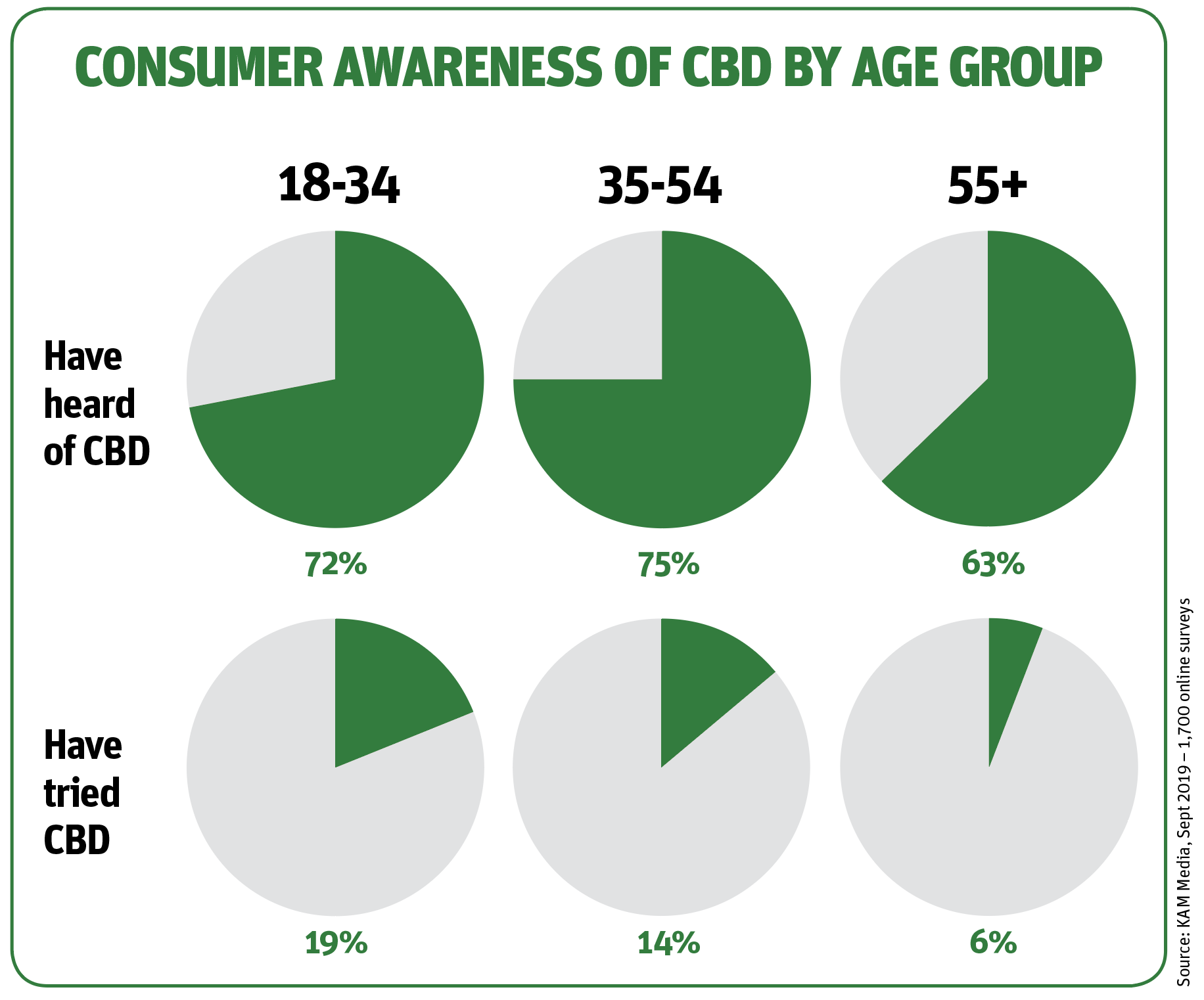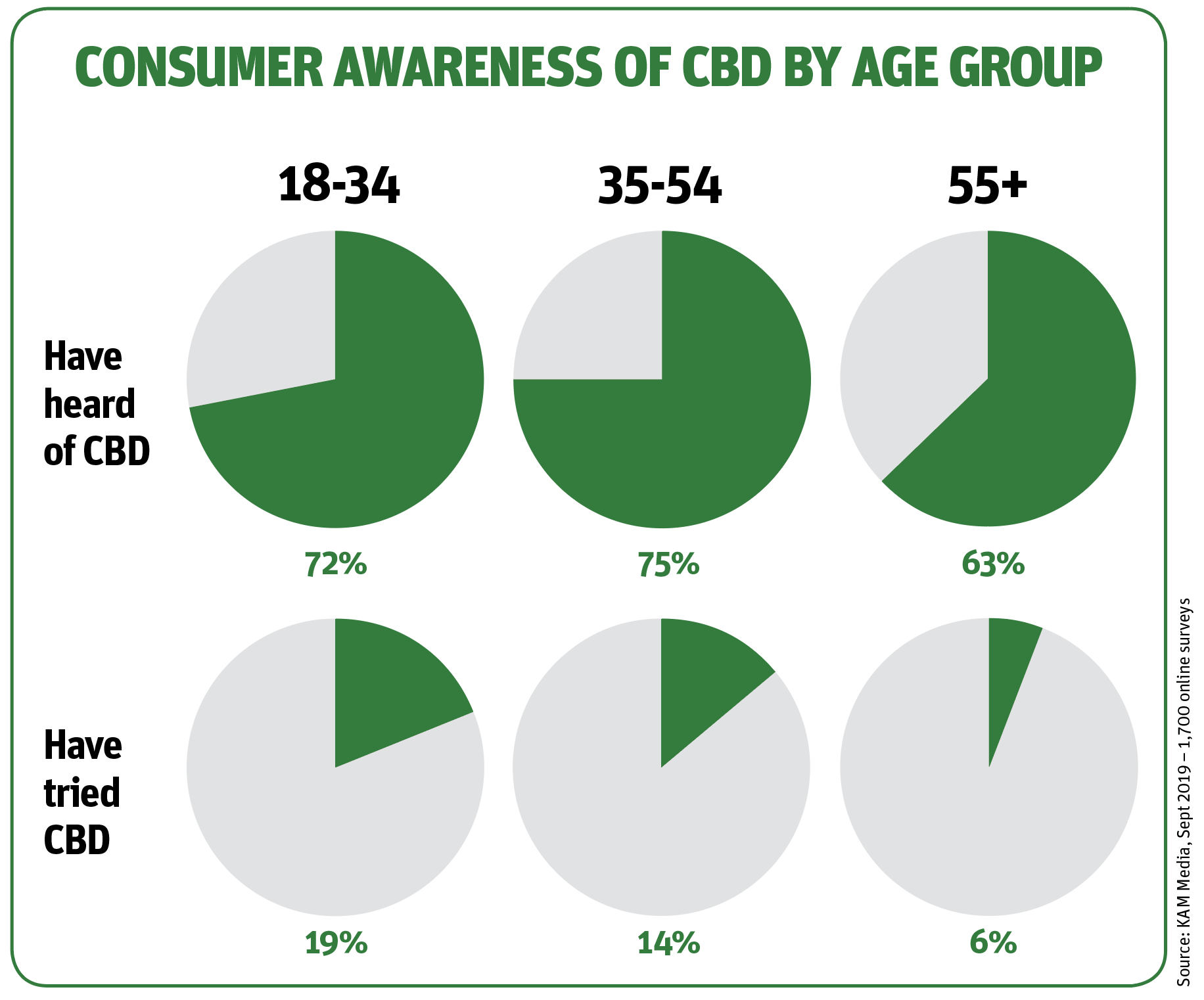 While CBD is still taken primarily by vaping, it isn't exclusive to it. This year, we've seen major suppliers launch their first CBD products, such as Halewood Wines & Spirits, with its hemp-infused rum, and CBD cropping up in everyday products from snacks to soft drinks. Most recently, Vita Coco announced it was launching a CBD-infused variety of drinks to its range, proving the trend is moving into the mainstream.
James Christie, purchasing manager at specialist wholesaler Epicurium, says the soft drinks category seems to be the most accessible way of getting cannabidiol into products, down to the fact there is a wider selection in the category.
"Our best advice would be to educate consumers where possible – as with all new trends, raising awareness and consumer perception of a trend is hugely important to its success or failure.
"With CBD, this is even more necessary, as some are still making negative associations with THC, none of which has any association with the fully legal CBD," he explains.
Trudy de Groot, marketing director at NextGen360 – the company behind Edge e-liquids – agrees, saying that CBD represents one of the "greatest commercial opportunities" in recent history.
"It is the sheer versatility of the compound that has allowed CBD to permeate so many industries, and as research progresses, even more applications are becoming possible as manufacturers work with scientists to overcome the limitations," Groot explains.
To make it easier for independent retailers to capitalise on the sector, this report aims to explain the best categories to trial CBD in your store.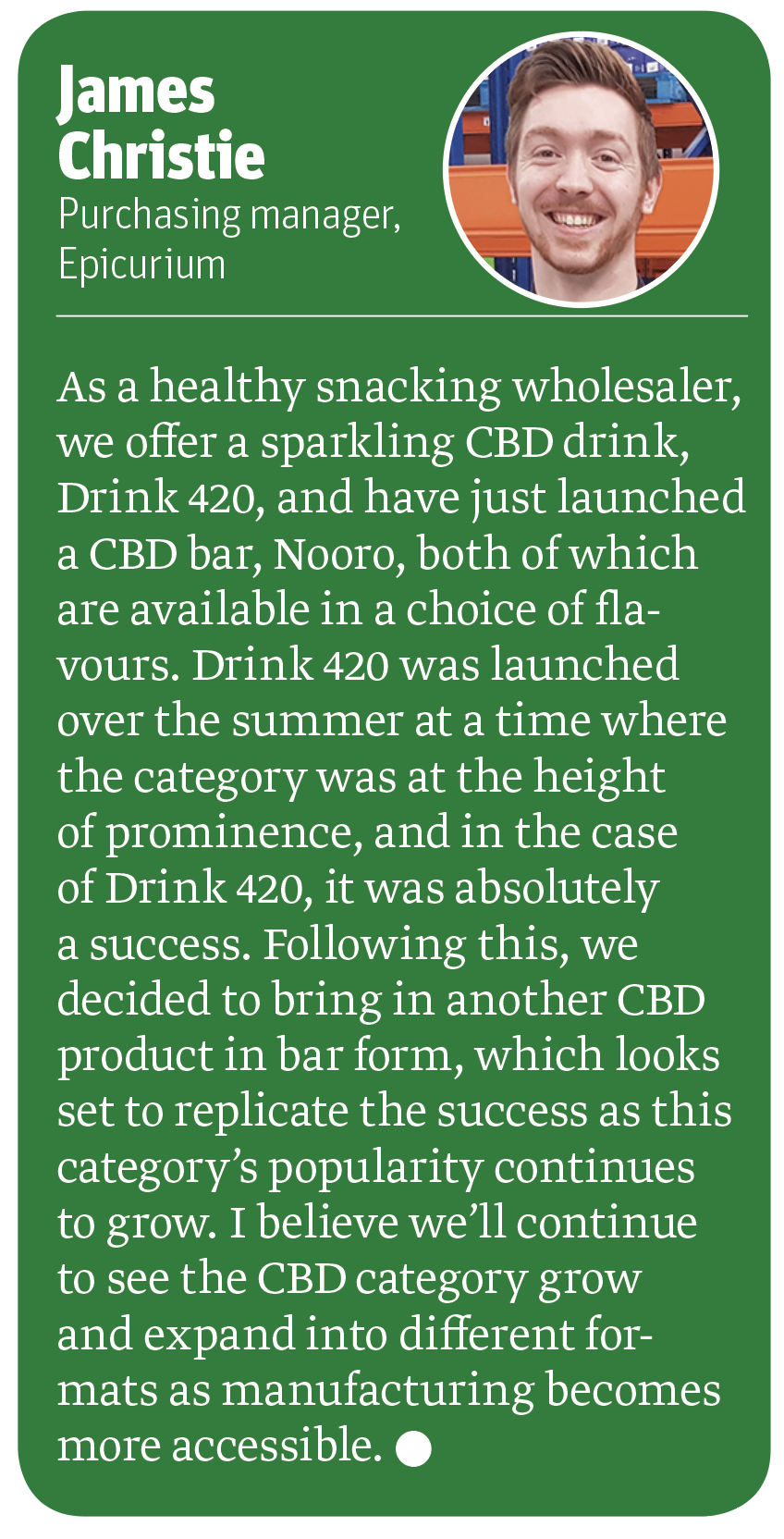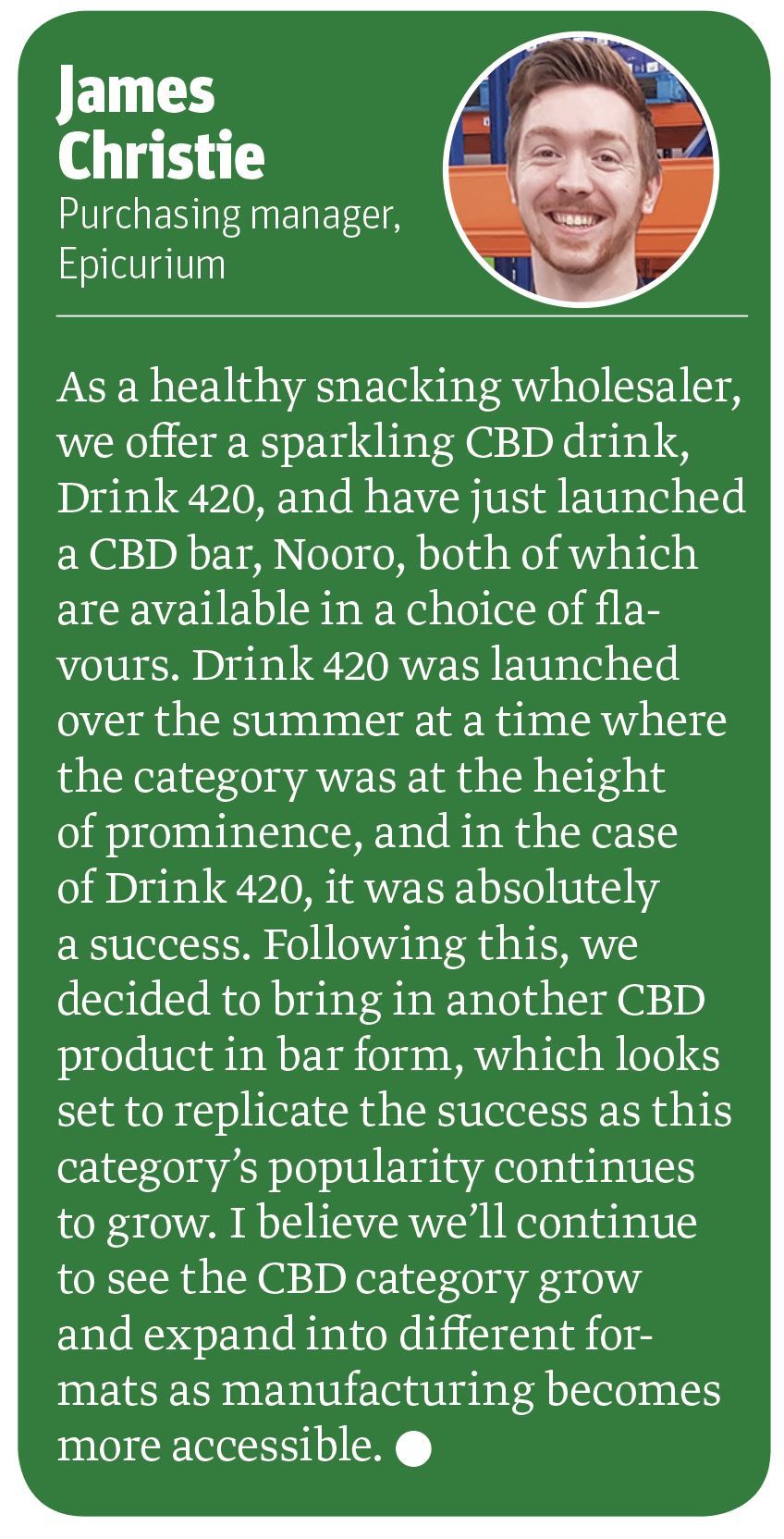 CBD vape oils and oral drops
Vapers were the first community to embrace CBD, as vaping is one of the fastest ways of absorbing CBD into the bloodstream. Research from the Cannabis Trades Association found that the number of CBD oil users doubled in 2017, and there is now more than 250,000 users, rising by 10,000 a month.
For retailers who already stock e-cigarettes and e-liquids, this can be an easy way to introduce CBD into your range, seeing as it's one of the most popular and familiar ways of consuming it.
Ben Mison, head of sales at Vapouriz, says coupled with high street retailers like Boots stocking it, and national media and celebrities singing its praises – such as Kim Kardashian West, who hosted a CBD-themed baby shower – CBD has become a mainstream product that is here to stay, and one that independent retailers are in a good position to capitalise on.
"In March, we launched a new brand called Green Stem, which includes a range of oral drops in three flavours and e-liquids in six flavours. Margins vary across the range, but generally average 45% to 58%," he adds.
Liam Jones, co-director and founder at CBD Asylum, agrees, adding that oils and oral drops are the most popular way to consume CBD. He explains that CBD is also becoming a lifestyle choice, rather than something people take specifically to help a medical issue. This means more people are on the hunt for it.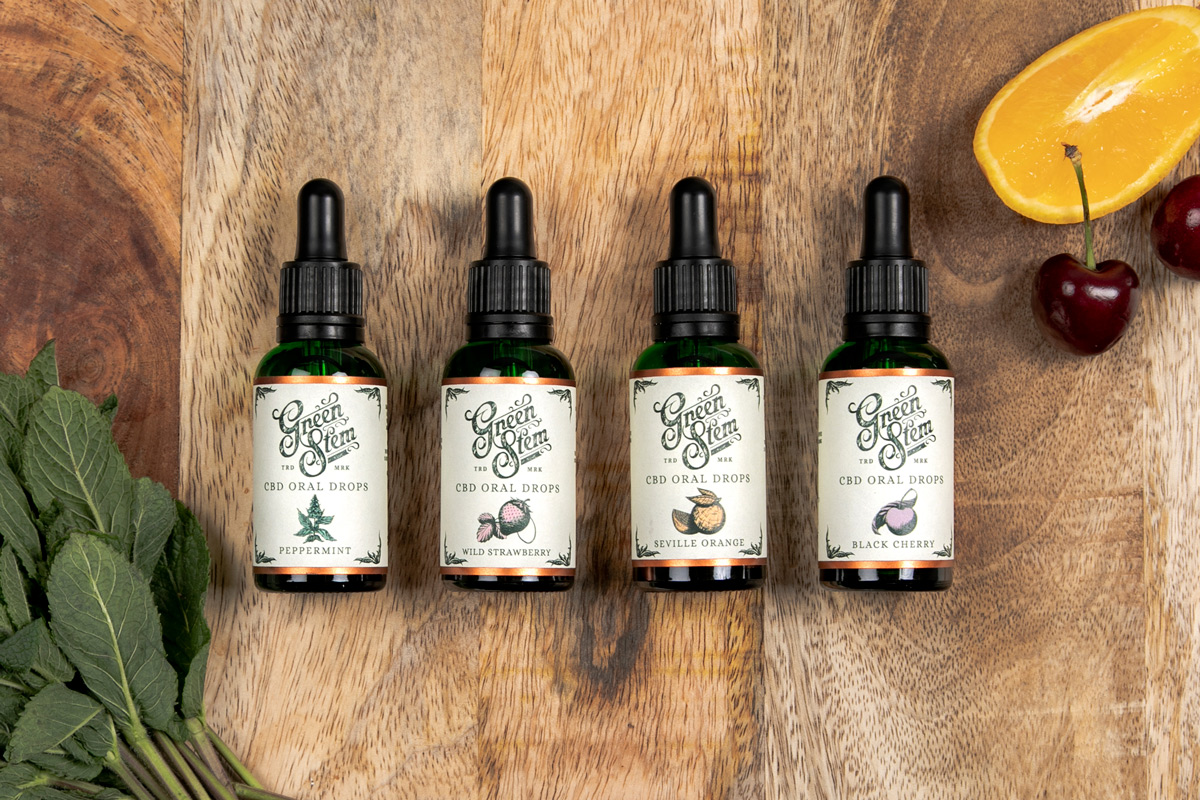 "Eating CBD in food means some of the product gets destroyed by stomach acid, whereas oils are absorbed directly. The margins can be sizeable – for example, the CBD Asylum counter display unit (£394.90 excluding VAT), offers margins of up to 40% sold at RRP," he says.
NextGen360's Groot adds that oral drops represent the most popular method of CBD consumption and are 10% more popular than e-liquids.
She explains that this is because the ability to drop CBD under the tongue at any time makes it convenient without the perceived drawbacks of vaping, be it restrictions on where one can vape, or consumer preference towards not vaping.
Read more: Vaping: Unlock Bigger Profits – The Retail Success Handbook
"Consumer loyalty trends are developing, too, with data showing the majority to only use one variety of CBD product regularly.
"This can then be divided further – with women preferring products like tinctures, e-liquids and topical, whereas men seem to prefer consuming CBD flowers and edibles.
"Those below 35 years of age show a strong trend towards consumption of CBD flowers, crystals, edibles and e-liquid. As opposed to those over 35, who tend to prefer capsules, tinctures and topical methods. The overarching trend seems to suggest that CBD usage is generally far more common in those below 35."
CBD-infused soft drinks
People are becoming more adventurous in their food and drink choices, particularly where potential health benefits are concerned, so it's unsurprising that we're seeing an explosion of demand for cannabidiol products.
Despite this, CBD products are not widely available yet, so the opportunity for retailers who invest in the category from the get go is huge with it still being in its infancy.
Within this, soft drinks is one way retailers can incorporate CBD into their range. Unlike oils and oral drops, it comes with a cheaper price point and more familiar products.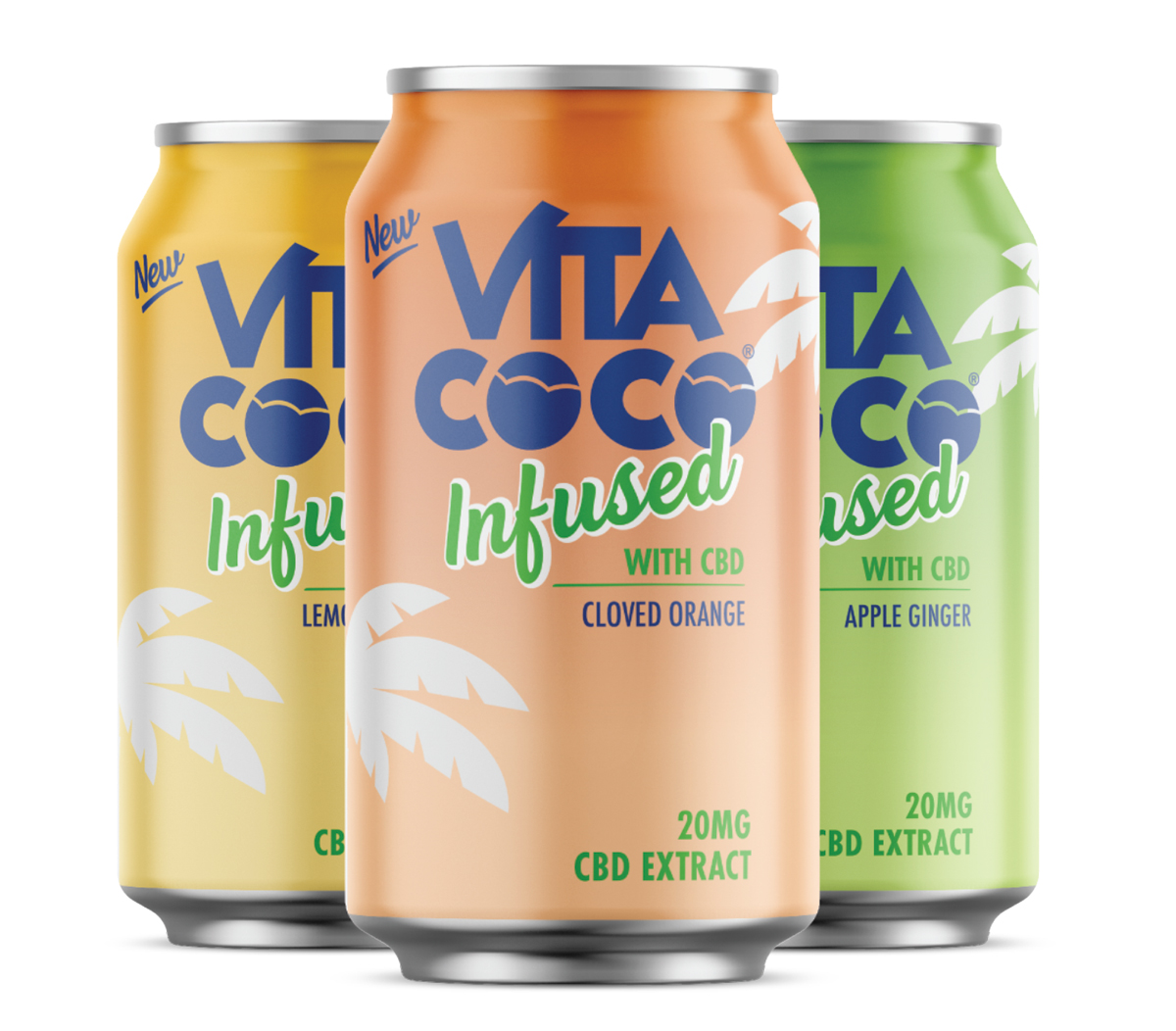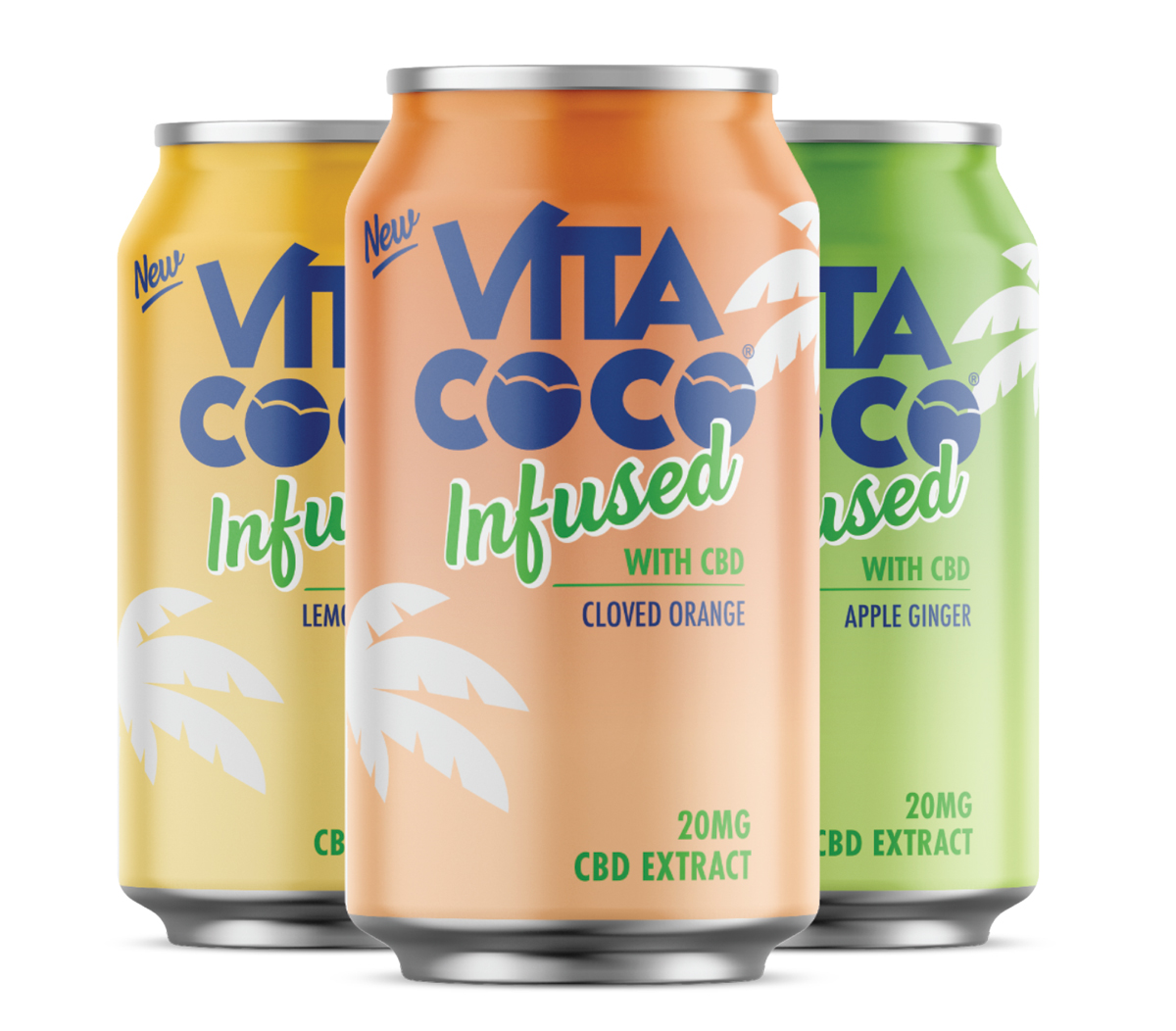 Tim Rees, managing director for UK & Ireland at Vita Coco, says on the back of this, it will soon be launching Vita Coco Infused with 20mg of CBD in three sparkling varieties, including Cloved Orange, Lemon Cardamom and Apple Ginger, available at an RRP of £2.49 (300ml).
"The majority of CBD drinks already in the market contain between 5mg to 15mg of CBD per can, so at 20mg, our product has a high dosage of CBD," he adds.
Furthermore, introducing a new segment – such as cannabidiol – in a crowded retail space can be a novelty and make your store stand out.
Serge Davies, chief executive officer at Green Monkey, explains that according to the CMC's research, CBD user rates were higher among those under 55, ranging from 15% of 25-to-34-years-olds.
"This data makes a compelling argument to the convenience sector, where the largest group of impulse buyers are aged 18 to 24. High levels of loyalty with Green Monkey consumers, coupled with the drinks not being available in the supermarkets, has led to a boom in sales in convenience for the brand."
Tony Fowler, director and founder of O'Shaughnessy Drink Company, explains that it's important retailers invest now, especially with more consumers opting for natural drinks as opposed to sugar-clad energy drinks – something that CBD-infused options can provide.
He adds that as more people start to realise that CBD drinks are the most effective way to absorb cannabis into their bodies, other than vaping, the potential is huge.
"With the all-natural edibles and drinks the fastest-growing sector, CBD vaping seems to have plateaued. We currently offer the full spectrum all-natural cordials. However, later this month we will be launching new ready-to-drink cans. The margins available are 40% from wholesale and 70% directly through us," he adds.


CDB-infused alcohol
For retailers looking to take the next step, offering cannabidiol-infused spirits such as rum can be a good way to drive interest and make your store stand out.
Lucy Cottrell, brand manager for Dead Man's Fingers, says that the cannabis-infused drinks market is worth $200m globally and is gathering speed in the UK.
The fourth addition in the brand's range is infused with natural hemp and CBD, and is available in a 70cl format, bottled at 40% with an RRP of £22.
Cottrell adds: "Flavoured and spiced rum is growing by 10.9% year on year, driven by penetration of younger consumers, yet almost a quarter of rum drinkers are frustrated with lack of choice, the highest of all spirits categories."
Nicholas Pullen, co-founder at Top Beverages, says CBD in alcohol is a trend that is set to grow and the opportunity for retailers is massive, potentially worth billions of dollars worldwide.
"The market is still at its infancy, but over the next decade there is no question that governments across the world will legalise cannabis, as well as THC and CBD. Retailers need to be ready and poised, and have a top-end selection of product," he says.
Read more: Dead Man's Fingers launches CBD-infused Hemp Rum
The pitfall, explains Pullen, is that there is a gold rush of a market at the moment in CBD, and retailers should be mindful that they are working with legitimate suppliers who are providing legal products.
"We'll soon be launching a range of nine products, including a vodka, rum and gin, and a Spiced Rum, a Bloody Mary Gin and a Masala Vodka, to name a few.
"The entire range will be available in 500ml bottles containing 50mg of CBD (full spectrum) that will have an RRP of £49.95," he says.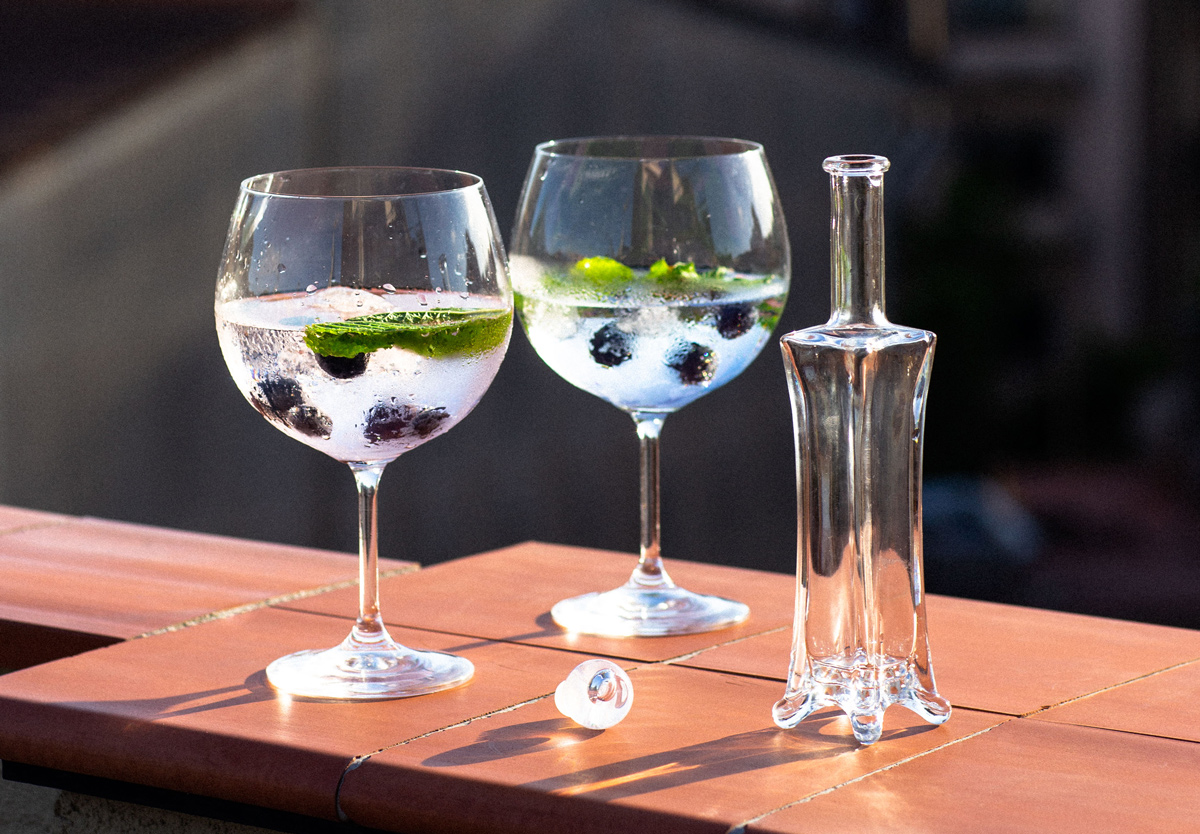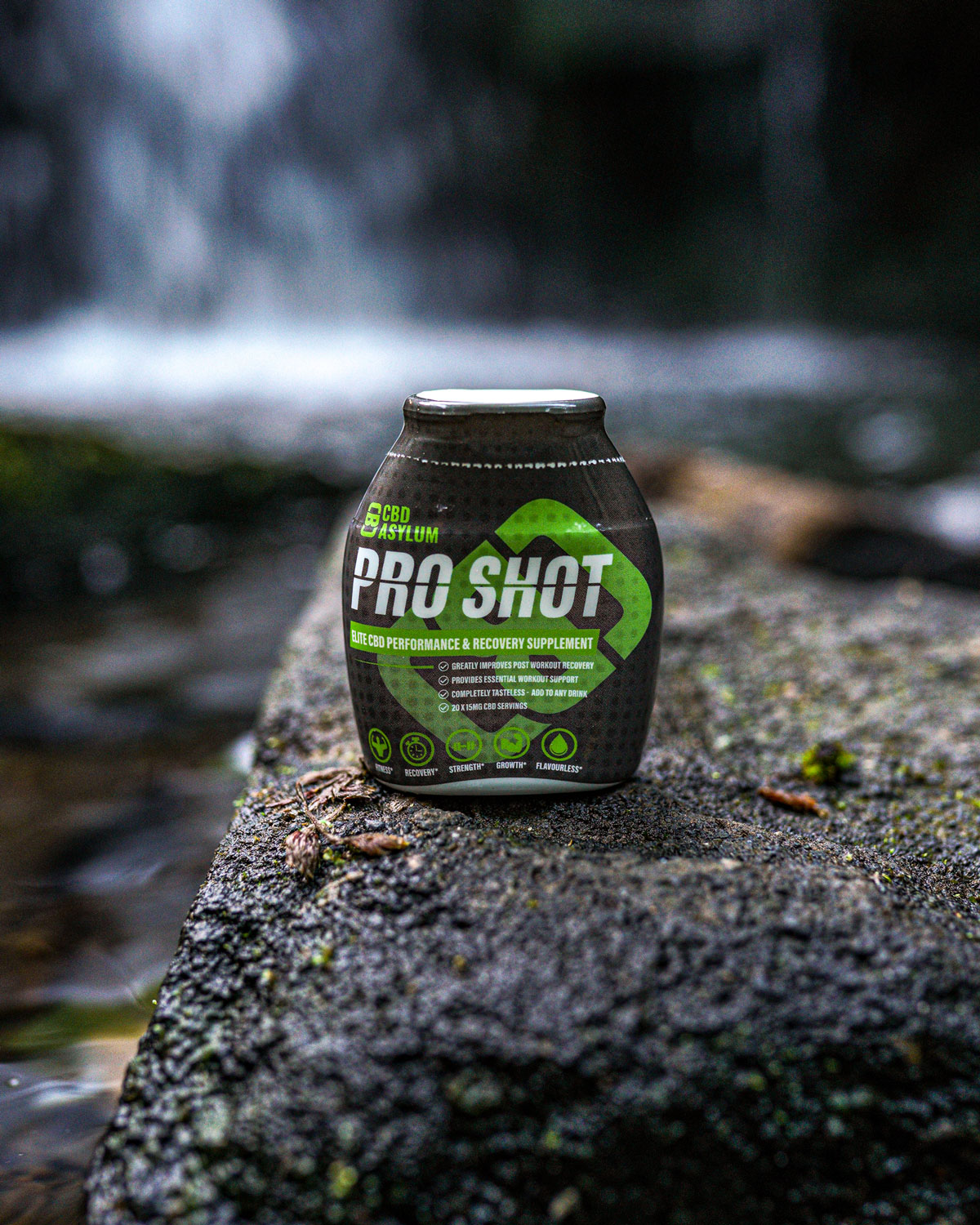 Health and beauty
The CMC's research estimates that 1.3 million consumers are spending more than £300m per year on CBD products, making the CBD market larger than the total UK vitamin D (£145m) and vitamin C market (£119m) combined.
George Thomas, managing director at Goodbody Botanicals, says the topical category is experiencing significant growth from increased consumer word of mouth and press coverage.
"Counter units are a good solution to ensure that the product is easy to see and recommend, and this also reduces the risk of theft of higher-priced items."
Goodbody Botanicals has a core range of six products, which includes four oils (2.5%, 5%, 10% and 15%), CBD capsules (14-pack) and a balm (30ml). The margins available are typically from 40%," he adds.
Matt Picken, co-founder of 7CBD Health, says with many cannabidiol products finding their way into the market, retailers risk the threat of rogue traders who are jumping on the bandwagon trying to make a "quick buck".
He adds: "Our main customer demographic is aged between 35 and 60, and it's starting to expand into the older generation more so than ever. The main ailment customers come to me with is joint pain from inflammation and arthritis.
"The bestsellers remain flavoured sublingual oils and I think this method will overtake vaping as the prime delivery method if it hasn't already, but it's hard to say for certain as there are pros and cons to both."
Read more: Industry Profile: Vapouriz's Ben Mison on how retailers can benefit from CBD products