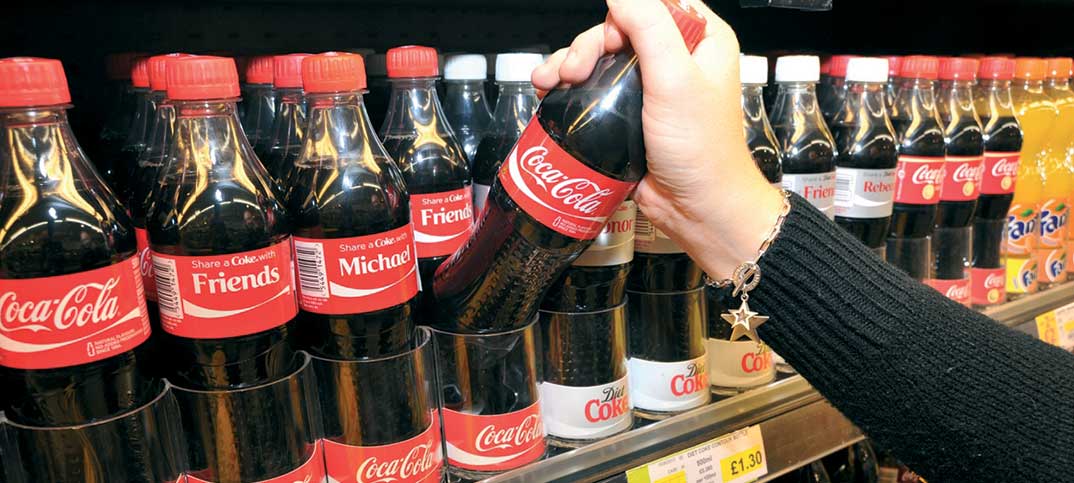 Coca-Cola is one of the biggest brands independent retailers stock. Nick Canney, vice president of sales and marketing for its UK bottling arm CCE, explains why its market leading position will be maintained for decades to come. Chris Rolfe reports.
Picture this: a shopper is wandering past a convenience store and the temperature outside hits 25 degrees. His phone pings with a new message. "Do you want a Coke? You can buy one at this store," it says, also offering a money-off voucher. So he enters the store, arrives at the chiller and, through the semi-opaque digital Coca-Cola ads scrolling across its door, he spots the bottle he will buy.
It's a snapshot of the imminent future, says Coca-Cola Enterprises' vice president of sales and marketing, Nick Canney. One where shopper marketing takes place as much in the virtual world as it does through traditional advertising channels, with the potential to have a huge influence on impulse sales. 
It's something that CCE is ploughing investment into. And this, twinned with the ongoing growth of the convenience channel and competition from the multiples and online shopping, makes perfecting soft drinks ranges in independent stores more important than ever before.
"IGD figures show that total convenience sales have reached £5.6bn and were up 4.9% year on year in 2013," he says. "The market is really vibrant, and different shopping missions provide new opportunities to purchase. The question is, how to be a neighbourhood store that is accessible to all, with a great range, and with the right service?"
To address this challenge, from a soft drinks perspective at least, CCE has been researching shopper behaviour and changing habits in a high-tech facility at its offices in Uxbridge, where consumers and retailers can explore virtual shops, displays and products. Lessons learned have driven changes in the way CCE works with retailers, informing the planograms and category advice it provides.
"Our discoveries from this research made us change the way we positioned soft drinks and drove our recommended range and layout advice. Consumers are looking for Coke in the middle of the fixture, energy on the left, carbonates and flavours to the right of main centre, for example. You also want to see good adjacencies with food and clear signage on meal deals," Mr Canney says. "The other challenge is that if customers shop at lunchtime, the soft drinks display is often decimated. Retailers often allocate one bay to soft drinks, but then there are not enough products, so we're now advocating two bays."
CCE is encouraging high in-store standards via its Chilled+ range and merchandising advice. And, with increasing numbers of retailers engaging with the scheme, this has also opened the opportunity for the company to invite store owners to take a step up and adopt its spring-loaded category management system BevTrac.
"You tend to find that when a display is shopped it's not always clear for retailers which products go where, and the display gets messed up. So BevTrac, which is in 1,000 stores now, allows you to keep that quality of display. It's easy to fill up, shows what should go where and pushes products forward when something is sold. My local shop has it and they think it's fantastic – they say sales are up as much as 15%."
BevTrac doesn't come cheap. It costs up to £600 to provide and fit the equipment for each store. But Mr Canney says the benefits justify CCE's investment.
"It demonstrates a sales uplift and is unique to this part of the trade. It's one of the best things I've seen, because it keeps displays looking fantastic.
"When we started, I was told that people would be sceptical, but then it would snowball, and that's what we're finding. We want to roll it out to as many outlets as possible because we think it's great for retailers, the category and the future of soft drinks."
So far, BevTrac is used to manage smaller formats, but Mr Canney has his eye on a new opportunity.
"In Ireland, you see display standards that extend beyond the chiller, where ambient displays have this system too. That's where I would like to see us taking BevTrac."
Larger formats are one area of the market where Mr Canney sees huge growth potential, not least when it comes to a gap in the market for soft drinks sales; small basket spends and drinks that are bought for "imminent consumption" – in a couple of hours – rather than impulse buys or to store in the cupboard.
"Convenience shoppers in the UK pick up baskets around four billion times each year, two billion of which are in small stores, spending an average of £15-£20. But soft drinks are only included in around 4.5% of these, compared to 5.5% for wine. We need to look at how to get into those baskets," says Mr Canney.
From CCE's point of view, the answer lies in formats such as 1lt or 1.25lt bottles, or four-packs, and retailers need to chill these products to fully cash in on them.
Other formats are also key to growth.
"We've pushed all of our 500ml bottles into clear £1 pricemarks, which is really compelling and offers a good opportunity."
And, in response to the success of 250ml energy drinks, CCE's colas are now available in this size; 49p pricemarked, plain, and with on-pack links to music site Spotify.
"They're aimed at teens and to drive brand awareness, because teen recruitment is really important. It's about ensuring that we recruit the soft drinks consumers of tomorrow. The 250ml can is absolutely spot on for that. We're trying to hit the right price point in a contemporary format," he says.
The other major trend that will influence the soft drinks sales of tomorrow is, unsurprisingly, health. Sugary drinks and food have received plenty of bad press of late, and Mr Canney says CCE's response is to broaden its offering. 
"Coke was invented in 1886 and it continues to be a mainstay that we're proud of. But we'll balance that with innovation and products that provide choice."
Although, to be fair, he adds, this isn't a new strategy.
"We get accused of not doing enough, yet Diet Coke has been around for 31 years and has no calories in it, and 45% of what we sell in packaged goods is diet. That said, you'll see us making sure our labelling of ingredients is really clear, and providing much more choice. We'll innovate in areas where we can use more natural ingredients."
The company's latest move is the announcement of the UK launch of its Glaceau Smartwater brand, in August. It follows the introduction of Fanta Raspberry & Passionfruit with stevia earlier this year, plus a 30% drop in calories in Fanta. Its global sponsorship of the World Cup also provides opportunities to promote sports and activity.
The performance of CCE's cola brands demonstrates the need for choice perfectly: its Zero brand is growing at 20% per year, yet its full sugar Coke defies the health police and continues to climb too.
Ultimately, Mr Canney believes that these diverging sales patterns, coupled with the growing influence of digital marketing, convenience shopping and the rise of convenience-friendly services such as click and collect, mean the future of the soft drinks market is bright for independents.
"You'll see small basket spends accelerate and, while the multiples bring some challenges, standards are getting scrutinised and it's exciting. From a soft drinks perspective, and for convenience retailers, it's great. This is a key part of the market that's set to grow."